Sample Wine Storage Design Plans
Wine storage and display is our specialty and we are here to help you with your wine cellar floor plans. Whether you are converting a closet to a wine cellar or building a grand wine room, we have many successful wine cellar plans to inspire you. You can check out some of our wine cellar plans below, including sample DIY kit wine rack designs and elaborate custom wine rack designs. You can also visit our wine cellar galleries to gather ideas for your project.
Need Assistance? We're here to help!
Call our knowledgeable wine cellar experts to discuss how we can help make your dream wine cellar a reality. We love to help!
(888) 556-2032 | or email customer service: info@vigilantinc.com
Let us know when you're ready to begin your wine cellar design process and we'll be happy to help you. You can request design assistance by completing this online request form:
Request Your FREE Wine Cellar Design Today!
Or, if you would like to try designing your own wine cellar using our standard wine rack kits, go to our DIY wine cellar tool.
DIY Wine Cellar Design Planner
We provide detailed drawings of different elevations
Sample Wine Room Plans
Below are PDFs of sample wine cellar design plans using our custom and kit wine display racks and modular wine cabinets. Click on any of the PDF links to view enlarged images showing multiple elevations of the sample wine cellar plans. If you need more information about any of our designs or design capabilities, please contact us. We're here to help!
Sample Wine Room Plans for Residential Spaces
Small Wine Rooms up to 700 Wine Bottles
Sample Design - 140287 (300 bottles)
Sample Design - 140258 (355 bottles)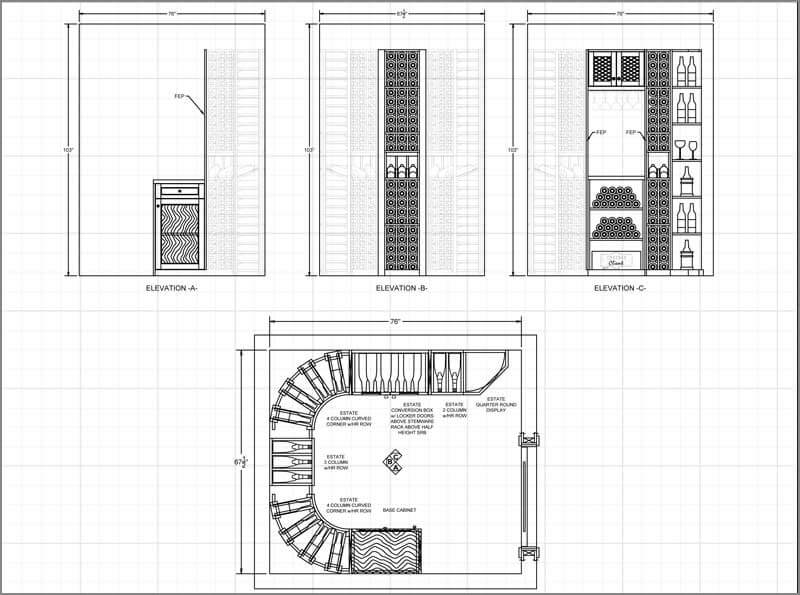 Sample Design - 140005 (356 bottles)
Medium Wine Rooms up to 1600 Wine Bottles
Sample Design - 140237 (800 bottles)
Sample Design - 140257 (1,000 bottles)
Sample Design - 140269 (1,300 bottles)
Large Wine Rooms up to 3600 Wine Bottles
Sample Design - 140156 (1,400 bottles)
Sample Design - 140276 (1,600 bottles)
Sample Design - 140256 (2,200 bottles)
Sample Design Plans for Wine & Liquor Retail Stores
Sample Design - C110883 (1,280 bottles)
Sample Design - C120418 (1,350 bottles)
Sample Design - C120038 (1,431 bottles)
Sample Design Plans for Hospitality Venues
(Bars, hotels, restaurants, wine tasting rooms, clubs, & more)
Sample Design - C120147 (144 bottles)
Sample Design - C90348 (509 bottles)
Sample Design - C90696 (570 bottles)