Sample Wine Storage Design Plans
Whether you're converting a closet to a wine room or building a grand wine cellar, these floor plans will inspire you. Check out our wine cellar plans below, including sample custom designs and DIY kit wine racks.
Expert Resources
When you're ready to begin your wine cellar design process, we're ready to help. Contact us, request a design quote, or try designing your own wine cellar using our DIY wine cellar tool.
CONTACT US
DESIGN QUOTE
FREE CATALOG
DIY PLANNING TOOL
PHOTO GALLERY
Sample Wine Room Plans Below are sample wine cellar design plans using our custom and kit wine display racks and modular wine cabinets. These PDFs show multiple elevations of sample design plans for home, retail, and hospitality spaces.
Get detailed drawings of different elevations below.
Sample Wine Room Plans for Residential Spaces
Small Rooms - up to 700 Wine Bottles
Sample Design - 140287 (300 bottles)
Sample Design - 140258 (355 bottles)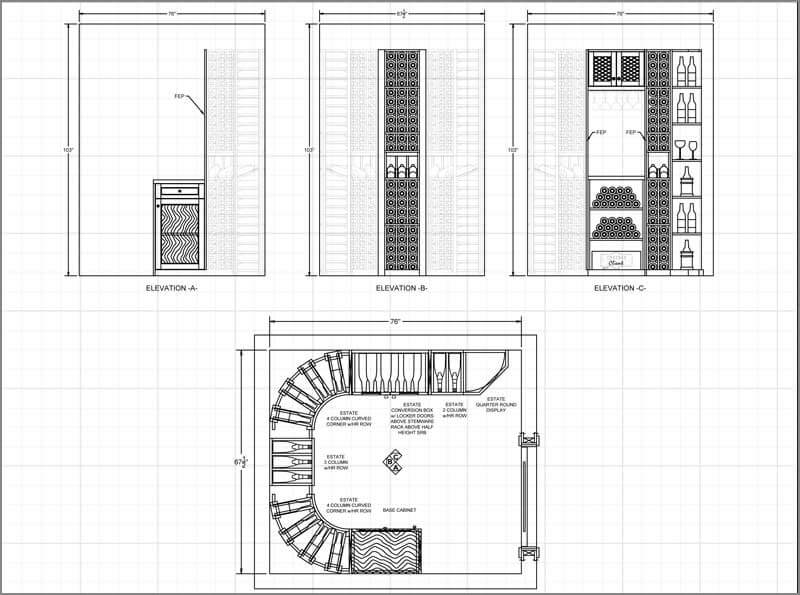 Sample Design - 140005 (356 bottles)
Medium Rooms - up to 1600 Wine Bottles
Sample Design - 140237 (800 bottles)
Sample Design - 140257 (1,000 bottles)
Sample Design - 140269 (1,300 bottles)
Large Rooms - up to 3600 Wine Bottles
Sample Design - 140156 (1,400 bottles)
Sample Design - 140276 (1,600 bottles)
Sample Design - 140256 (2,200 bottles)
Sample Design Plans for Wine & Liquor Retail Stores
Sample Design - C110883 (1,280 bottles)
Sample Design - C120418 (1,350 bottles)
Sample Design - C120038 (1,431 bottles)
Sample Design Plans for Hospitality Venues
(Bars, hotels, restaurants, wine tasting rooms, clubs, & more)
Sample Design - C120147 (144 bottles)
Sample Design - C90348 (509 bottles)
Sample Design - C90696 (570 bottles)