Anatomy of a Wine Cellar Door
Before purchasing a
wine door
, it is important to become familiar with wine cellar door construction – how doors are constructed and installed – so you can make an informed purchase decision.
Vigilant doors are pre-hung with solid jambs and are handcrafted from the finest hardwoods. Many custom features can be added to your wine cellar door to make it your own. You can view our
standard doors
or check out
our photo gallery of custom wine doors
to help you get some ideas for your own. We hope the information here answers your questions about wine cellar door construction but please
contact us
if you have additional questions!
Click on a link below to learn about that door component.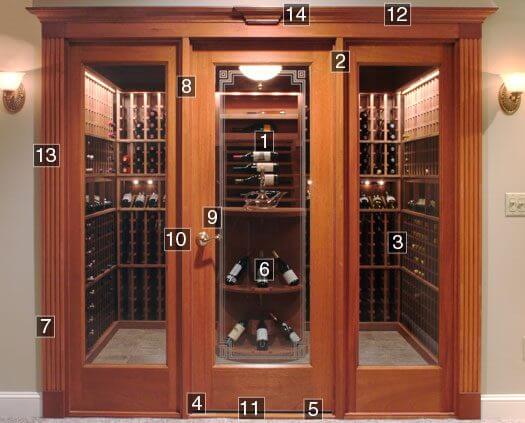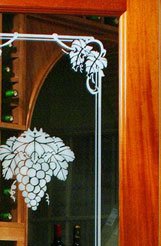 Glass Etching for Full Glass Door.
Designs that are etched on our wine cellar doors either around the border or in the center of the glass.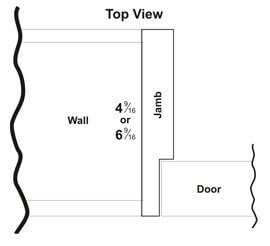 The frame that the wine door sits inside. The jamb consists of two sides, a top and a threshold. The wine cellar door hinges and strike plate for the lockset are attached to the jamb.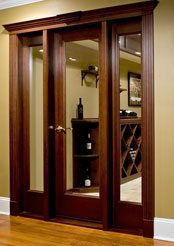 Wine Cellar Door with Two 15″ Sidelights.
Sidelights are glass panels or stationary door panels that are attached to the sides of operating wine cellar doors. Sidelights are available in 15″, 30″, and custom widths.
The direction that the wine cellar door moves when opened. With our wine doors it defines the side of the jamb that the hinges are on (left or right), and the direction of the swing (in or out).
The weather stripping that mounts to the bottom of the wine cellar door. It consists of several small vinyl flaps that "sweep" the threshold, maintaining a seal.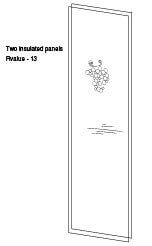 The glass panel inside our standard wine cellar doors and sidelights. We use only super-insulated, 1/2″ argon-filled, low emissive, tempered glass panels in ours doors.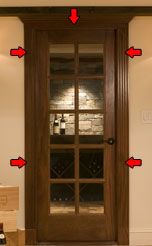 The wood trim that is applied to both the jamb and wall, covering the gap between the two. Our trim is solid mahogany and can be ordered as flat or fluted. Two sets are required for application inside and outside the wine cellar.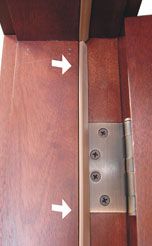 Weather stripping on Vigilant doors.
A synthetic rubber material that is discretely applied to the jambs of all Vigilant wine cellar doors to provide a weather tight seal between jamb and door when closed.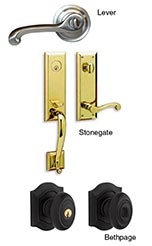 It's always a good idea to protect your wine collection by ensuring it has secured access. We offer different styles of hardware available in brass, oil-rubbed bronze and satin nickel. All hardware is installed by skilled artisans in our workshop as we build your door.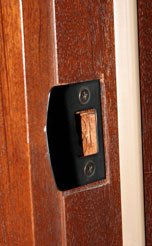 The strike plate for the door hardware.
A matching metal plate that is attached to the jamb and accepts the lockset mechanism.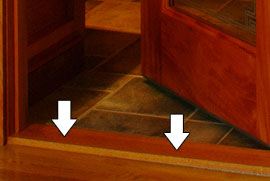 The strip of wood that crosses between the entrance and the wine cellar room.
The section of the jamb that sits on the floor and crosses between the side jambs beneath the wine cellar door and the entrance into the wine cellar. A threshold is required on weather-tight doors.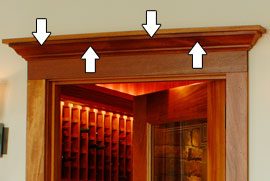 Crown molding is a decorative molding that caps walls.
A decorative accessory molding that includes a top pediment. It can be added to the top section of standard casings on all wine cellar doors.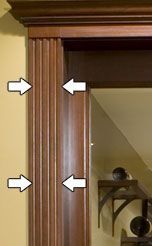 An optional, ornamental casing that is wider than our standard casing and contains a repeating 1/4″ flute running through it.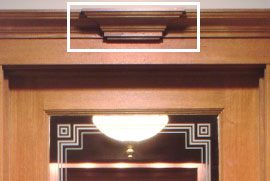 Keystone above the wine cellar doorway.
An optional, decorative wooden ornament that is attached to the crown molding above the door.
Door Construction Components
Vigilant's wine cellar doors are proudly made in our Dover, NH manufacturing facility by skilled New England craftsman. All our doors come pre-hung in solid wood jambs and use exterior-grade weather stripping to provide a superior seal between your wine cellar and outside areas. Superior design aesthetics and materials, combined with uncompromising construction methods, ensures that you are getting best door available in the industry.

Our doors are not mass produced, they are handcrafted and made to order. Since, we manufacturer everything here at our facility we can take any custom request to meet your exact needs.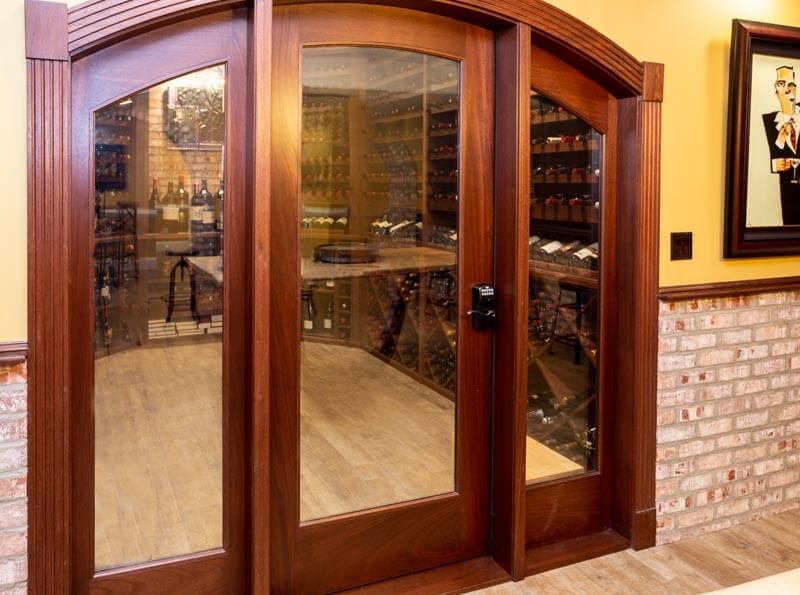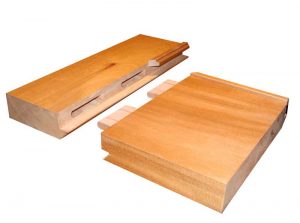 We use mortise and tenon joinery on all our doors. This time-tested joinery is labor intensive and has been used by woodworkers for thousands of years. The joint is secured in place by inserting the tenon into the mortise hole.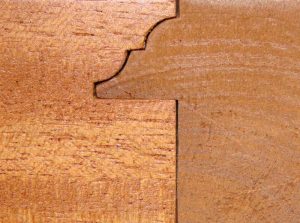 We use cope and stick construction on our Classic, Tuscan and Provincial doors. Using four frame pieces and a center glass or wood panel the door is attached at 90° angles to connect the frame and hold the center panel in place. This technique creates a beautiful and sturdy decorative profile on the edge of the jointed panel.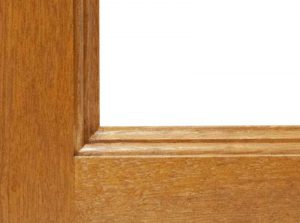 Our Classic, Tuscan and Provincial doors use traditional styling with coped edges on the stile and rail pieces.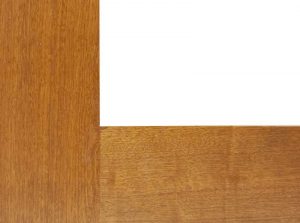 Our Value Classic and Rustic doors use transitional styling with simple, square, routed edges on the stile and rail piece.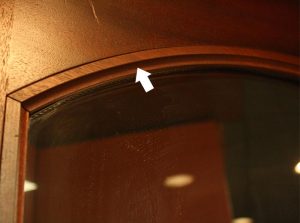 Scotia Profiling Glazing Strip
After the glass panel is placed into the frame, and silicone caulking is applied, the glazing strips are affixed to the frame keeping the panel securely in place. The scotia profile glazing strip uses beautifully detailed edging around the panel.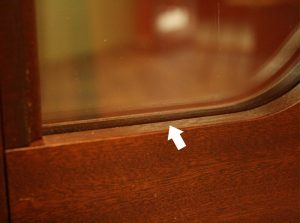 Square Profile Glazing Strip
This type of glazing strip uses a flat or square edge to hold the glass or wood panel in place. The strip is secured using brad nails and caulking around the edge of the glass.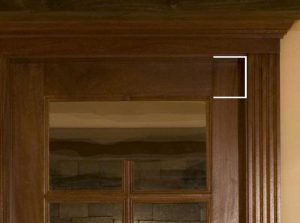 The top rail is the cross or horizontal piece of the door frame. This piece has the tenons to attach to the outside stile.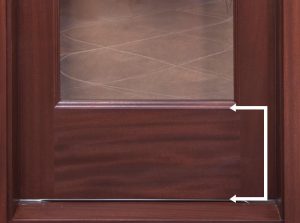 The bottom horizontal panel of the door frame. This piece has the tenons to attach to the outside stile.
At Vigilant, all our doors are made with solid 1 ¾ " wood frames. We pride ourselves in our quality by having our skilled craftsmen hand-select, mill and construct your wine cellar door from a single piece of wood unlike many of our competitors who use composite or LVL (Laminate Veneer Lumber). This type of material uses a combination of soft wood planks that are pressed together with environmentally harmful glue. Since this material is not as durable as hardwood it is susceptible to warping and shrinkage which can be detrimental to a doors performance. Instead of using environmentally harmful glues we use mortise and tenon and cope and stick door joinery to ensure strength and performance for years to come.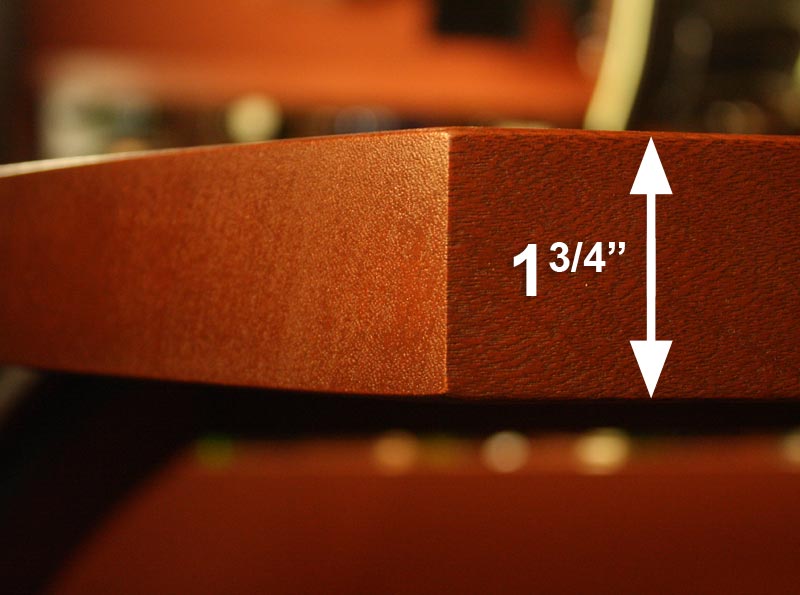 Our Tuscan style doors use a beautiful raised decorative base panel made of solid Mahogany.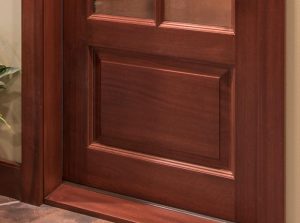 Our Tuscan style doors use a beautiful raised decorative center piece applique made of solid Mahogany.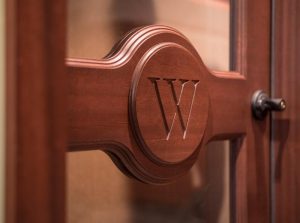 Our Tuscan doors come standard with fluted mullions. They create a distinguishing profile of smaller window panes and are made from solid Mahogany.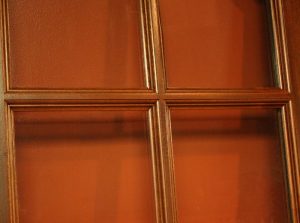 Speakeasy Window with Grate
Our Rustic doors come with the optional upgrade of a speakeasy window with a wrought iron grate for an added charge. The wrought iron gives the door a more rustic look and the window gives you a view into your wine cellar.