INDUSTRY-LEADING WINE RACKS & CELLARS
Our innovative wine storage solutions for wine cellars, wine rooms, and smaller spaces not only secure your collection, but also look great while doing so with three tiers of customization available. From our standard wine rack systems to completely custom designs, we're here to help bring your wine cellar dreams to life. Regardless of what you choose, all of our wine cellar offerings can be mixed and matched together to meet your aesthetic and budgetary needs.
Our Standard Wine Rack Kits are available in two wood species (Mahogany or Pine) and two heights (77.5″ and 92.5″), providing the largest kit selection in the industry. These beautiful and durable wine racks can accommodate any collection regardless of size.
Our Custom Wine Cellar Line allows you to use more traditional storage components like ladder racking while tailoring your wine cellar to your specific needs like wood species and custom heights and depths.
Looking for a Premium Wine Cellar with elements like casework, solid panels, and more decorative-end design elements? Vigilant will work with you to bring you the high-quality, bespoke wine storage solution of your dreams!
EXPLORE OUR WINE CELLAR COMPONENTS
We have been building wine storage solutions since 1995 and have a vast selection of options for any size project. 
COMPARING GRAPES TO GRAPES
Whether you're a serious collector ready to invest in a custom wine cellar that can house thousands of bottles, or a wine lover who simply needs some entry-level pieces, there are lots of manufacturers out there.
In either case, you need to know you're comparing apples to apples, or as we say in the wine biz, GRAPES TO GRAPES!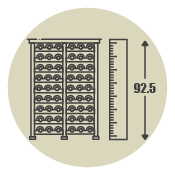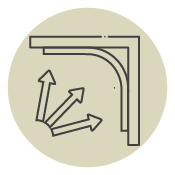 Our curved corner racks use continuous wood spacer bars and moldings STANDARD.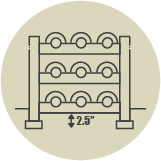 All our wine racks are raised 2.5″ off the ground to safely store your bottles of wine.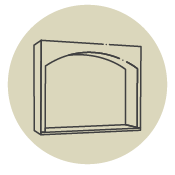 Our full height archtops have supportive solid sides, offer optional display lighting.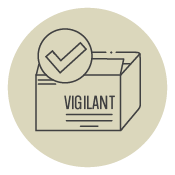 From project kickoff to final design, production, and delivery, we're here every step of the way.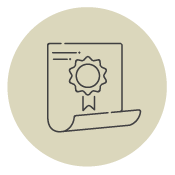 Limited Lifetime Warranty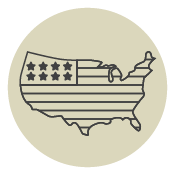 Everything we manufacture is handcrafted on-site in our New England facility.
BEFORE YOU BUILD YOUR WINE CELLAR
Take advantage of our experience in wine cellar and wine room design by asking one of our experts. Here are some critical questions you may need to ask before building your dream wine cellar:
OUR CUSTOMERS SAY WE'RE AWESOME
My wine cellar is a work of art, from the highest quality in wine racks to the solid but stunning mahogany wine cellar door and sidelights. The custom moldings and casings are exquisite. I am a loyal customer and will continue to refer Vigilant to many friends. Anyone who sees this masterpiece absolutely loves it.
Vincenzo R.
WINE RACKING & DOOR CUSTOMER
We had a great experience with Vigilant and their product design and service teams. From start to finish they were easy to work with, their racks are high quality and look great and their customer service was super helpful. As a DIY project, we had questions before, during and after we selected, received and began to build our racks and cabinets and the Vigilant service team treated us with professional support throughout…their on-line design tools was also very helpful and easy to use!
Darren M.
WINE CELLAR CUSTOMER
Vigilant was very good about insuring that we got what we wanted. Our cellar plans included some very elaborate architectural and design elements. Vigilant and our contractor worked well together using both standard and customized Vigilant components to achieve the overall design objectives. When there was an issue, Vigilant was … well vigilant … about answering questions and resolving problems. We are thrilled with the result!
Andrew D.
WINE CELLAR CUSTOMER
I love my new wine cellar thanks to Vigilant. You made it easy to install and I love the design. The customer service was great! I've attached my photos so you can see how beautiful it turned out. I get a lot of compliments on it. You guys are the best.
Linda I.
WINE CELLAR CUSTOMER
All I can say is great!!! Great design, great sales, great support, great delivery, great process, great materials, great assembly.
Joe M.
WINE CELLAR CUSTOMER
I am really happy with the design and how everything came together. I need to buy another couple hundred bottles!
Michael T.
WINE CELLAR CUSTOMER