At Vigilant, our handcrafted wine and cigar storage solutions are not only backed by our industry expertise, but our
commitment to quality
and the
best warranty
in the industry! Our team will gladly walk you through all stages of
building a wine cellar
and answer any questions that you may have along the way.
Contact Us to Discuss Your Project
Call us or email us at [email protected] to get the conversation started. We'll appoint you a personal sales consultant and design specialist to assist you every step of the way. Your expert consultant will review all aspects of your project detail with you, make design recommendations and answer any questions that you may have.
Once the details of your project are understood, your consultant will create a design and send it to our team of designers for a detailed floor plan and elevation drawings. We are happy to work with your designer, architect or builder's plans as well.
Within 4-5 business days, you will receive a personalized proposal that includes pricing and a detailed floor plan and elevation drawings. After your review of the design, contact your Vigilant consultant with any questions or changes. They will resubmit changes to the designer and send you an updated design proposal reflecting the adjustments. We provide your first revision at no charge. Further revisions may require a small non-refundable design deposit, which will be fully credited towards your order. In some cases, very complex designs may require an initial deposit, or design fee. More detailed information on our process can be found on our
Building a Wine Cellar
web page. At any time during the design process, we are happy to send
standard wood and finish samples
to you for review — just ask us.
Once your design is perfected, and you are ready to move forward with an order, we ask that you sign your drawings and proposal and send them back to us as "approved". Once the approved documents are received, we request the initial deposit/payment for your project (varies by project type). Once all required documents and deposit are received, your order will be processed, and an estimated lead time will be given to you.
Product Manufacturing and Shipping
Prior to shipping, our accounting department will request the final balance on your order. Once the balance is received, and the manufacturing is complete, we will ship your order. Once the shipment has left our facility, we will notify you and supply all tracking information.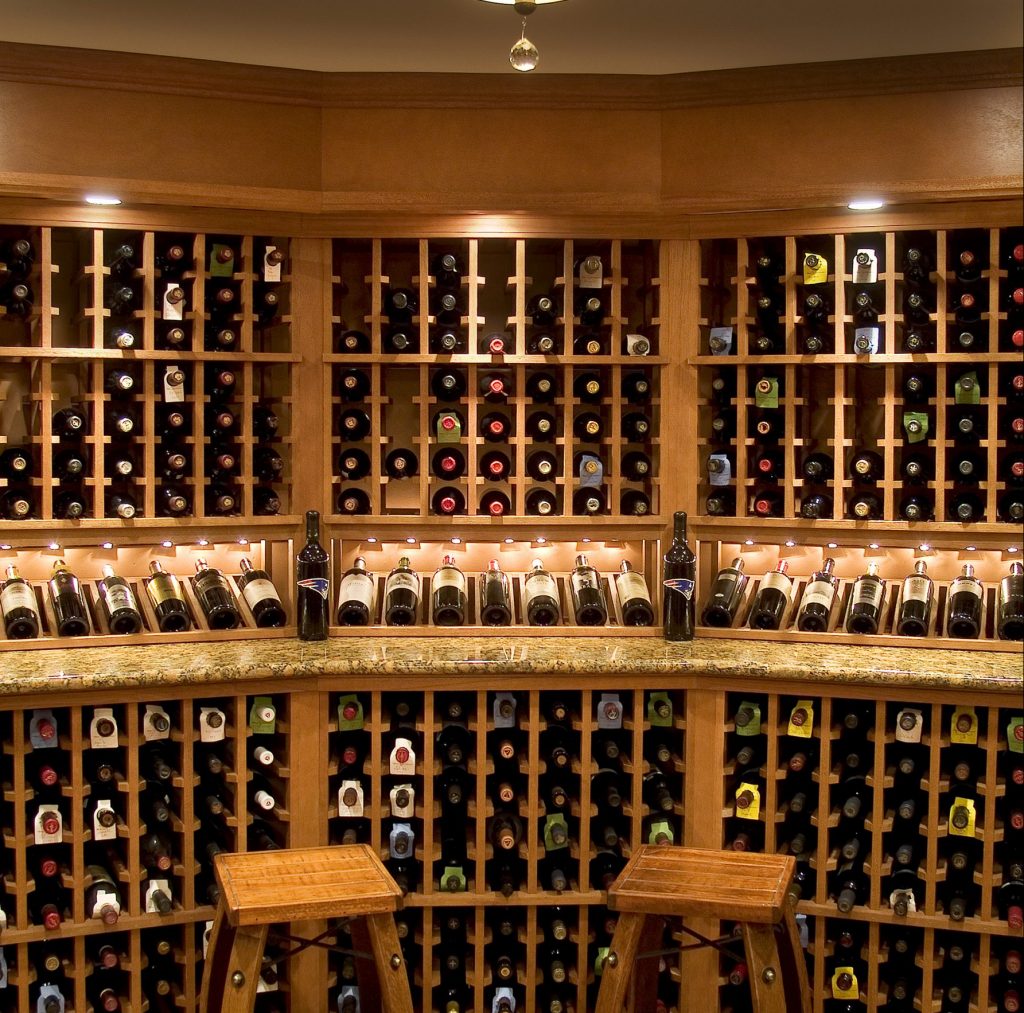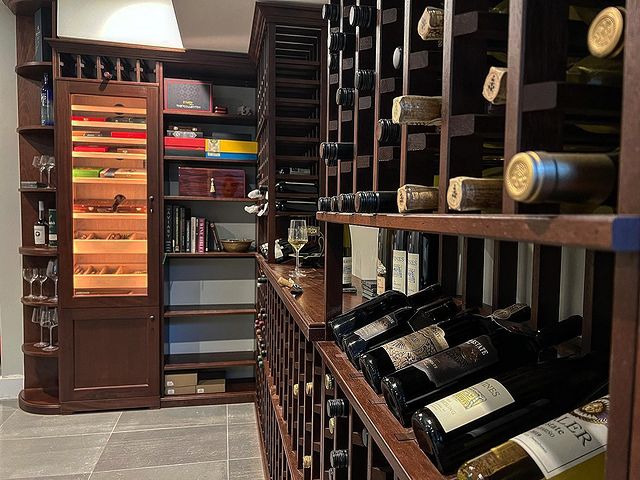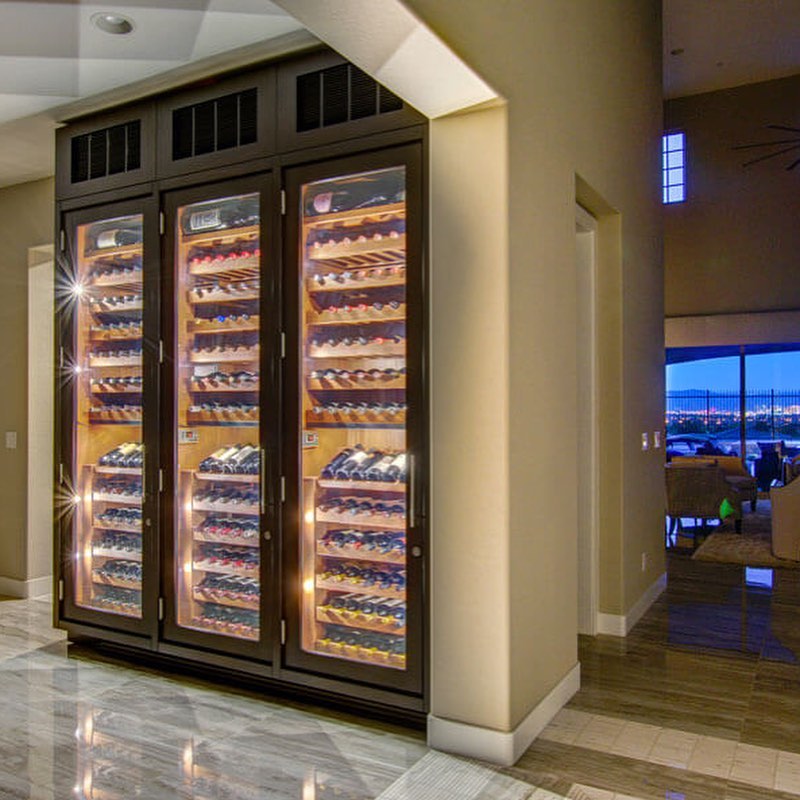 We work directly with residential clients, to make your dream wine cellar, or wine space, a reality. We will guide you through our easy process to implement elegant, yet highly-functional, wine spaces that accentuate your home.
We are the Experts in Wine Storage for Wine Spaces, Big or Small!
Our knowledgeable team of designers, and wine storage specialists, will work with you, your contractor, or designer to create a one of a kind wine storage solution that best reflects your exquisite taste and storage objectives.
Our solutions can be fully customized to reflect your exact needs, providing a seamless integration into your architectural work and finishes. Only the finest quality wood species, materials and finishes are used to create wine displays and 
wine racking solutions
 that will stand the course of time.
Vigilant
wine displays
are featured at some of the finest restaurants, hotels and country clubs across North America and beyond. Our elegant, yet highly functional wine racks, wine cabinets, wine lockers and cellars can be custom designed to reflect your establishments' distinct taste, and seamlessly accentuate your décor.
Customizable Solutions for ALL your Unique Needs
From special lighting features, to specific climate control requirements, our expert team will provide wine display solutions to solve all your complex design issues, on time, and within budget. Our ability to design any type of wine display, offers both a functional space and an exquisite focal point for your business.

In addition, to working directly with hospitality clients, we will happily collaborate with your designer, architect or contractor to design the most functional wine display that best solves your specific requirements.
Wine merchandising is our specialty, we understand the special considerations that need to be factored into designing an efficient
retail wine display
. Retailers turn to Vigilant for attractive wine display and storage options that effectively and aesthetically display labels while providing efficient back stock storage. Whether you are a small-business retailer or a large outlet franchise, we can provide all types of specialized wine display to maximize your floor space and increase wine sales.
Our superior quality wine racks, wine cabinets, and lockers can be designed to your custom specifications, including special finishes, features and styles. We will work within your budget to create an extraordinary wine display solution, in the time frame needed.
We are the industry expert in designing and manufacturing stunning and unique wine cellars, and wine storage solutions, for high-end residential and commercial clients since 1995. We have collaborated with some of the industry's best designers and architects to provide exquisite wine and cigar storage solutions that get noticed.
Expert Consulting Services
Whether providing detailed design services, or working with a preplanned design, we will provide you with the knowledge and support to ensure that all considerations exclusive to your design intent, and the client's needs, are factored into every design stage.
Customized Solutions that fit Your Design
Our expertly designed wine racks, refrigerated wine cabinets, wine lockers, cellars and other wine spaces can be custom designed to reflect your clients' distinct taste, and your overall design concept. We work with all types of materials including wood, metal and laminate, and can match your custom finish. With numerous lighting options and other features, we are able to provide a design that meets your unique requirements.
We work with builders and contractors to design, and outfit, wine cellar or wine storage projects that perfectly suit client's functional, aesthetic and budgetary requirements.

Whether an under stair wine closet, or an elaborate dream wine cellar, we collaborate with your team to ensure all essential considerations (unique to the space) are met, from room preparation to installation.

Our solutions can be fully customized to reflect your clients' excellent taste, and manufactured to seamlessly integrate into existing millwork. Working with us is easy, we will take the guesswork out of your hands and ensure a long-lasting, unique solution for your wine project.
We partner with high-end dealers to provide complete solutions for residential and commercial wine and cigar storage. We will work with you to provide expert industry knowledge and the detailed design services needed to ensure every project is done right from concept to installation.


We provide a full range of product solutions including:
Wine cellars & wine room elements
Wine cellar doors
Wine racks
Wine cabinets
Wine lockers
Cigar humidors
Cooling & humidification systems
To request more information, or a dealer application, please contact us | [email protected].