Our Standard wine racking kits are offered in two wood species and two heights, providing the largest kit selection in the industry. These beautiful, durable half-height and full-height racks can accommodate thousands of bottles to just a few. Our modular wine cabinets are a perfect addition to any wine cellar and are designed to blend in with all our racking components. Shop our selection of wine cubes and packages for high-quality, budget friendly storage options.
How do Vigilant Wine Racks Stack Up?
Whether you're a serious collector ready to invest in a custom wine cellar that can house thousands of bottles, or a wine lover who simply needs some entry-level pieces, there are lots of manufacturers out there. You need to know you're comparing apples to apples, or as we say in the wine biz, GRAPES TO GRAPES!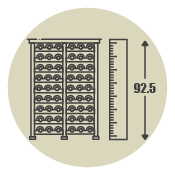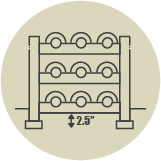 All our wine racks are raised 2.5″off the ground safely storing your bottles of wine.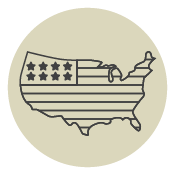 All our products are handcrafted on-site in our New England manufacturing facility.
Explore the possibilities with our 3D Virtual Wine Cellar Design Tool!
Use our full line of wine rack kit products in both Classic (77.5″) and Estate (92.5″ ) heights, and our stackable, connectable modular wine cabinets that easily integrate with our wine racking to achieve a high-quality, custom look.
Our Custom line allows you to use more traditional storage components like ladder racking while tailoring your wine cellar to your specific needs like wood species and custom heights and depths. Add premium elements such as casework, solid panels, and more decorative-end design to create the bespoke wine storage solution of your dreams!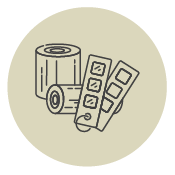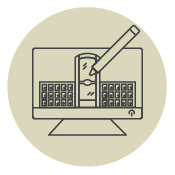 Match your style and decor with Vigilant racking, according to your exact specifications.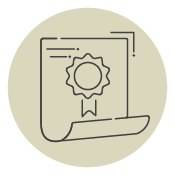 Limited Lifetime Warranty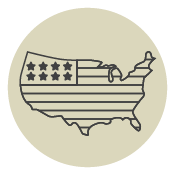 All our products are handcrafted on-site in our New England manufacturing facility.
It's the small details that give a room its special ambience. Choosing accents such as flooring, paneling and lighting help you achieve the look you want for your wine cellar. We can match the color and style of your existing wine furniture or create special accents just for you. Here are a few ideas for adding finishing touches to your wine cellar design.
Residential & Commercial Wine Cabinets
Our wine cabinets and wine lockers are enjoyed by
notable clients
and the finest restaurants, hotels, clubs and private homes throughout the world. We offer
standard mahogany cabinets
as well
custom conditioned cabinets
and
wine lockers
that meets your specific storage needs. All of cabinets are crafted in your choice of wood species, metals, acrylic or glass to match any decor. Vigilant holds itself to the highest standards, using top quality materials, employing the finest craftsmen, and installing the most innovative climate control technology. Plus, all wine cabinets and lockers are backed by a 100% satisfaction guarantee.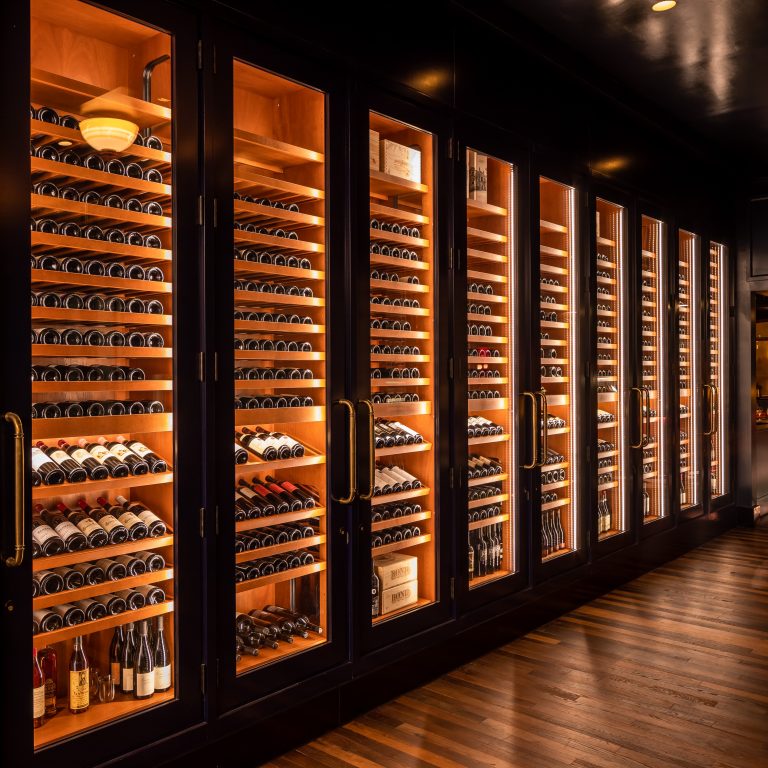 Why Choose Vigilant Wine Cabinets?
There's a lot of detail, mechanics, and craftsmanship that goes into designing Vigilant wine cabinets and lockers. With over 27 years of experience, we've mastered the complexities of creating a functional climate controlled wine cabinet that is also beautiful and stylish.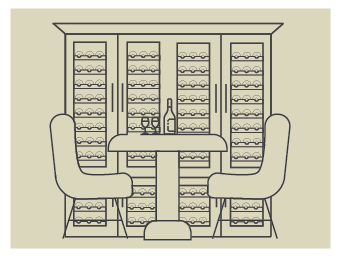 Incorporates seamlessly into existing entertainment spaces, keep wine close by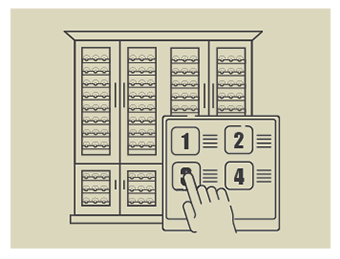 Design your interior: Adjustable display or pull-out shelves,  metal displays, individual and bulk storage options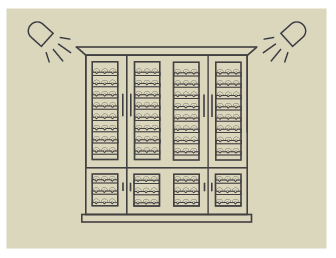 Space saving solution that elegantly showcases your wine
Maintaining the integrity of your wine storage environment is not an option, but a requirement. At Vigilant, our focus is on style, energy efficiency and security. Each door is handcrafted using the finest materials and can be customized to your exact specifications.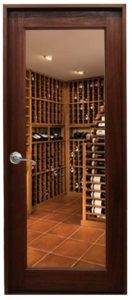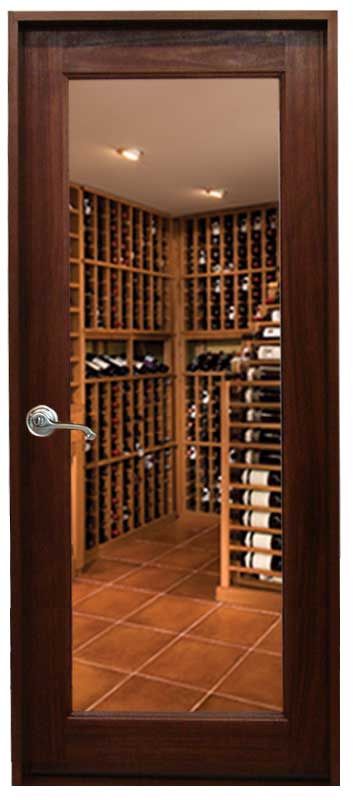 Value & Classic Full Glass Doors
Our solid wood framed full glass doors are beautifully handcrafted and create the ultimate protection from the elements using solid 1 ¾" thick wood, ½" low-E insulated glass and exterior grade weather stripping.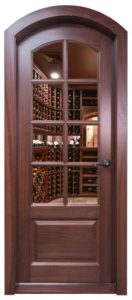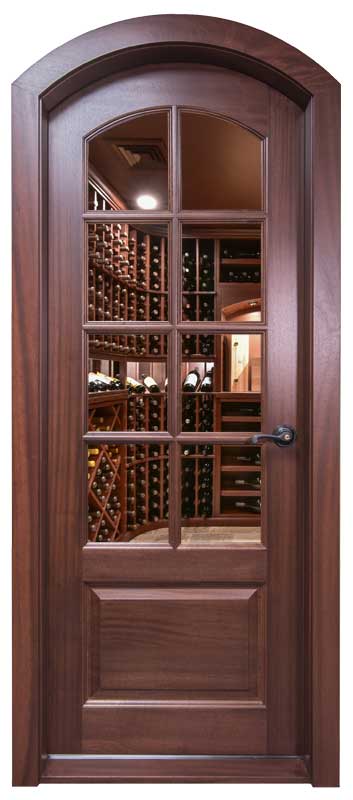 Our Tuscan doors are an appealing entrance way into your wine cellar. The door features beautiful detailed mullions creating a stylish view into your wine cellar.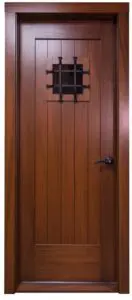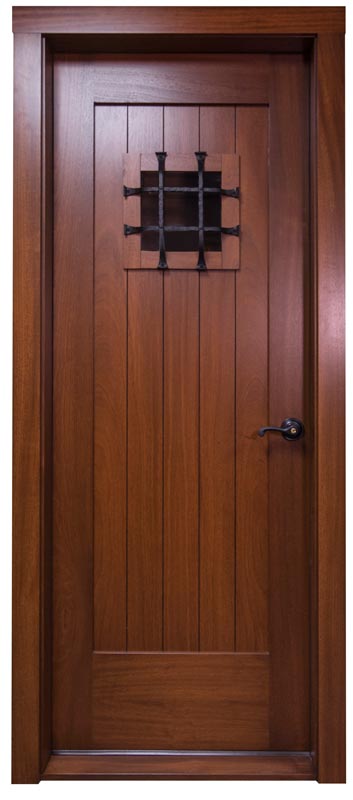 Our Rustic doors are beautifully carved wooden doors with a window. For more of a rustic feel, add clavos or an iron grate over the window.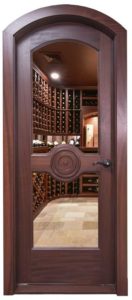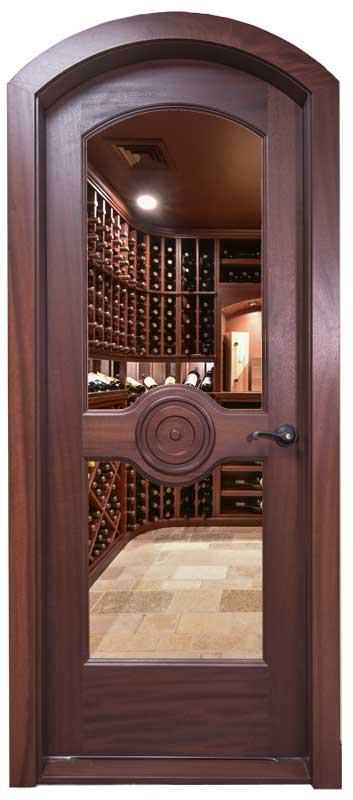 The Provincial door is an elegant glass design with a  decorative wooden center applique: a decorative rosette or grape design. Customize with your desired initial  for an additional upcharge.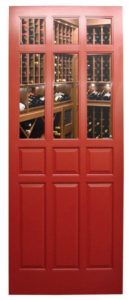 Custom Door Photo Gallery
Our custom interior doors are unmatched in the industry, and are ideal for not just wine cellars and smoking rooms, but as a grand entrance to any entertaining space. 
 If you invest in fine wine, you know the importance of storing it in optimal conditions. Our comprehensive line of wine cooling systems fit every application.
Benefits of a Cooling System
Maintains optimum long-term storage temperature of ~55°F
Cools wine rooms and cellars without removing valuable humidity
Prevents premature aging and oxidation of fine wine
Operates efficiently, quietly, and reliably over time
Which System is Right for You?
There are many variables involved in choosing the correct system so start the process early on in your project. Our experts can help you select a wine cooling system that fits your needs and budget, and allows your fine wine to age gracefully.
Importance of Wine Storage 
Your wine cellar should be placed in the coolest, most humid area in your home. The closer the wine room is to an ideal wine cellar temperature of 55° F and 60-65% Relative Humidity, the more efficient the cooling system will be.
Commercial Cabinets & Lockers
We are the leader in commercial wine storage for hospitality and retail wine stores. Our elegant, top-quality metal or wood wine racks, wine cabinets and lockers grace some of the finest restaurants, hotels, and clubs throughout the globe. View a list of hotels, restaurants and clubs that use our products to store, display and sell their wines.
Our mission is to provide products that you'll be proud to own for years to come.
Contact us
to learn more about the best wine cabinets on the market, backed by the best warranty in the business.