Retail cigar storage and display in restaurants, hotels, country clubs and other commercial spaces has grown in popularity as aficionados continue to look for public locations to savor cigars. Vigilant has worked on many of these projects including cigar lockers and built-in display cabinets. Below is a sampling of cigar design projects.

And remember, we can accommodate any request because we are the designer AND the manufacturer. Contact us today to discuss your cigar storage needs.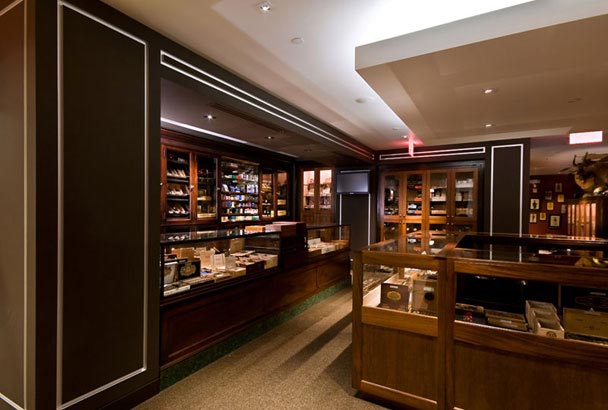 Vigilant handcrafted mahogany cigar storage cabinets, display cases, cigar lockers, and custom millwork capabilities make us the best choice for tobacconists and clubs.
W. Curtis Draper Tobacconist Store
The third oldest tobacconist in the U.S next to the White House gift shop is now twice as spacious as its old store, and features Vigilant's custom-designed mahogany millwork and cigar display cases, along with a walk-in cigar humidor.
Wood and glass display cabinets, constructed of Moabi mahogany
Spanish cedar shelving displays the desktop humidors
Electronic humidification systems humidify the display cabinets and walk-in humidor.
Locking, climate controlled storage
Interior display lighting and multiple loose cigar bins
Merchandising cabinets and corner cabinets for retail item display
Bokx109 Restaurant & Lounge
Locking, climate controlled storage
Individual cabinet bins for loose and boxed cigars
Display lighting in the interior of the cabinet
Shelly's Back Room Tavern
Knotty pine exterior- Unfinished mahogany interior
Overlay slab door lockers – wood framed glass doors – cabinet
Black pulls, locks keyed separately
Hidden European adjustable hinges and independent leveling legs
Remote ducted system controlling temperature & humidity levels