The Vigilant Reliance Wall Humidors are a beautiful way to display and preserve your cigar collection using minimal space. Each Wall Humidor comes with clear front, adjustable Spanish cedar shelves and can hold a varying number of cigars. The Wall Humidor can easily fit anywhere in your house between stud openings and requires minimal framing or drywall work (carpentry work required). The units come with the casings attached and is prewired for the humidification system and low-voltage LED lighting. A state-of-the-art Vigilant electronic humidification system keeps your cigars at the ideal humidity level for a perfect smoke every time.
Why Choose a Vigilant Cigar Humidor?
Visit our photo galleries to gain inspiration for your perfect Cigar Humidor.
Have Questions?
Call our humidor experts to discuss the best storage cabinet and options for your space:
(888) 556-2032 | or email customer service: info@vigilantinc.com
REQUEST YOUR FREE WALL HUMIDOR QUOTE TODAY!
REQUEST A FREE CATALOG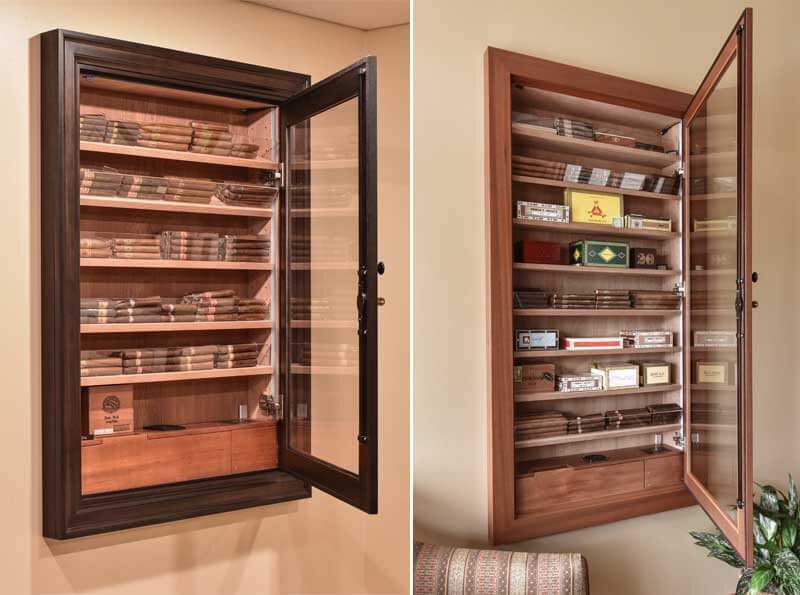 Vigilant Wall Humidors can be custom built for any cigar capacity needs or available space.
Reliance 350 Wall Humidor
starting at:
$2,385
$335 Shipping
Avg. Cigar Capacities :

325-375 (Approximately 12 equal sized cigar boxes)

Dimensions:

Carcass: 30"w x 40.875"h x 6.5"d
Trim: 35.75"w x 46.625"h
Rough Opening: 30.5"w x 42"h (Between two 16" center studs)

Wood Species:

Mahogany (custom woods available)

Interior:

Natural Mahogany

Shelving:

5 Spanish Cedar adjustable shelves with clear fronts

Power:

A 6 ft. power cord included

Humidification System:

Sentry Analog system w/digital display
Removable 1.5 quarts acrylic reservoir
Integrated time to fill LED indicator light
High and low alarm LED indicator
Sensory accuracy +/-5%
Standard Options:
Hardware lock and key:

Finish options: Brass, Oil Rubbed Bronze or Satin Nickel

Hinge location:

Hinge left or right

Exterior:
Optional Upgrades:
Custom wood species
Dimming LED lighting with touch control (+$285)
System Upgrade: (+$150)

Guardian digtial system and display
Removable 1.5 quarts acrylic reservoir
Integrated time to fill LED indicator light
High and low alarm LED indicator
Sensory accuracy +/-2%
BUY NOW
FREE QUOTE
REQUEST YOUR FREE CATALOG
Reliance 450 Wall Humidor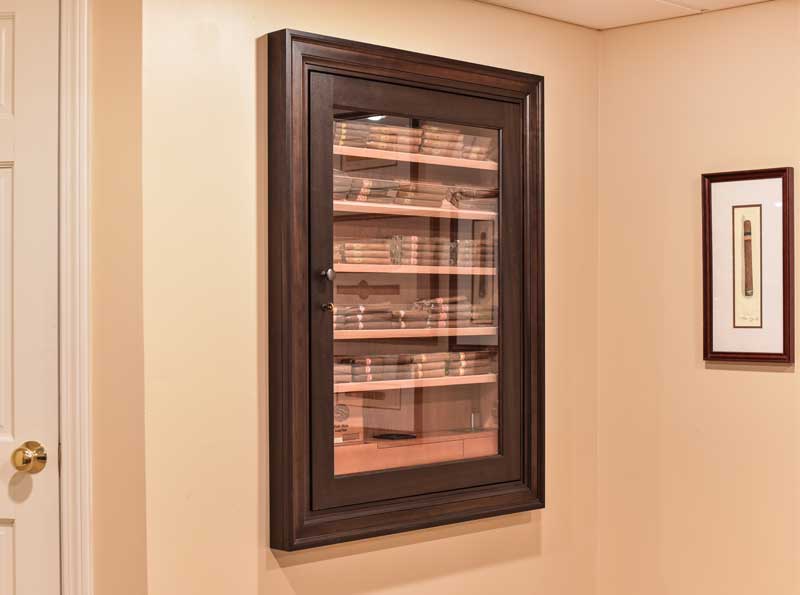 starting at:
$2,385
$335 Shipping
Avg. Cigar Capacities :

425-475 (Approximately 16 equal sized cigar boxes)

Dimensions:

Carcass: 30"w x 40.875"h x 8.5"d
Trim: 35.75"w x 46.625"h
Rough Opening: 30.5"w x 42"h (Between two 16" center studs)

Wood Species:

Mahogany (custom woods available)

Interior:

Natural Mahogany

Shelving:

5 Spanish Cedar adjustable shelves with clear fronts

Power:

A 6 ft. power cord included

Humidification System:

Sentry Analog system w/digital display
Removable 1.5 quarts acrylic reservoir
Integrated time to fill LED indicator light
High and low alarm LED indicator
Sensory accuracy +/-5%

NOT FOR EXTERIOR WALLS DUE TO DEPTH OF CARCASS
Standard Options:
Hardware lock and key:

Finish options: Brass, Oil Rubbed Bronze or Satin Nickel

Hinge location:

Hinge left or right

Exterior:
Optional Upgrades:
Custom wood species
Dimming LED lighting with touch control (+$285)
System Upgrade: (+$150)

Guardian digtial system and display
Removable 1.5 quarts acrylic reservoir
Integrated time to fill LED indicator light
High and low alarm LED indicator
Sensory accuracy +/-2%
BUY NOW
FREE QUOTE
REQUEST YOUR FREE CATALOG
Reliance 550 Wall Humidor
starting at:
$2,685
$435 Shipping
Avg. Cigar Capacities :

475-550 (Approximately 18 equal sized cigar boxes)

Dimensions:

Carcass: 30"w x 60.875"h x 6.5"d
Trim: 35.75"w x 66.625"h
Rough Opening: 30.5"w x 62"h (Between two 16" center studs)

Wood Species:

Mahogany (custom woods available)

Interior:

Natural Mahogany

Shelving:

8 Spanish Cedar adjustable shelves with clear fronts

Power:

A 6 ft. power cord included

Humidification System:

Sentry Analog system w/digital display
Removable 1.5 quarts acrylic reservoir
Integrated time to fill LED indicator light
High and low alarm LED indicator
Sensory accuracy +/-5%
Standard Options:
Hardware lock and key:

Finish options: Brass, Oil Rubbed Bronze or Satin Nickel

Hinge location:

Hinge left or right

Exterior:
Optional Upgrades:
Custom wood species
Dimming LED lighting with touch control (+$375)
System Upgrade: (+$150)

Guardian digtial system and display
Removable 1.5 quarts acrylic reservoir
Integrated time to fill LED indicator light
High and low alarm LED indicator
Sensory accuracy +/-2%
BUY NOW
FREE QUOTE
REQUEST YOUR FREE CATALOG
Reliance 750 Wall Humidor
starting at:
$2,685
$435 Shipping
Avg. Cigar Capacities :

700-750 (Approximately 25 equal sized cigar boxes)

Dimensions:

Carcass: 30"w x 60.875"h x 8.5"d
Trim: 35.75"w x 66.625"h
Rough Opening: 30.5"w x 62"h (Between two 16" center studs)

Wood Species:

Mahogany (custom woods available)

Interior:

Natural Mahogany

Shelving:

8 Spanish Cedar adjustable shelves with clear fronts

Power:

A 6 ft. power cord included

Humidification System:

Sentry Analog system w/digital display
Removable 1.5 quarts acrylic reservoir
Integrated time to fill LED indicator light
High and low alarm LED indicator
Sensory accuracy +/-5%

NOT FOR EXTERIOR WALLS DUE TO DEPTH OF CARCASS
Standard Options:
Hardware lock and key:

Finish options: Brass, Oil Rubbed Bronze or Satin Nickel

Hinge location:

Hinge left or right

Exterior:
Optional Upgrades:
Custom wood species
Dimming LED lighting with touch control (+$375)
System Upgrade: (+$150)

Guardian digtial system and display
Removable 1.5 quarts acrylic reservoir
Integrated time to fill LED indicator light
High and low alarm LED indicator
Sensory accuracy +/-2%
BUY NOW
FREE QUOTE
REQUEST YOUR FREE CATALOG