November 5, 2022
Cigar Tasting & Ritual: Chogui Dos77 Corjo Rogusto
"Rituals are not fixed–they are constructed and reconstructed over time, to fit people's needs." – Gleb Tsipursky

Ask anyone that knows me and they will tell you, I love my habits. Habits oftentimes become rituals, and rituals have a certain way of calming the mind and body. Cigars for me have a certain ritual aspect to them that has developed and changed over the years.
As I sit down to write this blog, taking notes of my ritual, I habitually grab my current favorite blue highball glass. I place it on the counter next to the fridge as I get myself a large square ice cube. Ice in glass, I proceed to the bar to pour a serving of whiskey. Tonight I am choosing Belfour, finished with Texan pecan wood. I figure this is a nice smooth bourbon with a slight sweetness to it that will bring out some additional flavors and profile in the cigar choice of the evening.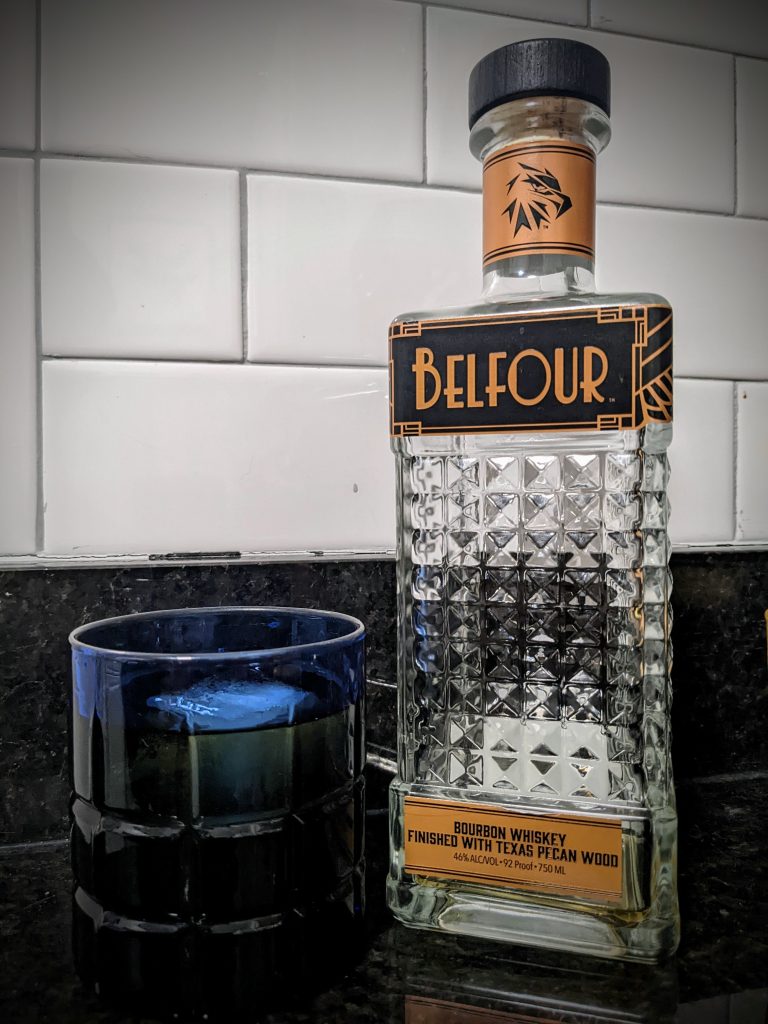 Next, I open my desktop humidor and choose a cigar from the top shelf. Tonight's choice is going to be a Chogui Dos77 Corjo Rogusto, a new experience for me. I walk out to the back porch and grab my cigar "kit", which consists of my OD green zippo lighter, Palio cutter, my ashtray (A recent gift from my neighbor, a crystal ashtray that he bestowed upon me after learning how much I enjoyed my cigar time), my computer to take notes, and my Bluetooth speaker. 
As I set m items down I purposefully take my time to take a few photos of the cigar and my kit. I find that I do this often while enjoying the cigar, even when I'm not writing.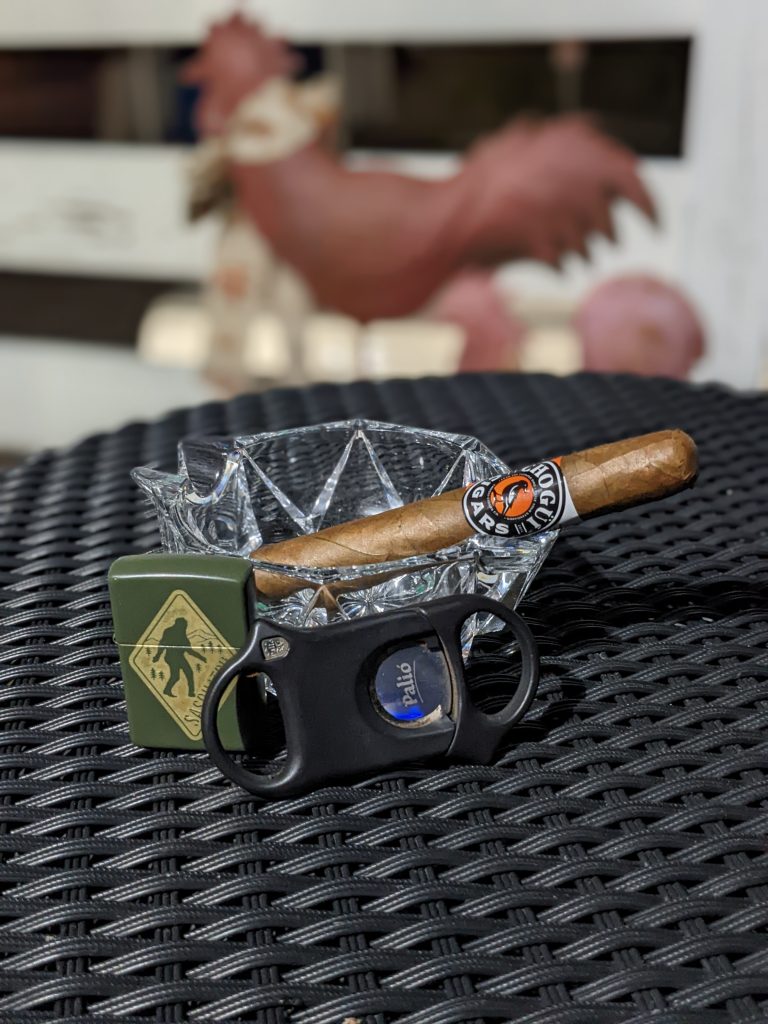 The pre-light ritual is almost over, but first I take my time to inspect the cigar. I observe the Sun Grown Corojo Original wrapper before holding the cigar in my left hand at a slight angle and my cutter in my right. I cut the cap of the cigar, leaving the perfect amount of shoulder on it so as to not ruin the wrapper. I inspect my cut, making sure it is clean and crisp before tapping the head of the fresh cut on the flat side of my zippo to clear any small debris. 
I switch hands and hold the cigar in my right and the cutter in my left and begin to lightly toast the foot. I roll the cigar in-between my pointer finger and thumb to distribute the heat evenly, just barely touching the flame to tobacco. Once I feel the cigar is properly toasted I will blow on the foot gently, making note of the redness distribution, touching up any areas that are still too cool.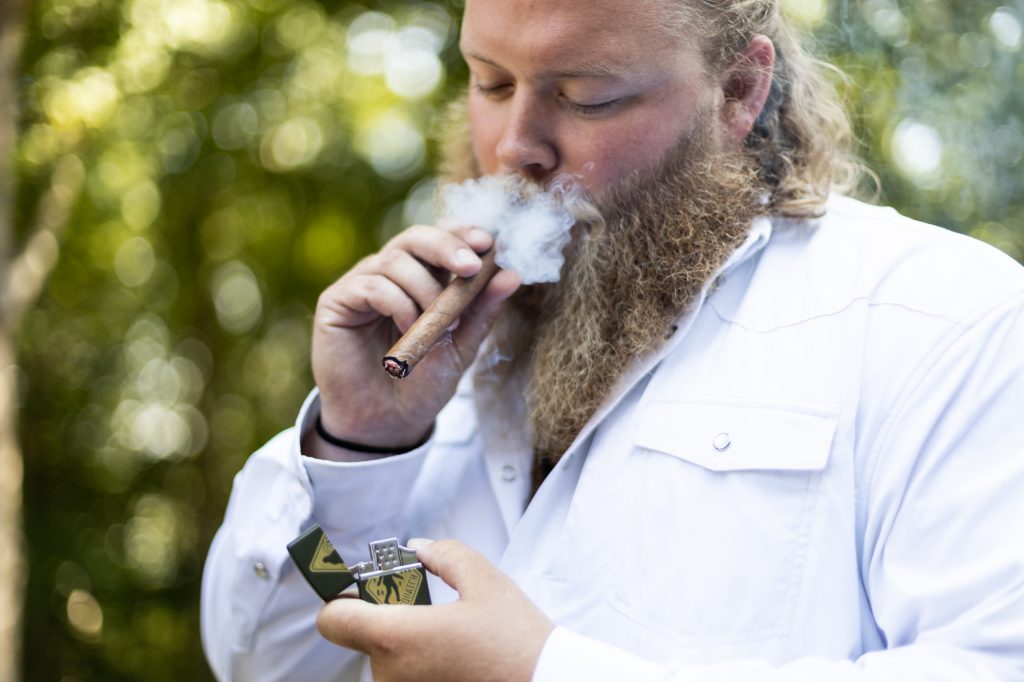 I move onto enjoying the flavors with my first pull of smoke and flavor. The first pull is light and gentle on flavors and smoke. I make sure to be mindful of the flavors before the heat kicks in. It is at this point that I always kick myself for not taking a cold draw before toasting the cigar (a part of the ritual that has not taken hold yet for me).I take a few more puffs and watch as the smoke starts to pillow from the end and the corners of my mouth.
Now, it's time to pick out my music for the evening. I decide on Colter Wall and his album Imaginary Appalachia in order to relax with something mellow and familiar playing. I continue to smoke and now take out my laptop to take notes of my ritual thus far. 
As my computer is logging in I take note of the band of the cigar ("Chogui Cigars" Dos 77, Corojo, Handmade est 2014, Dominican Puro, and in fine print "Fear the fucking bird – raise your standards – Chogui Cigars Co."). 
Ever since I started smoking cigars I have loved the artwork and craftsmanship associated with them. Each one has a story, a blend, a unique piece of artwork on the band. It is fascinating to me, and I love the lifestyle that goes along with them.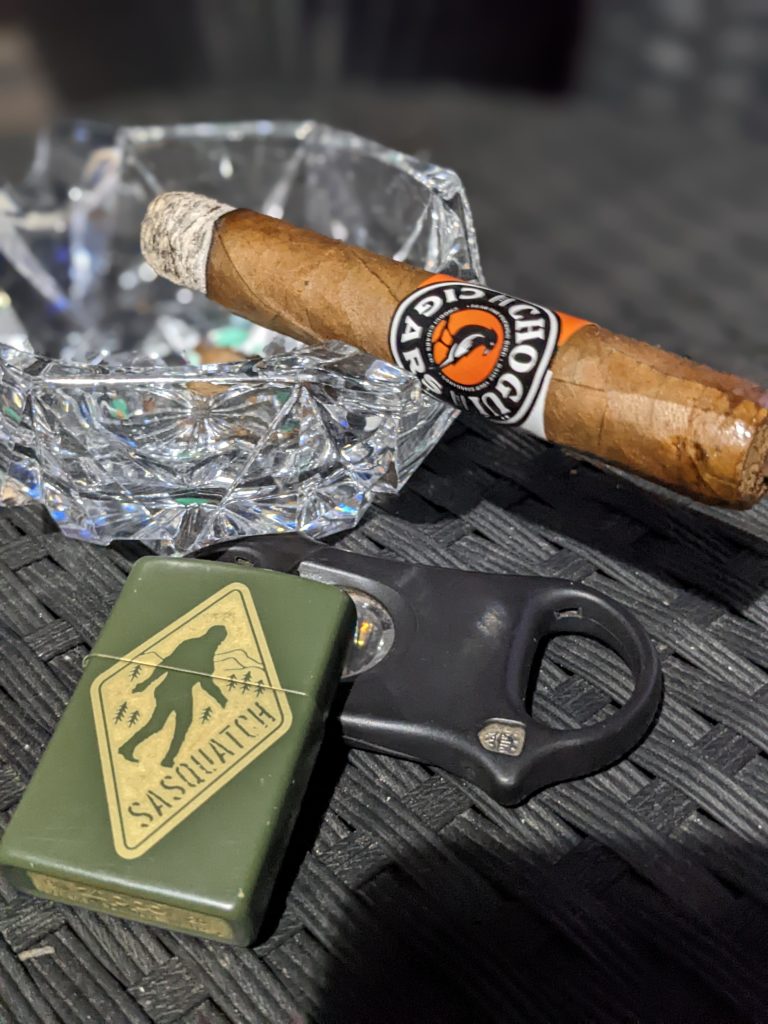 As I start to take notes on the cigar and the ritual, I feel the stress and pressure of the day begin to melt away. I am able to focus on enjoying the cigar, being present, listening to folk music, and having a sip of bourbon. I hold the cigar with my thumb, pointer, and middle finger as I enjoy a puff or two. I rest it on the ashtray between puffs gently to maintain the ash that is growing. 
The ash has a nice tooth to it, the burn line has minimal wave, and has a defined black burn line. The ash is light in color, and has layers to it. I have a feeling it won't hold on too long, but is doing just fine for now.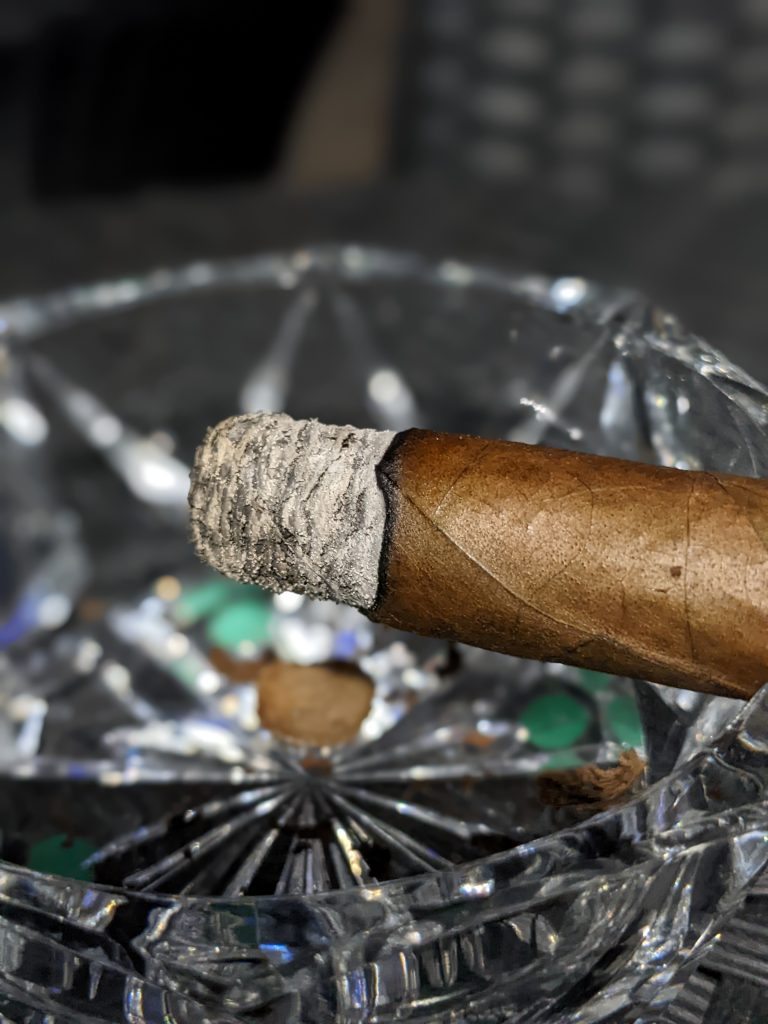 As I enjoy the rest of my cigar, I find myself looking up the exact size and trying to find a recent review. If I am enjoying a new cigar, I often find reading a review helps me to find different nuanced flavors, and characteristics that might otherwise be overlooked.
 This is my ritual that I find myself partaking in, whether it be alone with my own music or amongst friends, talking and laughing and being present in the moment. What does your ritual look like?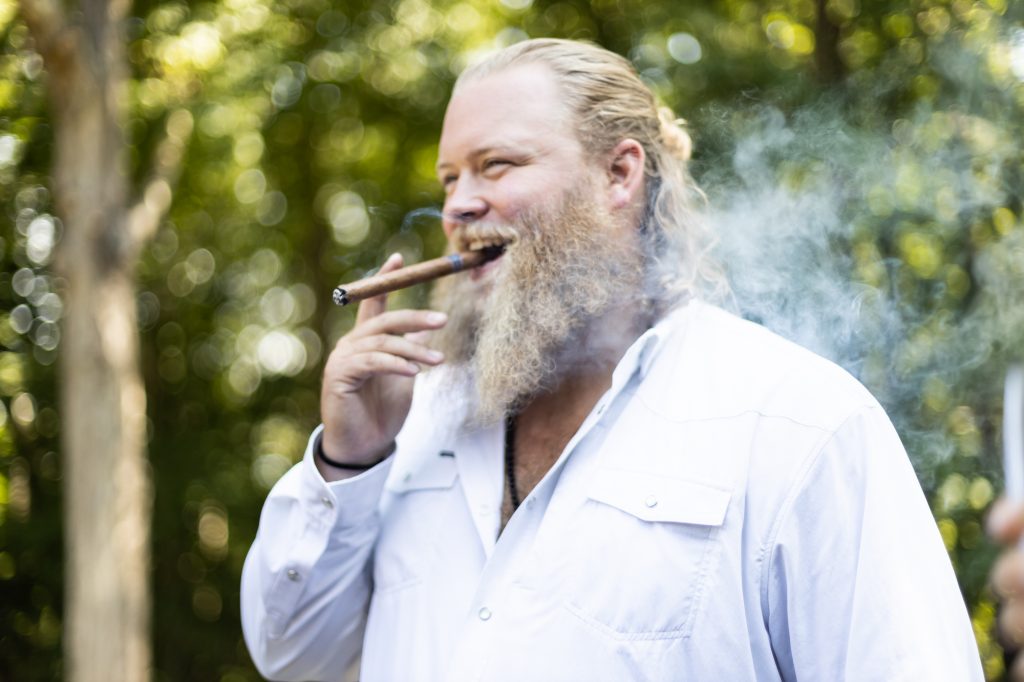 I will leave you with another quote that helps frame the moment.
"People have traditionally turned to ritual to help them frame and acknowledge and ultimately even find joy in just such a paradox of being human…" – Michael Pollan
My cigar "kit" and enjoyment for the evening below:
Chogui Dos77 Corjo Rogusto

Origin: Domincan Republic

Facotry: Manufactura Rivas

Size: 5.5×50

a perfect size for me similar to a robusto, usually this is about a 90 minute cigar for me if I am relaxing

Wrapper: Sun Grown Corojo Original, Dominican Republic

Filler: Havano 2020, Havana Vuelta Abajo (HVA), Piloto Mejorado (Medio Tiempo), and Corojo Original

Body: Medium+

Belfour Bourbon Whiskey

Aged with toasted pecan staves inserted into the American white oak barrels

Brown sugar notes with roasted nuttiness

Zippo Lighter with a Zippo butane insert

Thift store blue glass whiskey glass

Crystal ashtray that was generously gifted to me from a new friend/neighbor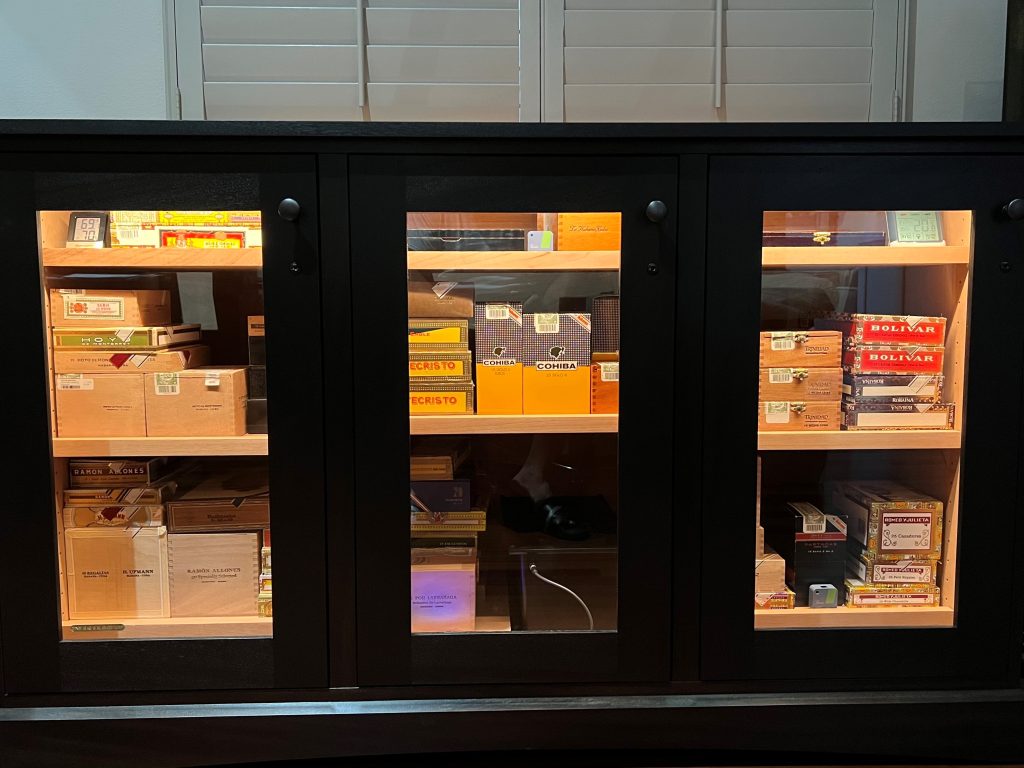 BIO | Clinton O'Malley
I have been enjoying cigars for just over a decade, and in that time have grown to appreciate the different aspects of the cigar industry and all the craft has to offer. A software and technology consultant by trade as my full time profession, I enjoy cigars and the culture as a hobby and passion of mine. I have been gravitating towards the smaller brand and boutique blends that are often in limited release quantities as of late. I find that each cigar has a story to tell, and look forward to learning about each one and sharing that with others.