June 24, 2021
Commercial Design Services
Wine merchandising is our specialty and we are here to help with your next project. Our many successful designed projects have ranged in size from small upgrades to complete remodels to total new store designs. Check out some of our sample plans to get an idea of how to use our commercial wine products to create an attractive and efficient wine storage display for your retail store or space. We are here to help you. Learn about the steps and details of our design process.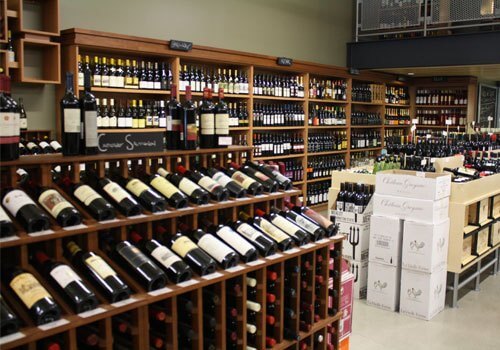 Designing Your Space to Generate Higher Wine Sales
Restaurants & hospitality spaces
Increase your wine sales through merchandising
Organize and display your wine for maximum effect
Work with our design consultants to define your needs and create the wine merchandising solution that works for you
Starting your commercial wine storage project
Maximize your sales per square foot
Increase efficiencies with proper facings to stock ratios
Choose wine displays that work with your store interior design
Identify the appropriate display fixtures for your application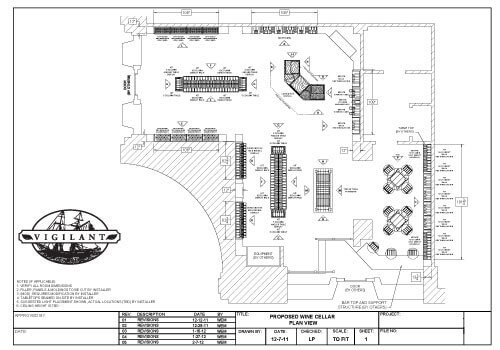 The Process of Designing Your Wine Display
1. Preparation
We recommend these steps to help you familiarize yourself with our products and services:
Spend time on our web site learning about our products and services. View our commercial wine fixtures to see some of our wine display shelves, wine store racks and display cases.
Request a copy of our Wine Cellar Catalog and review.
Establish your project criteria and specific goals for your project.
Estimate the number of bottles and facings that you will require for your project.
View our gallery of projects and see some of the wine racking and cabinet options available to you.
2. Initial Design Request
Once you have completed the steps in number 1:
Complete a Design Request Form and submit that to our consultants with your floor plan.
Provide us with room dimensions, architectural drawings, or a hand-drawn floor plan of your wine cellar space with as many dimensional and storage details as possible.
Discuss the details of your project with one of our Design Consultants. 1(888) 812-4427
3. Design and Proposal
Based on the information received from your submission and consultation, our sales and design team will create a complimentary design and proposal for your review. Please be aware that larger, more complex, projects may require a design deposit to initiate the proposal and design process.
View our commercial kit Sample Wine Designs & Wine Room Plans to see examples of what to expect with our designs.
4. Review Your Proposal and Design
Once you have completed the steps in number 1:
We will email you a proposal and design related to the project details you submitted. Review it online or print it out.
Call (888) 556-2032 | or  email your design consultant: 

[email protected]

 with questions or comments.
E-mail or fax a marked up design to your Design Consultant.
The first revision is provided without a deposit. Additional revisions may require a design deposit which is credited to your purchase.
5. Ordering
Once you are fully satisfied that the design and proposal fit your needs and you are ready to proceed:
Sign drawings and proposal and send to your consultant.
Pay a 50% deposit to put the job into production.
Ask your Design Consultant about production lead times for our products.