Features to Consider in Wine Cellar Cabinetry
Before purchasing a wine cabinet or cabinet furniture, it's important to become familiar with the quality of how a cabinet is constructed so you can make  an informed purchase decision. All of our cabinets and cabinet furniture are handcrafted by our master woodworking craftsmen using the highest standard of quality from time tested techniques.
Below are some of our features showcasing what makes our quality stand out. We also have some FAQs you can review to get a better understanding of why you should choose Vigilant.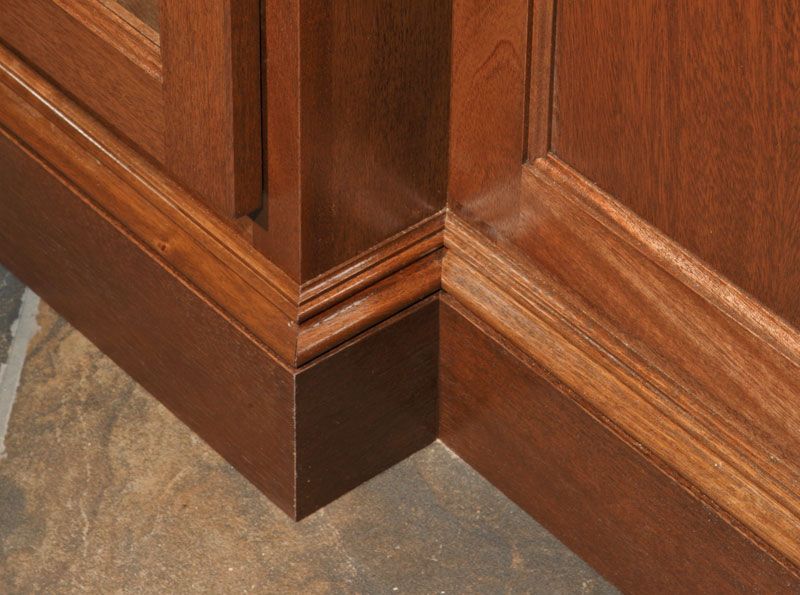 High bases, built-up crowns and accent moldings are some of the types of trim you can add to your wine cabinets to create a refined look. Moldings, rosettes, profiles, medallions, corbels and onlays are additional options.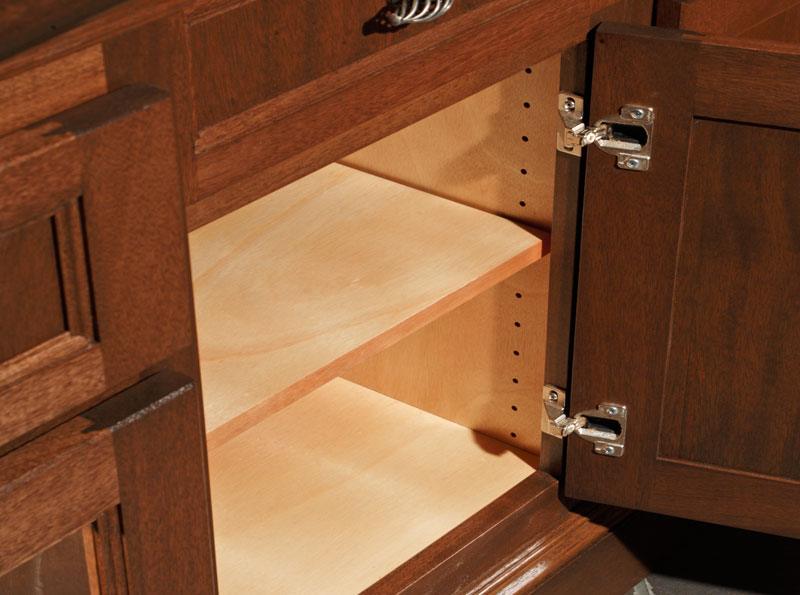 Our furniture quality cabinets showcase fully assembled face frame with finished interiors using traditional joinery. All our cabinets are constructed of Structural Insulated Panels (SIPs) for proper seal and energy efficiency.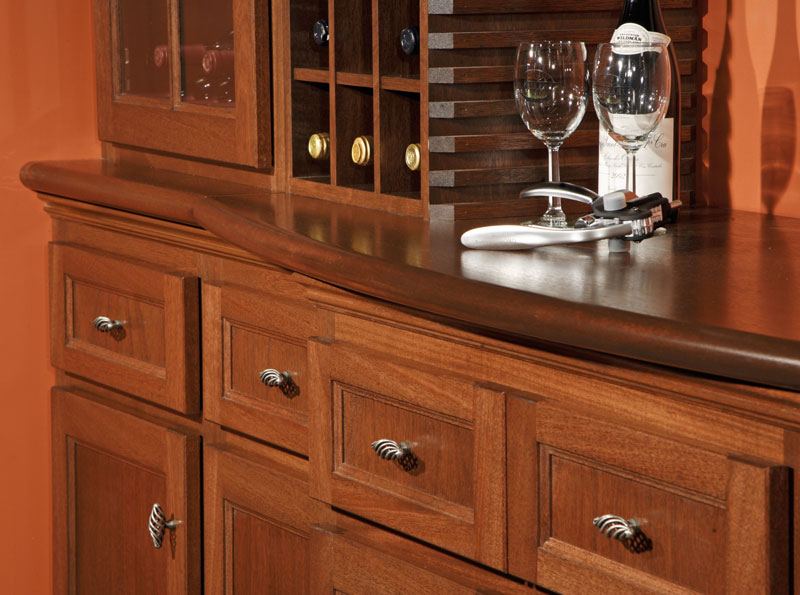 Many of these cabinets are designed with matching wood counter-tops with a durable finish, custom profiles and radius options. you can further personalize your counter-top with granite or other materials as you see fit.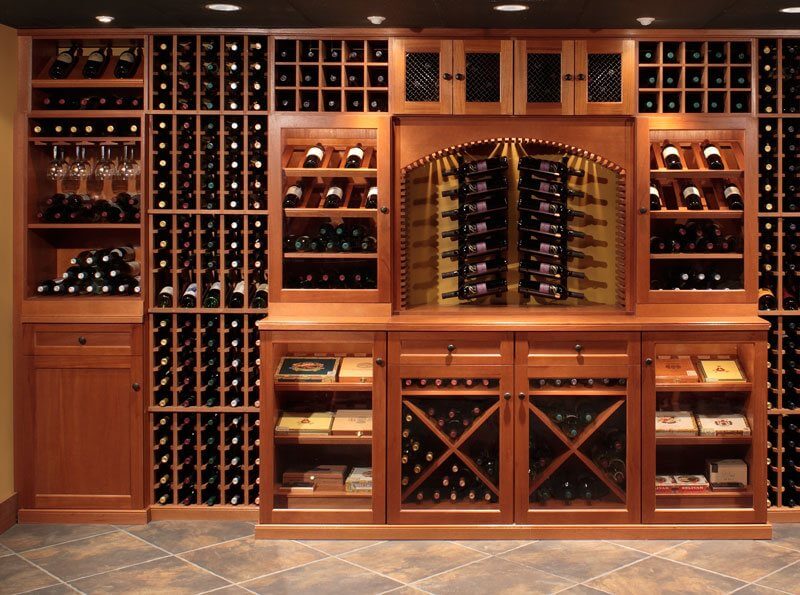 We have a number of different door styles to choose from. Some standard options are frame and panel, raised panel, mesh, or glass. We can handle custom requests too, just let us know what you want and we'll make it happen!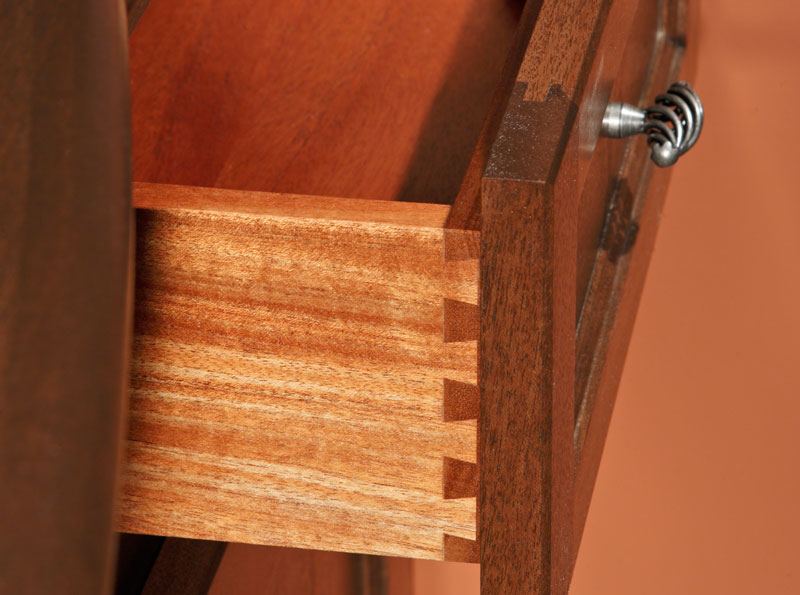 Our craftsman use the finest techniques including creating all drawers and doors with dovetail joinery. Choose from multiple options to make your drawers and doors unique to your design.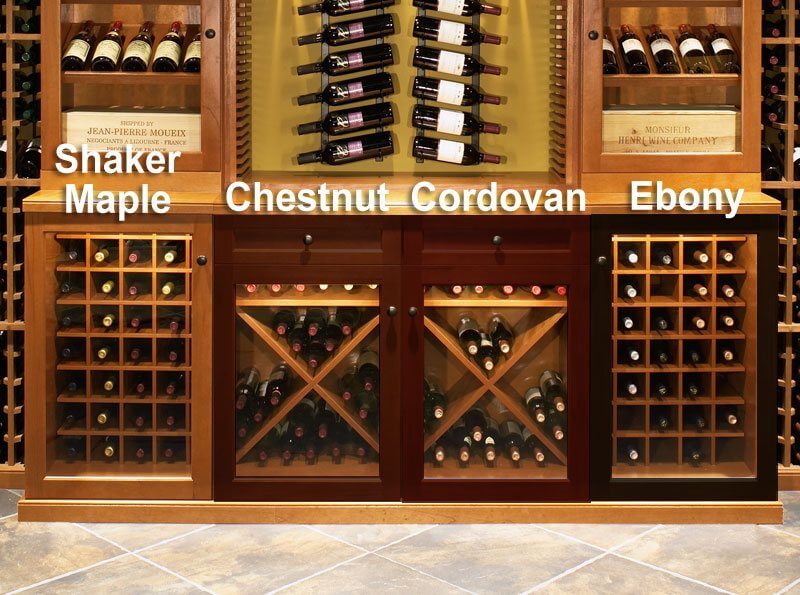 A complete line of finish options are available for these wine cabinets. Chose from one of Vigilant's standard finishes or chose a custom finish to better suit your taste or match the finish to your existing mill work.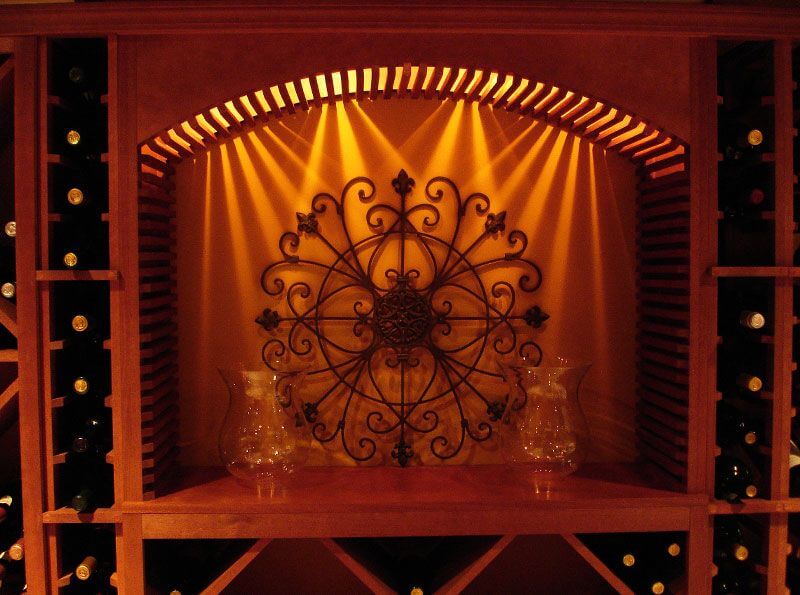 Arched soffits add a perfect finishing touch to any fine cabinetry. We offer arched and true radius soffit and bead board arches at multiple widths. Let your imagination loose when thinking about how you want your soffit to look with your existing room decor.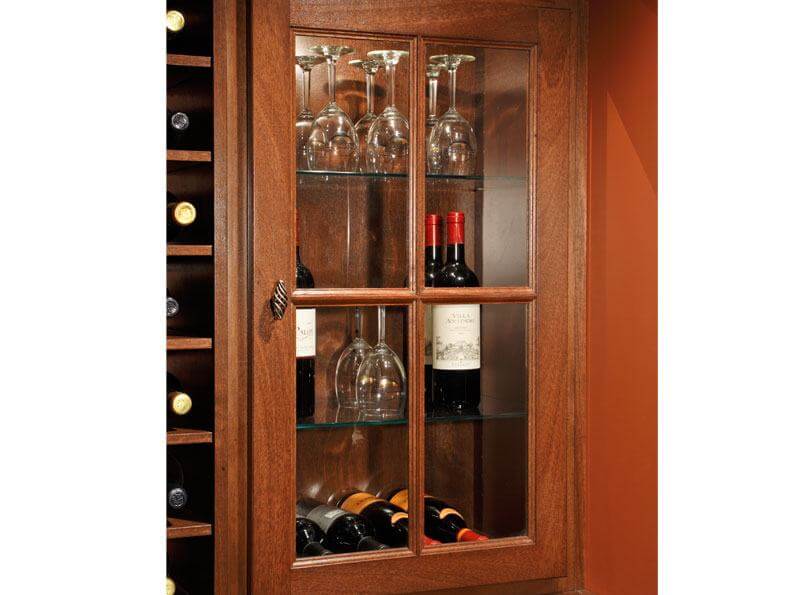 Wood mullions are a high-end looking finishing touch you can add to any glass paneled cabinet door. Our mullions have distinguishing profiles that create a multi-paneled glass effect and give extra detail to enhance the finer cabinet features.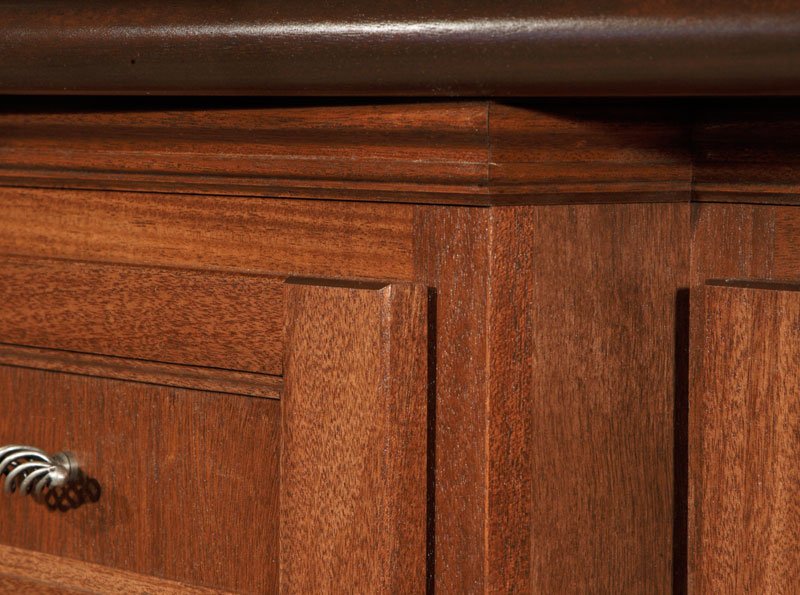 Moldings under counter-tops are another way of emphasizing the decorative nature of our cabinets. Create a profile that matches your crown and base moldings, or let our design experts create one that will accent the rest of your cabinetry.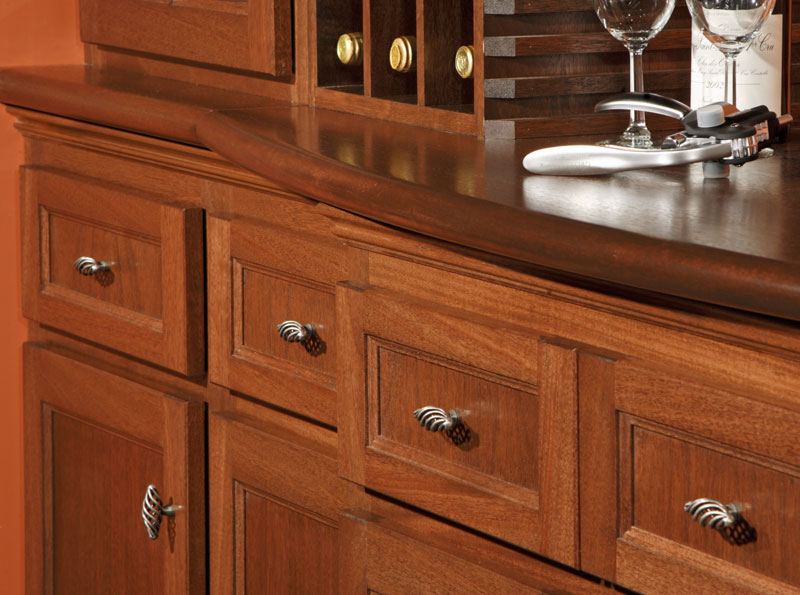 Concealed European hinges are standard on Vigilant non-conditioned cabinets. On conditioned cabinets, heavy duty blum hinges are used. We offer our standard drawer slide or upgrade to an invisible under mount drawer slides. If you prefer to use a type of hinge or slide that matches your existing hardware, let us know.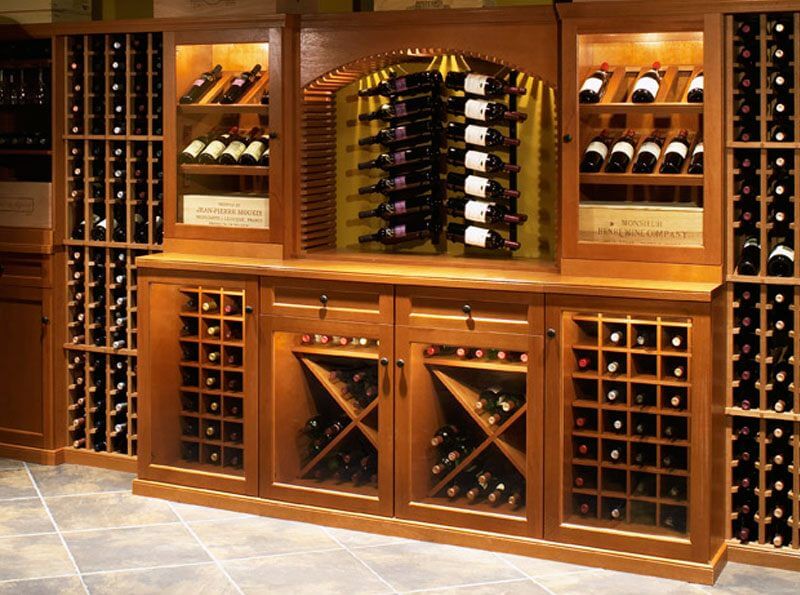 Optional Display lighting comes pre-installed in all Vigilant cabinetry. Display lighting can highlight a soffit, an arch, a display row, cabinetry and other decorative or functional items anywhere within you wine cellar or wine room. We offer both Low Watt halogen and durable, long-lasting LED lighting options.
Wine Cellar & Wine Room Features
A true custom wine cellar is measured by its distinct differences and unique features. These differences can be varying wood species, unique designs, custom colors or custom elements. Below are some creative elements we have used in building custom wine cellars.
Call our knowledgeable wine cellar experts to discuss how we can help make your dream wine cellar a reality. We love to help!
Custom Wine Cellar Elements
Vertical Display Wine Racks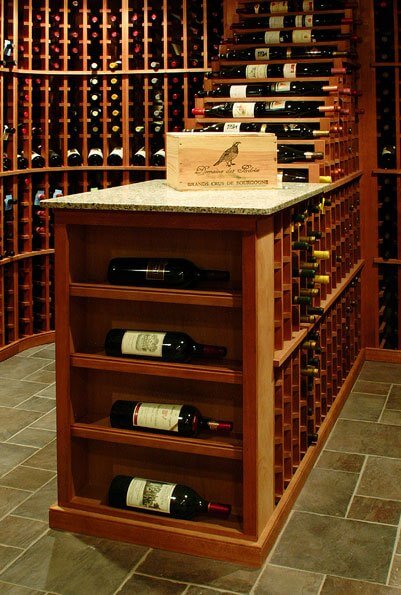 Vertical displays provide the perfect showcase for your prized wine bottles. Vertical wine rack displays are flexible and can be used to display a varying number of wine bottles. This image illustrates a custom cascade rack descending to a half-height wine rack table with a display end shelf.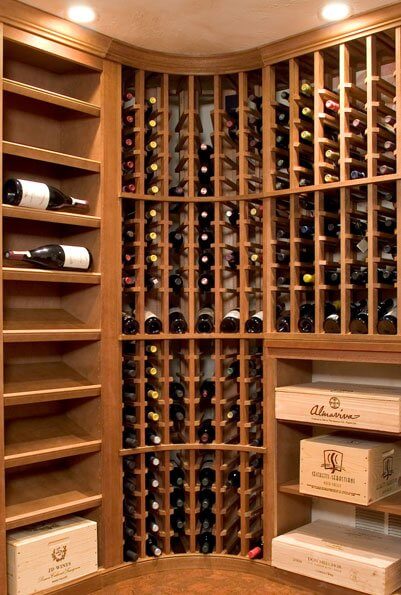 Curved corner wine racks allow your wine racking to beautifully transition between walls.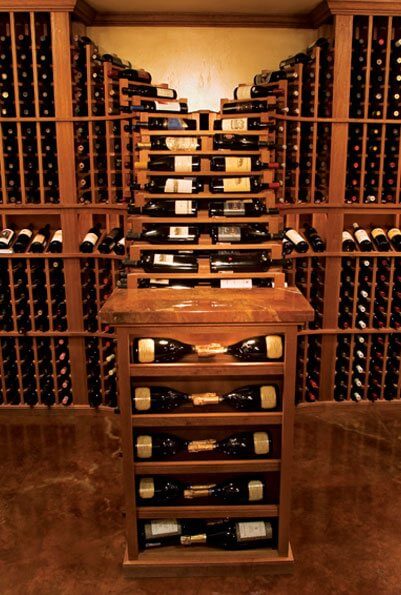 A cascading waterfall wine rack is an impressive decorative and functional wine rack to add to the middle of your wine room. It's also great to store bottle of wine in rooms with angled ceilings or for under the stairs.
Quarter Round Wine Display Rack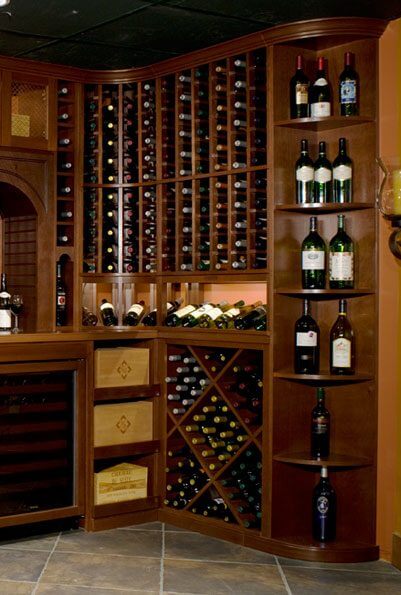 A quarter round display wine rack is perfect for displaying decanters, champagne buckets, choice wine bottles and other wine accessories or artwork. Our quarter round shelves are designed to display most bottles. We do not use glue to hold the shelving because the glue will weaken over time.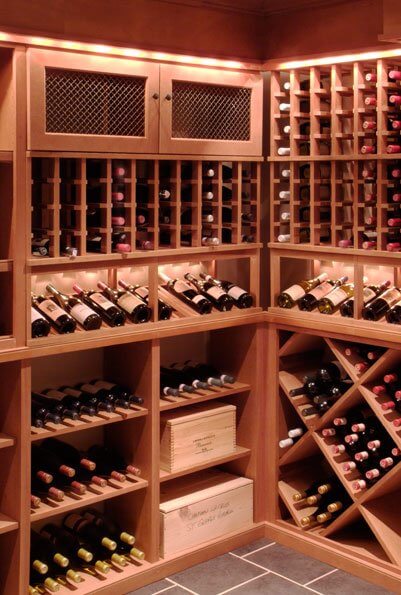 Wine rack lockers are a perfect solution for adding additional locked storage above your wine racks.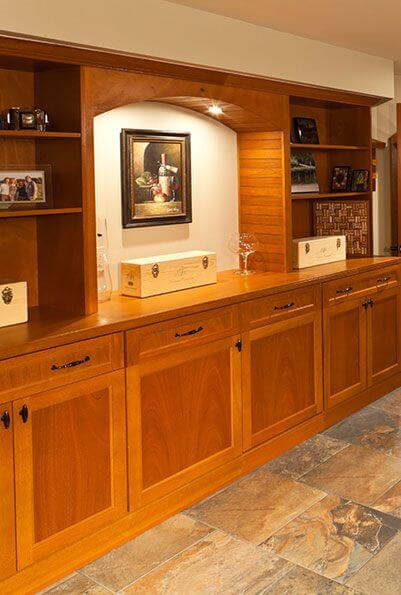 Add either our
standard modular wine cabinets
or let us build you custom wine cabinetry to match your specific style. Wine cabinets allow for additional locked storage, additional display, entertaining and wine decanting or tasting areas.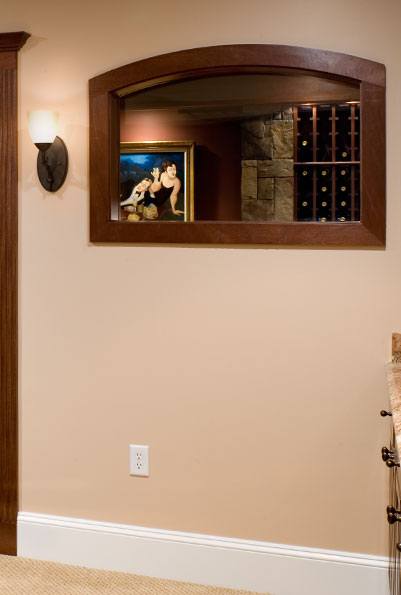 Add our insulated windows to your wine cellar allowing for viewing and admiring your wine collection from an room in your home.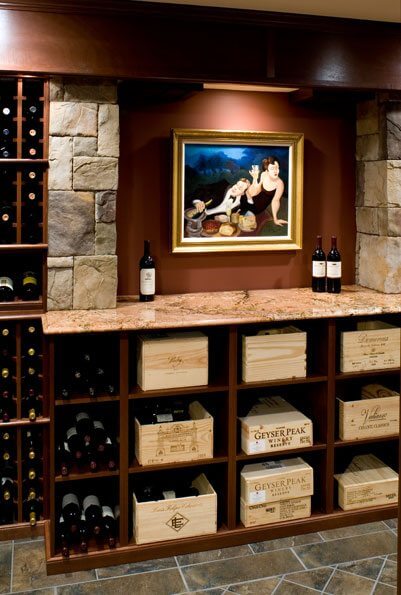 Wine bins are a great wine storage solution for bulk wine. You can add wine boxes to the bins or artistically display your wine bottles in our diamond or cubbies shaped bin inserts.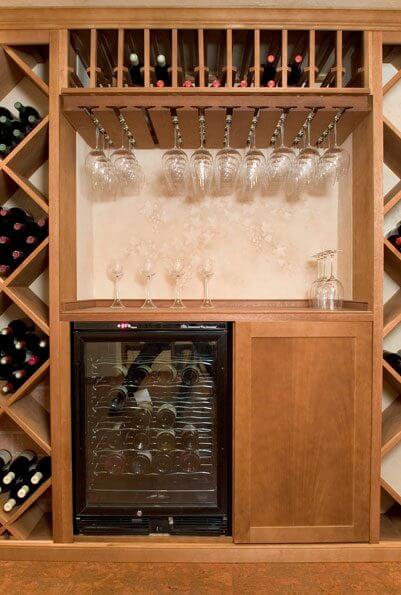 Organize your stemware wine glasses out of harms way with our stemware rack that mounts directly under our wine racking components and cabinets. In addition to freeing up counter-top space in your wine room it creates elegant focal points to your wine cellar. Try our standard 5 and 10 column stemware wine racks in your wine cellar or let us build you a custom stemware rack to fit your space.
Decorative Wine Rack Arch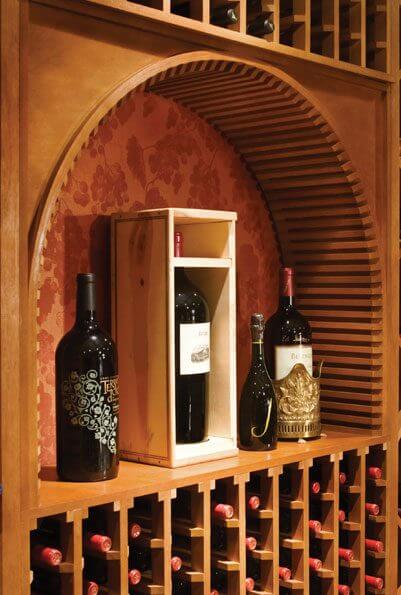 Decorative wine rack arches, with slats or bead board, add aesthetic flair to your wine room and allow for counter-top wine bottle storage or decanting and wine tasting areas. We have our standard 5, 7 and 10 column soffit arches as well as true full radius arches like the one in this image.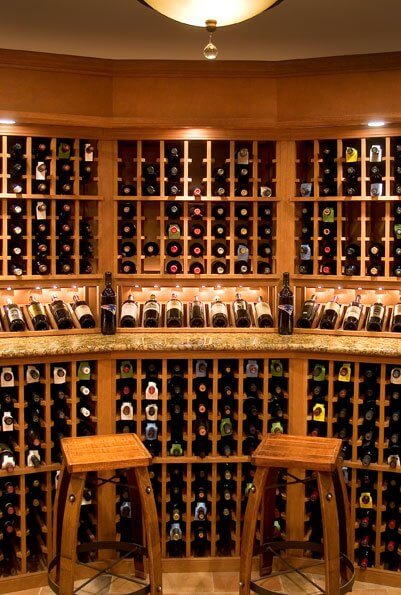 All of our wine racks come with an angled display row to showcase your choice wine bottles across the length of your wine racks. You can add lighting above the display row to show off your wine labels and add warmth to your wine room.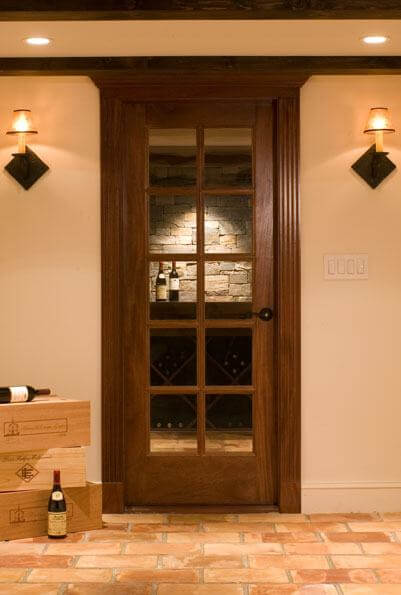 Our insulated doors will properly seal, protect and display your wine cellar. We have two series of 
standard wine cellar doors
with multiple options and accessories as well as our expert capabilities to design and build your 
custom wine cellar door
.
VintageView Metal Wine Racks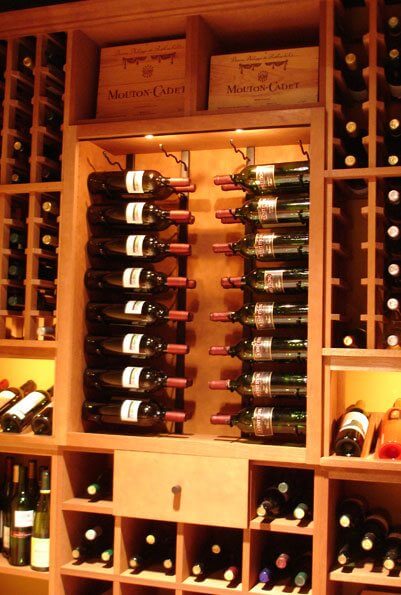 Our metal wine racks offer a contemporary style that allow you to view and show off your wine labels. They can be added to any wall or cabinet in your wine cellar. They can fit in virtually any space and can accommodate any number of bottles.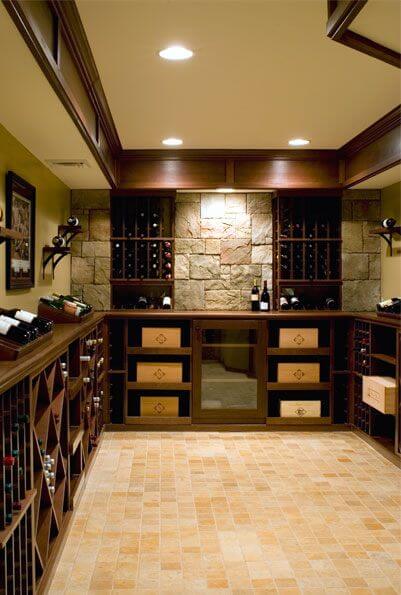 A soffit is simply a portion of the ceiling that has been built lower than the area around it. Soffits are quite common in wine cellars to decoratively fill in the space between the top of your wine racks and cabinets and the ceiling.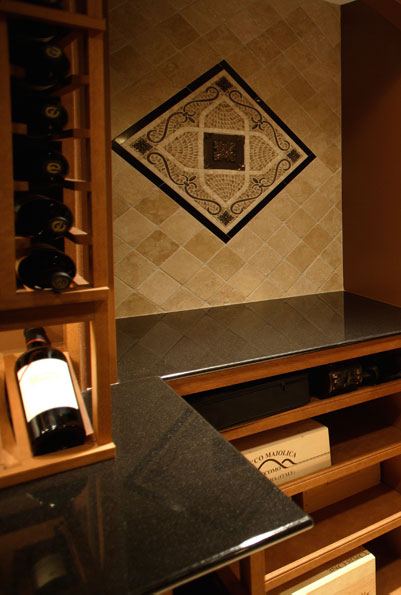 Adding counter tops above our half-height wine racking components, gives you another decorative way to create a custom looking wine cellar. Counter tops provide you with additional storage and display options for your wine, artwork and personal items.
Custom Wine Cellar Design Considerations
Conventional wisdom does not necessarily need to be followed when establishing your custom wine cellar wish list. A true custom creation has many distinct features unique to it, but there are always many other options to complete the look you want for your project. Here are a few ideas to take into consideration when planning your custom wine cellar.
Plan your budget and what elements of your custom wine cellar are most important to you.
The climate in your area plays a huge role in determining how your wine cellar should be built. Check out the climate map for suggestions on build-out for your area.
Custom wine cellars can be built with any species of wood, although we strongly recommend mahogany as it has continually proven to be the most durable, and resistant to the elements in all of our tests.
Custom wine cellars can be finished with any stain. Choose one that matches the existing decor of your home or choose from one of ours.
Have your sales consultant quote Satin Finish. It will provide your wine cellar with a furniture finish and further protect your wood.
Match your walls to your custom wine room with bead board or tongue and groove paneling with matching stain and Satin.
Complete the design of your custom wine cellar with a custom wine cellar door. Our doors are designed to fully protect your wine cellar environment and is fully customizable with glass options, wood options, stain options and anything else you can think of.
Wine cellar cabinets are an excellent addition to the design of any custom wine room because it allows for hidden and extra security on the storage of your finest wines. Be sure to ask your sales rep for locksets when ordering.