February 9, 2022
How to Host a Wine Tasting Like a Pro
By Roberto Lopez
Porch.com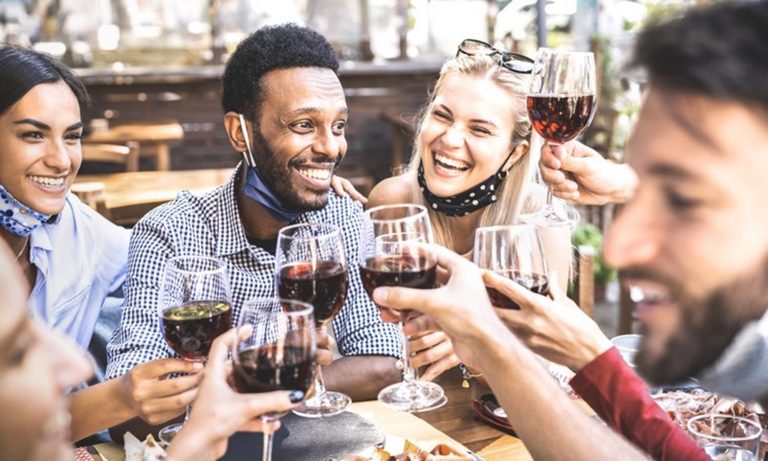 Ah, wine. Whether you're just cultivating your wine knowledge or you're a seasoned, wine-loving expert with a cornucopia of adjectives at the ready like "leathery" and "dark berry", a wine tasting party is a great way to mix up your entertaining game at home.
Wine tasting parties can be casual events, if you're ever feeling overwhelmed at the prospect of hosting. Yes, you absolutely can go all out and rent expensive glassware, hire a sommelier, chef, and musical entertainment. Or, you can keep it casual and go potluck-style where all of your guests bring a bottle or two of wine for the group to taste. Wine tasting parties should be flexible, just like Vigilant's offerings of standard and custom handcrafted wine storage. Most importantly, they should look and feel like the host—that's you!
The Basics
Regardless of what your personal style is, there are a few things that will make your wine tasting a success:
At least one corkscrew. Probably a few, to be safe. That way, you can have a helper open wine with you.
Good quality glassware. It not only looks pretty, but good glassware helps to bring out the best qualities in the wines you're tasting. While there are many different types of wine glasses, some great all-around options can work for all different kinds of wine. If you don't want to invest in a set of nice wine glasses, consider renting from an event company.
A decanter or two. This will allow you to decant one wine while pouring your current one for tasting. There are a lot of schools of thought from different sommeliers on how long to decant the wine for, but on the conservative end, sommeliers like Amanda McCrossin recommend no more than 25-30 minutes.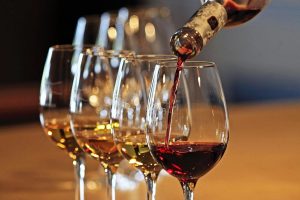 Neutral, simple palate cleansers. This should be something like water crackers or simple bread. Even things with butter or salt can distort your palate.
A bucket for getting rid of unwanted wine. Depending on your crowd, this might be considered sacrilege, but hey. Better to be safe!
Plenty of water. Make sure your guests stay hydrated.
Helpers to pour wine with you. If you have 8-10 people, it can take several minutes to make it around a room or table. Much easier with two people!
Glass charms or wine glass markers. If you're going to be mingling around, these can be handy to make sure you do not have to wash glasses every two minutes, but if you'll be seated, it's probably not necessary.
Chillers for white wines. Ensuring your wines are served at the right temperature is critical to getting a good read on them. 
Pen and paper for each guest. Making tasting notes is fun and can be helpful to your guests the next time they're pondering their wine selections. Encourage them to take notes on paper and take a photo of their notes at the end of the evening, so they have it to reference on their phones.
Everyone Loves a Theme Party (Right?)
Just kidding, this isn't your eighth grade 70's themed birthday party coming back to haunt you. Choosing a theme for your wine tasting event is less to do with costumes and more about what type of wine you'll be featuring. 
Here are a few ways you can narrow down what your selection will be for the evening
By region – Choose your favorite region, or hit up your local wine store and ask for an expert recommendation on where a great place to start would be based on their selection. Some great regions that will give you a lot of variety are California, Argentina, South Africa, Italy, and France.
By varietal – If you tend towards a specific varietal like Cabernet Sauvignon, Pinot Grigio, or Merlot, go with what you love! It's always interesting to find new favorites.
By winery – Many wineries have a diverse selection that you might not necessarily know about if you get your wine from the same store each time. Check out their online selection and see what you can have shipped or ordered for you.
By value – This one is fun because it keeps things equal. Good wine isn't necessarily expensive, so offering your guests the opportunity to try wines within a reasonable price bracket gives everyone the chance to find new wines they can afford.
Old World vs. New World – Basically, the Old World refers to Europe, and New World, everywhere else. This nomenclature is considered a bit dated by some parts of the wine community, but you'll still see it used in many stores. 
Potluck! – If this is your first time hosting a wine tasting event and you want to test the water, having your guests each bring a bottle is a perfect way to host while still keeping costs manageable. Plus, you get to learn your friends' taste in wine!
The Details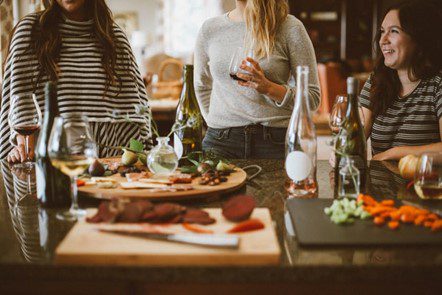 How many guests should I invite?
If you're pouring two-ounce testers, you can expect to have one bottle cover ten guests. There is some room in here for inexact pours or guests asking for a re-taste, which will happen. So if you're planning on more than ten guests, you'll have to prepare to double up on bottles.
How many wines should I taste?
Ideally, you'll taste five wines during your tasting party. This is enough for your guests to enjoy a variety of wines without the tasting becoming too long and cumbersome. Also, the timing of this is best at twenty-minute intervals. This way, you'll still give your guests time to mingle and chat after the tasting.
How much wine do I need?
If you're thinking of a lighter tasting, you can plan for half a bottle per person, but a more reasonable expectation will be closer to one bottle per guest.
What temperature do I serve the wine at?
Each type of wine has an ideal range for drinking that allows the characteristics of the wine to be showcased best. You can ask specifically about the wine you choose at your wine store, but generally, bubbles 40-45 degrees, whites 40-50 degrees, and reds 55-65 degrees. Read Vigilant's recommendations for bottle storage here.
Should I hire a sommelier?
This one is entirely up to you! Hiring a sommelier is an amazing way to learn about wine and provide your guests with a new experience. Sommeliers will work with the level of wine knowledge that your group has to make wine more accessible to everyone—they're not just for snooty wine experts. There will be an additional cost, of course, for hiring a sommelier, and that cost will vary widely depending on your location and the level of experience your sommelier has.
Music and Atmosphere
The music of your wine tasting party is completely customizable to your taste. Whatever genre of music you and your guests will enjoy will enhance your experience. Just because you're drinking wine doesn't mean you have to wear a tailcoat and listen to classical piano. Be yourself! That being said, your music and lighting choices should allow your guests to hold a conversation between multiple people without having to be right next to each other. You want to create an environment of sharing and discussion, so make sure it's not too loud or dark.
Food Pairing
Chances are unless you're a whiz in the kitchen, it'll be easier for you to put out small appetizers rather than have a seated meal while doing your wine tasting. But, if you're thinking of dessert wines, that can be a great way to finish a seated meal.
One of the golden rules of choosing food for wine tasting parties actually has nothing to do with the type of appetizers you pick and everything to do with the amount. Plan for more food than you think—you'll be giving your guests plenty of wine, so you want to make sure that they also have enough food to soak it up!
There are so many varieties of wine that entire books have been dedicated to—how to pair food with Merlots or what food to choose for Rieslings. Best case, head into your local wine store and ask an expert once you've decided on your tasting menu for wine. They'll point you in the right direction based on your specific choices.
Do's & Don'ts of Hosting a Wine Tasting
Here are three do's and don'ts to help ensure your wine tasting party is a smash hit.
Do's:
Give your guests time to mingle before the tasting. Nothing is worse than having a distracted crowd trying to catch up while you're struggling to get their attention.
Make sure you have enough glassware. You can bet that glasses will be confused or misplaced, and you'll want to have spares on hand.
Provide your guests with the info on where you got the wines from so they can purchase their favorites after.
Don'ts:
Light scented candles. The same goes for having aromatic flower arrangements. The smell is a large part of wine tasting, and you don't want anything overpowering the wine.
Rush your guests out right after you're finished. So much of a wine tasting is about the conversation! You'll want to plan to start your party early enough that when you're done with the structured tasting part, your guests have plenty of time to share their experiences.
Choose wines that are too far out of most guests' price range for your first event. We all love trying an expensive wine, but your first wine tasting party should make wine more accessible to your group.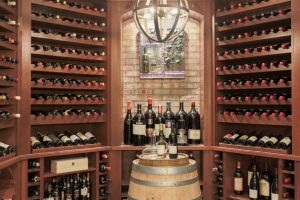 There you go—you're all set to host a smash hit of a wine tasting. The only thing you'll have to worry about now is all of your friends asking you when the next one will be!
If you're thinking of upping your wine storage game, look no further than Vigilant – download our UPDATED catalog, or schedule a free virtual design consult to create the wine space of your dreams!
Originally posted by Roberto Lopez on Porch.com
Author bio: Roberto is a content writer at Porch and writes about his hobbies, dogs, food, home improvement projects; topics he loves. He is also a geek, old school gamer, and dungeon master.