March 30, 2017
Incorporating Wine into Contemporary Home Design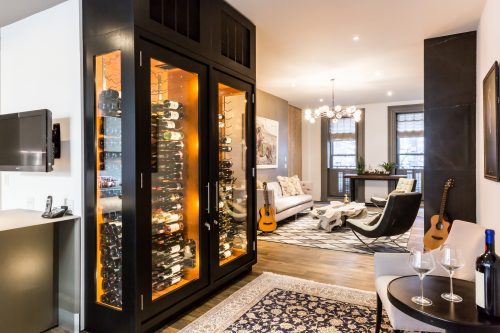 Wine dates back as far as history, so it is no surprise wine has earned its reputation for being traditional, however, it's the 21st century and gone are the days of wine storage being limited to traditional styles. Wine is no longer confined to dark cellars as wine collections are becoming something to showcase — statement pieces even. While your ultimate experience will always be in the pleasure of its consumption, a fine bottle of wine can also be considered as art. Why not display your wine collection so you can enjoy it no matter when it's consumed.
By bringing wine out of the dark and into the light, wine cabinets present us with an opportunity to involve wine within our interior design and home décor. Even those with walk-in wine cellars choose to incorporate wine cabinets into their main living decor for both presentation and convenience- it is a true example of form meets function. A wine cabinet in a dining room, open plan kitchen or even a space such as a foyer or hallway provides a display for those exceptional wines or allows easier access to everyday wines. A custom wine cabinet also has the ability to change the tone of a room and create that ambiance that wine does so effortlessly.
Wine storage has been very traditional in style until now. What is the cause of this change? Well, in short, because design changes. Wine may be a constant, in that it's more or less the same now as it was 100 years ago, but the way we store and display it does not need to be so rigid. As home design meets the 21st century, so does wine storage design. Our wine cabinets can be custom designed with contemporary lines and materials to blend seamlessly with a contemporary environment. What makes one wine cabinet contemporary over traditional? There are three main stylistic elements to a wine cabinet such as wood color and finish, the style of interior racking and hardware. By veering away from natural wood colors, choosing more modern interior racking such as metal racking or pegs and customizing hardware one can quickly, and easily, create a contemporary style. We are capable of full customization, meaning there are no design limitations and cabinets can match any style and décor.
A great example is a contemporary wine cabinet project we recently completed in New York City. This client had a very contemporary décor and needed a cabinet that would lend to the style of the space. This custom refrigerated wine cabinet was designed and built to meet our client's style and storage specifications. Due to the location where it would reside, the cabinet was designed to have glass side panels and full glass panel doors to better showcase the wine and to provide more aesthetic appeal. Learn more about what makes this wine cabinet unique and the project details by visiting us here. You will also find more cabinet design ideas in our gallery.
Contact us today to discuss how a Vigilant wine cabinet will fit into your home design.