Successful wine storage projects are characterized by many elements, and we've had the privilege of working on many of the finest wine cellars in the world, some of which are profiled here in our gallery. Take a moment to explore these photos and the details and design work that made them possible. Hopefully, this gallery provides insight and ideas for your own project. Check back often as we're always adding new projects.
Contact us to discuss our gallery and how to incorporate these details into your wine cellar project.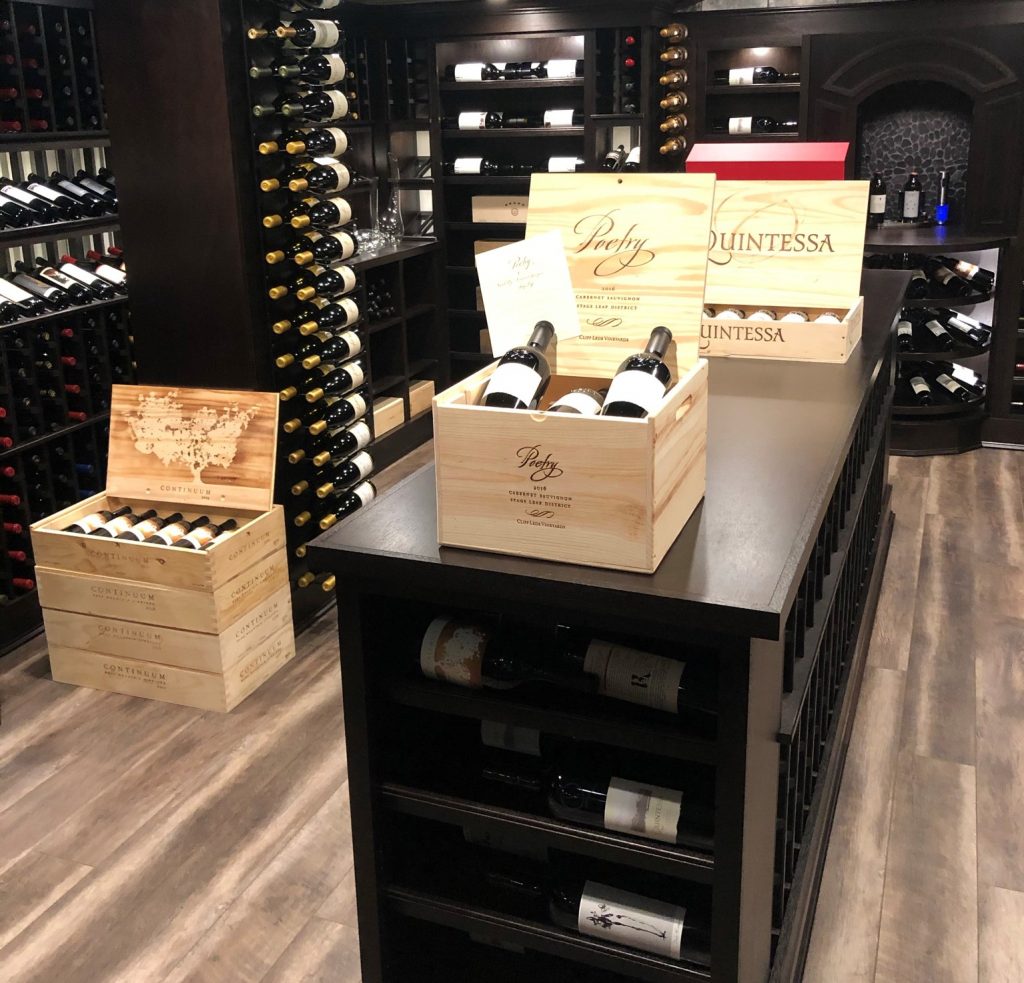 Our custom wine cellars are built with the highest quality products and handmade with attention to details. You'll love your Vigilant wine cellar!
Custom Premium Two-Tone Wine Cellar
This one-of-a-kind two-toned wine cellar is the perfect entertaining space in this West Virginia home. The wine cellar was handcrafted from Mahogany and finished in both Vigilant's Harvest and Espresso stains. It features beautiful custom premium cabinetry and a cigar humidor cabinet. For wine storage, the cellar uses Burgundy ladder racking and vertical display shelves with LED backlit panels to make the bottles standout. The wine cellar also includes a convenient table top area with a sink and stemware racking for the perfect decanting area.
Two-tone finished
Custom premium cabinetry
Custom trim
Hanging stemware rack
Custom liquor shelving
LED backlit panels
DIY Wine Room Transformation
We always love hearing from our clients, and how they use and display our handcrafted wine and humidor storage! Cindy is no exception, but when she ran into a backlog of hiring a contractor, that did not deter her.
Using our free 3D Wine Cellar Design tool, and working with a sales consultant, she was able to install her beautiful wine cellar herself!
Pine racking, all kit
Chestnut Stain and lacquer

Curved molding

High Reveal display rows

Modular "Strasbourg" Package

Impact LED Lighting System
TESTIMONIAL: 
"I looked at various sites for racking, but the DIY tool was what sold me.  Being able to have control of the design myself was a game changer.  Also loved that I could get samples of the finishes.  That helped when choosing the door and window for my cellar."
Custom and Premium Wine Cellar for a Seaside Home
This homeowner created a beautiful Mahogany wine cellar mixed with both Vigilant Custom and Premium components. The focal point of the wine cellar is a beautiful bead board archtop with custom cabinetry that includes locking wood framed glass doors. The solid wood cabinetry houses diamond bins, bulk storage and glass stemware holders. Additionally, the cellar uses scalloped edged pull-out shelves, magnum storage, vertical displays, cubbies and ladder racking. Giving this cellar an elegant feel is the taller base and crown moldings and fluted trim throughout the wine room. For temperature control, the wine cellar uses a ducted split cooling system for optimal conditions and minimizes noise within the room.
Mahogany wine cellar in a premium custom finish
Custom cabinetry
Mahogany ladder
Pull-out scalloped edged shelving
LED display lighting
Custom arch glass door with iron grate
Decorative trim and moldings throughout
Ducted split cooling system
This wine cellar was the perfect addition to these homeowner's dream home. All the wine racking is made from solid Pine and finished in Vigilant's Espresso stain and lacquer. For storage of up to 895 wine bottles, the cellar uses ladder racking with a display row, rectangular bins, a diamond bin and a quarter round display. The wine cellar also features a beautiful decorative archtop and stemware racks to hold and display wine glasses. Lastly, generating the perfect temperature for the wine cellar is a convenient and efficient through-wall cooling system.
Pine wine racking
Espresso stain and lacquer
Through-wall cooling system
Decorative Archtop
"Best decision ever! We now have our dream home and Dream Wine Cellar done! It is absolutely stunning and is now the center piece of our downstairs rec room. I would recommend Vigilant without hesitation for those desiring to add a wine cellar to their home." – S. Pipp
Custom Mahogany Storage for Wine Cellar and Tasting Room
This custom wine cellar and tasting room was designed for a private home just outside of New York City. The project included a vast array of storage options including adjustable scallop shelves, diamond bin cases, magnum cubbies, and angled display table tops all handcrafted out of solid mahogany. From the tasting room, the homeowner's prized wine collection is easily exhibited in the cellar through a custom Vigilant full glass arch door that's been framed with solid mahogany.
Radius slatted archtop with a grape applique
All mahogany was finished with our chestnut stain
Ducted split cooling system
LED display lighting
Finished base and crown molding
Custom tabletops, lighting and brickwork add the finishing touches
Custom Residential Wine Cellar
These homeowners transformed their basement into a stunning and functional wine cellar. The wine cellar components are made from Mahogany and finished in our premium cordovan stain and high gloss lacquer. For storage, the wine cellar features Burgundy racking with a display row, Magnum racking, Diamond Bins, Rectangular Bins with tabletops and Vertical Displays. The focal point of the wine cellar includes a beautiful beadboard archtop with display lights, a mosaic stone background and a tabletop. For added detail, Vigilant created a Mahogany beadboard paneled ceiling with matching finish and lacquer. Lastly, the cellar features a ducted cooling system strong enough to evenly and consistently cool the entire wine room.
Mahogany with premium cordovan finish and high gloss lacquer
Decorative bead board archtop
LED display lighting
Beadboard paneled ceiling
Base and crown molding
Ducted cooling system
Custom Residential Wine Cellar
These homeowners created a beautiful addition to their finished basement with a custom wine cellar. Designed with functionality in mind, the cellar includes several wine storage components for the homeowners to organize their collection. The wine cellar includes ladder racking with display rows, magnum wine storage, diamond bins and rectangular bins all made from Mahogany and finished in our Chestnut stain and matte lacquer. The wine cellar incorporates stunning details like a decorative archtop and crown molding to give it those finishing touches.
Mahogany wine cellar with Chestnut finish
Metal Racking
Decorative bead board archtop
LED display lighting
Vigilant Classic Square Full Glass Door
Crown and base molding
Custom Wine Cellar for a Waterfront Restaurant - Captain Anderson's Restaurant and Waterfront Market
This custom Mahogany wine cellar was designed for Captain Anderson's, a landmark waterfront restaurant on Florida's gulf coast. The wine cellar uses several wine shelving components including, ladder racking with display rows, diamond bins, cubbies, metal wine racking and custom cabinetry. Admittance into the wine cellar is marked by a beautiful Vigilant Classic French Square Door with a custom anchor etching and fluted casings. Lastly, the restaurant is utilizing a commercial grade ducted air cooling system in the wine cellar for the optimal climate condition.
Mahogany wine cellar with Chestnut finish
Metal Racking
Custom cabinetry
LED display lighting
Vigilant Classic French Square Door with custom etching
Ducted air cooling system
Custom & Kit Residential Wine Cellar
This custom wine cellar in a private residence in Northern Utah was created from Mahogany and finished in our Espresso stain to match the cellar's modern industrial style. The wine cellar features several storage options including a cascade rack, rectangular bin cases, vertical displays and multi-sized ladder racking for regular wine bottles, magnums and champagne bottles. For added detail the wine cellar includes crown molding, base molding and display lighting.
Mahogany wine cellar
Espresso and matte lacquer finish
LED display lighting
Magnum/champagne racks with high reveal rows
Double deep cascade rack
Base and crown molding
Custom Two-Toned Wine Cellar
This was a fun project for Vigilant to design a two-toned wine room to accentuate the clients slated stone walls. The cellar components was handcrafted from mahogany with the shelving stained in Vigilant's Harvest finish. To compliment the shelving, all the trim and table tops where finished in a dark espresso making all the details pop. The far wall is the focal point of the room with its inviting decorative arch and glass shelving perfect for showcasing and decanting their most cherished bottles of wine.
Two-toned finish in our Harvest and Espresso stains
Diamond bin and cube storage
Double bottle depth wall display storage
Decorative archtop
Custom crown molding
Square arch door with custom glass
Two-Tone Residential Wine Cellar
Custom wine cellar built to a designer's plans, this wine cellar features a unique two-tone finish with an angled display shelf throughout and a focal point of large bottle display. LED lighting highlights the beauty of the collection without effecting the room's temperature. Beyond aesthetics, this was also designed to maintain the integrity of the wine with its fully ducted cooling and integrated humidification system to best preserve the collection within.
Mahogany in a custom two-tone finish
Angled display shelves
Large bottle vertical displays
Custom depth wine racking
Finished trim & crown molding
A simple and elegant wine tasting room adjoins the wine cellar. Vigilant custom mahogany wine cabinetry with a 10-column bead board decorative arch provide additional display and storage opportunity along the wall of the preemptive wine tasting room. A Vigilant custom full glass arched French door provides the grand entrance into the conditioned wine cellar. The full glass doors allow guests the ability to view and admire the full wine collection while relaxing in the tasting room.
This exquisite custom mahogany wine cellar with adjoining wine tasting room was created for a wine-loving client in Sykesville, Maryland. It features many stunning design elements.
Custom arched full glass French wine cellar door in Harvest with flat casings
Custom mahogany wine cabinet with adjustable shelves, veneer tabletop, dovetail drawers and soft-close gliders, with a beadboard arch with installed lighting
Individual wine racks with a LED lighted display row
Magnum cubbies, solid rectangular and diamond bins for bulk storage
Decorative slatted soffit arche and tabletop for wine decanting
Curved corner wine racking
Solid mahogany crown and base molding
A custom Tuscan table with drawer storage
"Great company to work with and they offer a specialized product that can stand the test of time. The homeowner's love the warmth and richness of their wine cellar and the wonderful way it showcases their treasured wine collection. Their customer service was exemplary and we found them to be an excellent source for us, as a General Contractor, whenever we need a wine cellar." – Owings Brothers Contracting
Enter this wine room through an elegant, custom arched mahogany door with sidelights. The door features an electronic keypad lock, providing extra protection for the room's 3,000 bottles of wine.
Custom arched mahogany door with sidelights and electronic keypad lock
Individual mahogany wine bottle racks, true radius curved corner racks, cascades with granite tasting table ends
Diamond bins, wood case bins, stemware cabinets
Crown and base molding
Decorative soffit arch with LED lighting
Wine refrigerators
Adjacent wine tasting room
Glass enclosed custom wine cellar with backless casework to showcase the stone wall
Custom brushed aluminum rod display to make bottles appear to float
Pull out wood cases with soft close glides
Large format bottle displays
LED lighting
Custom Rolling Ladder
A stunning double-wide waterfall cascade rack
Slatted archtop w/ conversion boxes above
Individual bottle racks with a display row
Custom soffit ceilings
Custom individual wine racks
Custom counter-tops around the entire cellar
Tabletop displays and bottle cradles
Custom stonework throughout the wine cellar
Custom bins and cabinetry
Custom island display tables
Custom built wine tasting room and bar area
Glass enclosed wine room
Custom vertical display shelves
Custom individual wine racks
Adjacent wine tasting room
Custom built bar
Diamond Bins
10 Column Double-Deep Tables
10 Column Individual Wine Racks
Custom Granite Counter-tops
Custom Stonework
Custom Wine Cellar Door
32″ Tuscan Table
Custom Displays
10 Column Individual Wine Racks
Half-height Individuals
Full Height Ladder System
Custom Stonework
Multiple custom wine doors
Custom chandeliers
High reveal custom individual wine racks
Double deep custom height tables
Custom cascade
Custom stonework arch facade
Custom high-reveal racking
Custom soffit
Bulk storage bins
Display and recessed lighting
Custom glass entrance and windows
Custom bins and cabinetry
Custom lockers
Custom vertical display shelves
Multiple decorative arch tops and tables
Accented with stone flooring
Kit and custom cabinetry and bin storage
High reveal displays throughout the wine cellar
Grand French wine cellar door entrance with 5 sidelights throughout