Our retail wine store designs feature attractive, durable wine and spirits racking and shelving fixtures. Here you will find a photo gallery of our successful retail wine room designs and projects. With your help, we'll provide just the right combination of products to furnish your retail space and display your wine products brilliantly.

With retail wine sales continue to grow steadily, savvy wine merchants are focusing on improved wine merchandising techniques to further leverage sales. With Vigilant's extensive experience in wine storage and display, and our first-class onsite design team, we can create a beautiful and functional retail space for your business. Take a look at the retail wine store projects shown below. Then, give us a call to discuss your wine store design.
Contact us to discuss our gallery and how to incorporate their details into your wine cellar project.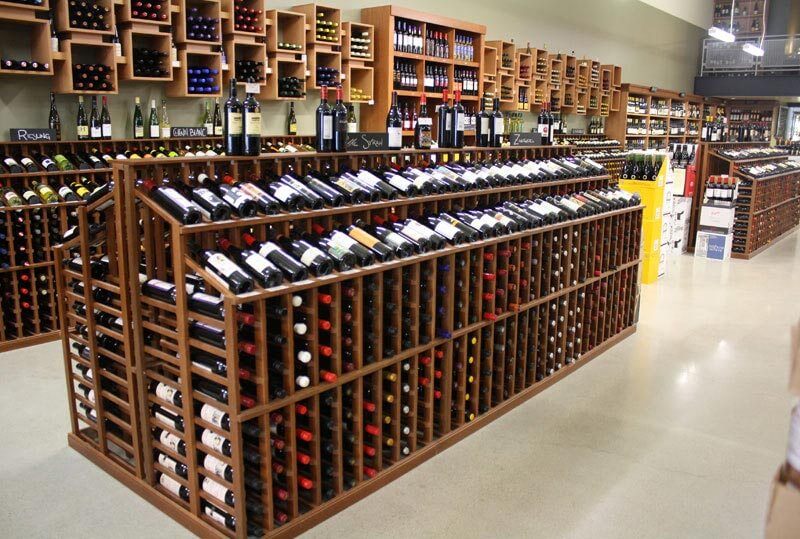 Our kit and custom wine racking, bins, cubes and shelving in mahogany or pine provide a sturdy, high-quality, attractive way to store and showcase wine bottles in any retail area.
The Juice Box Fine Wine & Spirits
The Juice Box is an all-inclusive one stop beverage store that was in need of a several storage solutions to accommodate their shop. The project included a refrigerated wine cabinet, non-conditioned wine cabinet, cube storage, half round displays and a cigar humidor cabinet. The wine cabinets feature a Mahogany exterior finished in our Harvest stain, black metal wine racking and LED display lighting. The triple cabinet uses a powerful cooling system perfect for red wine storage. By using wall-mounted wine cubes, the store is able to maximize the space and beautifully display the wine. Lastly, the store uses a Vigilant Cigar Display Humidor with adjustable Mahogany shelves capable of storing 2,000 cigars in the perfect climate.
Refrigerated wine cabinet for red wine storage
Mahogany non-conditioned wine cabinet
Half round display wine racks
Display cigar cabinet with humidification system
Wall-mounted wine cubes
This craft beer and spirits store needed a storage solution that could easily display and organize their inventory. Being experts in retail storage, we went into the design with functionality in mind and recommended our commercial liquor display shelves and tabletop displays. The shelving units are very durable and can hold a lot of weight because they are made from solid oak and oak laminate. The display units also include adjustable shelves that can accommodate all different bottle sizes. The store came together perfectly and the beverages are beautifully displayed and organized.
Solid oak and oak laminate shelving
Vigilant tabletops
Tiered display islands
Adjustable shelving with solid nosing
POS desk area
We partnered with Alexander Lee, from Vinoteca, to create a stunning, modern wine display for an international retail store in Almaty, Kazakhstan.
Vigilant convex & concave Wine Wave Cubes™ with ebony black finish make a dramatic effect along the full length of a wall
Metal wine racks behind glass enclosure add to the modern design and expose wine bottle labels
The wall of our Wine Wave Cubes displays labels for 195 wine bottles
The State of NH Liquor Commission
New Hampshire Liquor & Wine Outlets have over 7,000 selections of the hottest new national wine brands for patrons to choose from, along with exclusive and rare varieties. Whether looking for a specific wine or a food pairing or simply something new, they make a Granite Stater's wine journey a little easier.
Attractive Vigilant wine racks showcase hundreds of wine varieties
Retail island wine displays
Radius corner display shelves
Additional wine cubes for bulk storage
Rolling island retail display racks
Custom case cubbies with display shelf
Single bottle columns for boutique wines
Custom shelves and cubbie bins
Long walls of custom boxes and shelving
Display rows and signage holders for easy bottle display
Testimonial
"From first contact to the completion of the installation in our brand-new store, Vigilant has been a great business partner. It was our goal to develop a racking system that was both beautiful and highly functional and Vigilant was both responsive to our needs and forthcoming with their ideas. With the second CoolVines store scheduled to open in Spring of '08, we look forward to working with them again."
– Mark R. Censits
Custom shelves and cubbie bins
Long walls of custom boxes and shelving
Display rows and signage holders for easy bottle display
Testimonial
"Vigilant was very professional and competent throughout the design and delivery process. The design, sales, production, installation, and quality were all first class. Any problems, and there were few, were immediately resolved, to my complete satisfaction. I would highly recommend Vigilant to any person thinking of opening a wine store."


– Eric Olsen
Custom shelves and cubbie bins
Long walls of custom boxes and shelving
Display rows and signage holders for easy bottle display
Display islands with end caps
Testimonial
"The commercial wine display island I have in my store combines beauty and functionality into a single wine rack. The display has a classy, old world look, with new world innovation. We were using simple bins and replaced it with the Vigilant commercial kit. It adds the perfect feel to our store and displays our wine better than before."
– Steve Smith
Wine cubes, diamond and cubbie
Pedestal bases and tabletops
Chestnut and lacquer finish
Custom cubes and double-deep shelving along the walls
Added display baskets for showcasing the stock
Display rows and signage holders for easy bottle display
Testimonial
""When I decided to open a retail wine shop in downtown Chicago, one of the things I found most important was the ability to stand out in the crowd of "big box" wine retailers in my area. My goal was to create a beautiful, inviting, neighborhood shop in which customers could feel welcome and not intimidated by endless stacks of wine cases. I had come up with a shelving concept that would allow me to display each wine bottle in a unique way, and with the help of Vigilant's design team, we were able to make that concept a reality. The shelving design has helped to create the exact look that I had envisioned for my store; it showcases each bottle of wine almost as a piece of art on the wall. Overall I am very pleased by my experience with Vigilant and plan to use them for any future shelving or cellar needs."
– Amy Garman
Custom mahogany door and sidelights
Wine racking and shelves in Chestnut stain
Lower cabinets for bulk storage and backup stock
Double deep wine islands with display
5 Column kit wine tables with finished tops
Single deep retail wine display racks
Hanging wall cabinets with down lighting
Racking: Tawny Port Melamine with manufactured Wood Core and special Toe Kick Base in J-Cor Plywood w customer supplied Mica (to withstand dampness during hurricane season)
Retail wine display racks with crown molding and a finished back for window display
Wine wall unit constructed of melamine with matching mahogany soffit arch and cabinet with doors
Humidor by others
Melamine solid panels to hold a total of 12 wine bottles in 5 cabinets
Custom retail wine racking
10 column display rack
Double base wine display islands
Single and double tabletop displays
End cap displays
Retail message board and ticket molding
Tawny port laminate with wood components stained and lacquered to match
Solution Blanchard's Wines & Spirits
Maximize number of bottle labels displayed and maximize back stock
Unique but complementary look for each section
Durable long lasting solution
Utilized a combination of standard components to meet client design requirements and to stay within budgetary limits
Bottles Liquor & Wine Store
Components: Island Displays, Wall Shelves, Wine Cubes, Signboard
Display Materials: Mahogany, Mahogany Veneers and Melamine
Components: Custom Wine Display Cubes and Island displays
Materials: Mahogany & Mahogany Veneers
Single deep kit display racks
Custom wine display cubes
Single deep wine islands with display
Mahogany & mahogany veneers in Harvest stain finish
Hanging LED lighting
Mix of wine wave cubes with cubbie inserts and mahogany side shelves
Triple deep metal wine racks
Pedestals in between each cube
Custom glass enclosed space
The Tasting Library Star Wine Bar
The Tasting Library is a wine tasting/retail store in Sheridan, Wyoming. Guests are able to sample a variety of wine and spirits before committing to a purchase. We designed custom wine cabinetry for the space to house their unique wine dispensers and to display a selection of tequila, bourbon, and single malt. The cabinetry matches beautifully with the surrounding cherry millwork and also proves functional. The cabinets house the wine dispensers and also allow for retail stock storage. Additionally, diamond cube bulk wine bottle storage and cubbie inserts were used to hold oddly shaped wine bottles.
Hanging wine glass storage
Locking storage cabinets
Wine display areas with LED lighting accents
Metal wine display racks