What's Trending? Wine Nooks!
Don't think you have space for that wine cellar you've been dreaming of? Think again! You can do, and we can help! Our experts will work with you to transform any spot into a small – but gorgeous – wine room.
If you've got a spare bedroom, basement alcove, under-utilized pantry or closet, unused office, or garage space, our experts can create a beautiful, functional design to maximize that space! They'll walk you through the design process step-by-step, helping you select standard and custom options such as wine racking, wine cabinets, cooling systems, wine cellar accessories and doors.
Our clients love this concept. Take a look at these small room designs that beautifully showcase your wine collection in an otherwise forgotten space.

And remember, custom requests are second nature for us. We're the designer AND the manufacturer. So if you don't see a design that works for you, call us. We can help!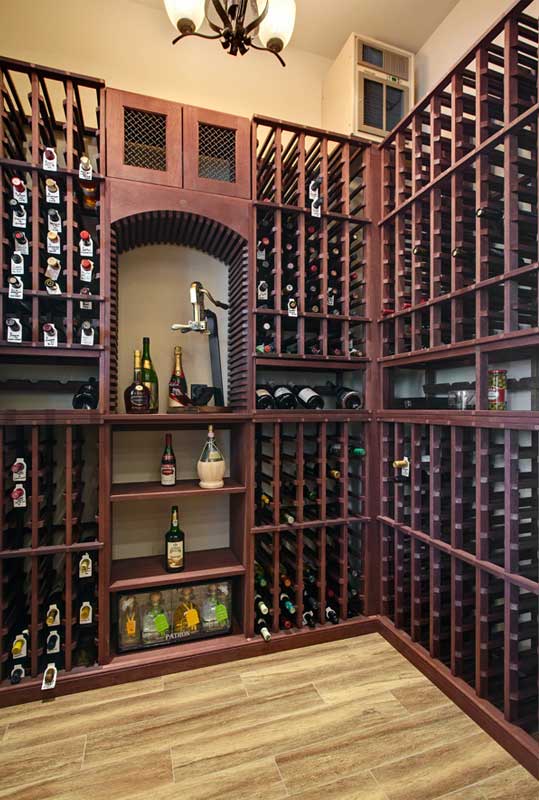 Vigilant Estate wine racking in chestnut stain provides a vast amount of storage by lining the circumference of the room.
DIY Toy Storage Transformation
This homeowner transformed an unused interior room in their house into a stunning wine room using Vigilant's DIY Wine Cellar tool. The wine room features High reveal display rows, Magnum racking, curved corners, and a soffit arch. Finished in Espresso stain and lacquer, this former toy space is now a high-glass wine room!
Mahogany with Vigilant's Espresso stain
Vigilant Classic Square door 
Ducted Cooling System
TESTIMONIAL: 
"After creating the basic layout with the DIY tool, the Vigilant team stepped in and helped fine tune the final design.  From design to order to delivery, the Vigilant team was there to answer any questions and provide assistance."
Island Oasis Transformation
This homeowner had some extra space  and transformed it into a small wine room. The wine racking and storage is made from Pine. The wine room features ladder racking with display rows, a diagonal cube display, curved corner racking and magnum bottle shelving. 
TESTIMONIAL:
"Turned out amazing, like a real cellar!!  The pics don't really do it  justice… so much better in person!!  And the Vigilant racks are AWESOME!!!!"
This homeowner transformed unused space in their house into a small wine room using Vigilant's standard Mahogany wine racking. The wine room features 5 and 10 column bead board arches with tabletops that create perfect serving areas. For wine storage, the homeowner chose ladder racking, a solid rectangular bin, conversion boxes and a 10-column diamond bin all finished in Vigilant's Harvest stain and lacquer.
Mahogany with Vigilant's Harvest stain
Diamond bin
Two decorative arches with tabletops
LED lighting
This homeowner had some extra space in their basement and transformed it into a small wine room. The wine racking and storage is made from Mahogany and finished in Vigilant's Chestnut stain and lacquer. The wine room features ladder racking with display rows, a diagonal cube display, curved corner racking and magnum bottle shelving. Enclosing the space, the homeowner used a fully insulated Vigilant Value Classic Full Glass Square Door. The door also includes two 30″ glass sidelights making the wine collection a true focal point of the basement.
Mahogany with Vigilant's Chestnut finish and lacquer
Diagonal cube display
Magnum storage
Ladder racking with display rows
Vigilant Value Classic Full Glass Square Door
This homeowner created a beautiful small wine room as an extension of their entertaining space. It features unfinished mahogany shelving and casework to add to the rustic style of the wine room. For wine storage, the space uses ladder racking with display rows, diamond bins, quarter round displays and magnum cubbies. There is also a decanting station in the wine room that is highlighted by a beautiful decorative bead board archtop.
Unfinished Mahogany wine racking
LED display lighting
Decorative arch with tabletop
LED display lighting
Full glass square door
Crown and base molding
This small wine room housed within glass walls is the focal point of the entertaining space at this Lincoln, NE home. The cellar features a bead board archtop with LED lighting making for the perfect spot to pour a glass of wine. The cellar uses several storage components including diamond bins, rectangular bin cases and radius corner racking all finished in a custom stain. For added function and flare, the cellar includes a rolling ladder made from solid mahogany for easy access to any bottle of wine.
Solid mahogany wine racking with custom finish
Bead board archtop
Mahogany rolling ladder
LED display lighting
Custom fluted trim and crown molding
Two-Toned Small Wine Room
This was a fun project for Vigilant to design a two-toned wine room to accentuate the clients slated stone walls. The cellar components was handcrafted from mahogany with the shelving stained in Vigilant's Harvest finish. To compliment the shelving, all the trim and table tops where finished in a dark espresso making all the details pop. The far wall is the focal point of the room with its inviting decorative arch and glass shelving perfect for showcasing and decanting their most cherished bottles of wine.
Two-toned finish in our Harvest and Espresso stains
Diamond bin and cube storage
Double bottle depth wall display storage
Decorative archtop
Custom crown molding
Square arch door with custom glass
Custom wine racking was designed and created to complete our client's existing wine room project. The racking is comprised of custom sized individual bottle ladder racks with a high reveal display row. Crafted out of Poplar and stained by the client to match existing cabinetry.
Custom individual bottle ladder racks
High reveal display
Handcrafted in poplar
Client stained rack to match existing cabinets in space
Stately entrance with full-glass French wine cellar doors, beautifully handcrafted by Vigilant
The interior room has a custom-feel with the combination of our full-height estate wine racks, bin storage and half-height wine tables in Harvest with lacquer finish
Our individual high-reveal wine racks with LED lighting creates a beautiful aesthetic and allows you to better see your collection
This space is unique as it was created by converting otherwise dead space in the home allowing the owners to gain room and functionality
Our full glass wine cellar door with two 30″ sidelights and border glass etching perfectly frames in the interior of this wine room creating a visual appeal from the exterior
A cascade wine rack with a quarter round display end cap is an eye catching focal point when you enter the wine room. A tabletop allows for decanting wine and wine tasting
The high-reveal display row with built-in lighting showcases select bottles with class across the three walls of this wine room
A previously underused living space in the home, now it is highly functional as well as a beautiful space to enjoy
This small wine room features etched, full-glass French wine cellar doors creating a welcoming full-width entrance
A number of wine racking elements are incorporated into this small space with curved corner wine racking, shelving and diamond bins for maximum bottle capacity
The 10-column slatted arch top lies at the heart of the wine room and includes a double-deep tabletop for storage, display and decanting and has lockers above, LED lighting and our modular base cabinets for increased versatility and locked storage.
This conversion from a closet space gives more value and personality to the home, as well as a classic sophistication
This small residential wine room boasts a large bottle capacity in the client home with two side walls lined with our Estate kit wine racking and bins
Utilizing maximum amount of space. This small wine cellar has two walls lined with our floor to ceiling Estate wine racks and bins.
Double bottle storage is provided with our double-wide cascade wine racks
A mix of shelving and bins are incorporated in the wine racking to provide display and additional bulk storage
Our ductless split cooling system provides quiet through-the-wall cooling and vents into an external room ensuring proper wine storage climate
Our full glass square wine cellar door with two 15″ sidelights showcases the small wine room from outside the room
With a mix of our kit classic and custom wine racking this wine room utilizes a number of wine storage options including full-height diamond bins and a corner wine rack with granite tabletop
A half-height corner wine rack with tabletop provides additional space for décor and decanting
A through wall cooling system provides simple, yet effective wine room cooling
This wine room was converted from a bedroom
It features a custom mahogany full glass wine cellar door with custom monogrammed wrought iron grate
Our kit Estate wine racking series stained in chestnut with lacquer fit effortlessly into this space without customization
Ducted cooling system sits above the wine racking for effective aesthetics
A mix of our kit and custom wine cellar racking components in unfinished pine
Half-height diamond bins align the walls with multi-layered custom display shelving and curved corner wine racks with curved corner moldings to match
A WhisperKOOL ducted-split cooling systems manages the temperature in this cooled wine room
Custom, handcrafted arched full glass wine cellar door with custom glass
A warm greeting from full glass French doors with border and custom monogramed glass etching
Convert any room in your home into wine storage for an attractive addition that increases your home's value
Our kit and custom wine racking components encompass this small wine room with curved corner racking and ceiling and base molding
Individual wine racks, soffit arch with bead board, modular cabinets, bins, display rows and shelving for varied wine storage options and a timeless design
A Hidden Under-Stairwell Gem
Taking advantage of otherwise wasted space, this compact wine room utilizes a space under the stairs – proving that any open space you have can be used to store your wine collection
Custom wine racking fits perfectly into even the tightest of spaces and can accommodate unique features like this pitched ceiling
This cooled attic wine room is furnished with our traditional wine racks, bin storage and recessed lighting
Exposed brick and wine racking finished with Harvest stain and lacquer help create the feel of a wine cellar, despite its location under the stairs
Custom Under-Stairs Wine Room
Another private residence in Houston created this gorgeous space under a spiral staircase
A custom arched door with an artsy wrought-iron grate provides a subtle, but beautiful entrance
Inside, our wine racking lines the curving, angle walls seamlessly creating a very elegant feeling to this small wine space
High-reveal display rows with LED lighting align the wall in the circular pattern for a dramatic effect against the rich finish
The space is a practical as it is beautiful with a soffit arch with tabletop provides a focal point for wine decanting or display and a large bottle capacity in a limited space
Under-Stairs Wine Room Project
This small under-stair wine room stores an impressive 570 bottles for such a small, and otherwise dead space in the home
With a mix of custom and kit racking, this unique space features our Estate-height wine racks in chestnut with lacquer finish for a classic look and feel
The beauty and storage capacity is really in the details with radius curved corners, wine racks with high reveal display rows, diamond bins for bulk storage and space for magnum bottles with our quarter round display shelves
The under-stair challenge of an angled ceiling presents opportunities for artwork with custom wine box panels
Custom Height Wine Closet
This wine closet was designed for a home in Maple Valley, Washington with a through-wall wine cooling system. Vigilant built custom wine racking to extend all the way to the 9-foot ceiling within the closet. The wine cellar was made from Mahogany wine racking finished in Vigilant's Espresso stain and matte lacquer. It also features Burgundy ladder racking, Magnum racking, diamond bin storage and a segmented quarter round display. The focal point of the closet is the beautiful and functional beadboard arch above a tabletop.
Mahogany racking with Espresso finish
Beadboard arch above tabletop
LED accent lighting
Crown and base molding
Through-wall cooling system
This homeowner transformed the extra space under their stairs and turned it into a beautiful wine room. Through a Vigilant Full Glass Square Door and sidelights, the wine room is an eye-catching focal point in their living room. The wine room features a tabletop encompassed by a decorative beadboard arch, ladder racking with a display row and label forward metal wine racking. Keeping the wine in the perfect storage condition is a ducted cooling system with an integrated humidifier.
READ OUR BLOG ARTICLE ON HOW THEY DID IT
A custom, handcrafted full-glass wine cellar door from Vigilant provides an elegant and bold entrance into this modest wine storage room
Wine racking crafted using mahogany with Harvest and lacquer, LED display lights add a touch of ambiance for up to 340 bottles of wine
This wine closet flaunts custom wine racks with a radius curved corner and high reveal display. It also features a diamond bin, as well as a custom arch and a marble tabletop
There's more than meets the eye in this converted closet space with a custom electric cigar humidor and with its removable cigar bins it can house up to 400 cigars
Unused space under the stairs becomes an attractive, viewable wine storage
Our classic full glass wine cellar door with two custom sidelights
Our custom wine racks, cabinets and metal wine racking used for wine bottle storage
Give life to otherwise unused space with an under stairs wine room conversion
Previously a closet space, this wine closet conversion features custom mahogany full glass French doors with flat trim that allow for viewing
This cooled space provides an excellent storage environment for keeping wines
Continuing with the home's rustic style, triple-deep metal wine racks integrate well into the space and provide a large bottle capacity
Occupying the corner of a large room, this space exemplifies one of the many opportunities in your home to convert an unused space into wine storage