Our custom wine credenza gallery showcases the endless design possibilities when working with us. Having decades experience, we can take on any custom request to match any style. Our wine credenzas can be created in any wood species, metal, glass or custom material of your choice. With the added convenience of a decanting area above the refrigerated cabinet, these beautiful credenzas are perfect for wine tastings and entertaining guests. Get inspiration for your home or commercial space by viewing this gallery.
Why Choose Vigilant Wine Cabinets?
Contact us to discuss how to incorporate a wine credenza into your wine cellar project.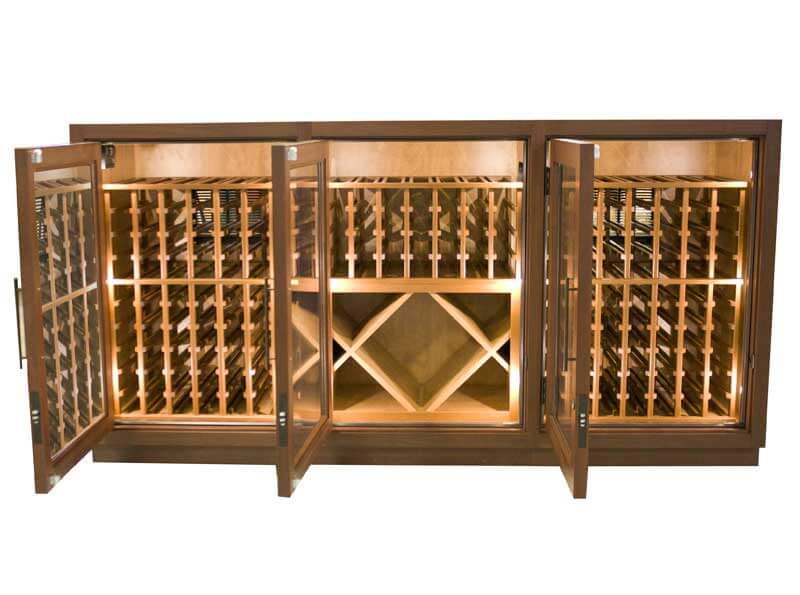 Custom Wine Credenza Cabinet
This beautiful and functional wine credenza doubles as a wine storage cabinet and a wine tasting table for homeowner's in Hudson, New York. The credenza is made from Mahogany and finished in our Chestnut stain and lacquer. The interior features double deep individual ladder racking, a diamond bin and display lighting. The cabinet also houses a red wine cooling system for the optimal storage conditions.
Mahogany exterior with Chestnut Finish
Double deep individual ladder racks
Diamond bin storage
LED display lighting
Red wine cooling zone
Custom Wine Credenza Cabinet
This sleek Ebony wine credenza was designed for a luxury seaside condo in Mount Pleasant, South Carolina. The cabinet features Mahogany slotted shelving, Brushed Nickel hardware and LED display and back lighting. This credenza also features a custom countertop creating the perfect spot for wine tastings. The state-of-the-art cooling system inside easily cools the wine to the perfect serving temperature.
Mahogany exterior with Ebony stain and lacquer
Slotted shelves
Red wine cooling zone
LED display and back lighting
Custom countertop
This custom wine credenza was created for a sophisticated Restaurant in Dallas, Texas. The cabinet was made from Mahogany and finished in a custom stain and lacquer. The interior features Mahogany slotted shelving capable of holding 270 wine bottles. The credenza features custom hardware, LED display lighting and glass on both sides. Most importantly, the wine cabinet cools both red and white wine with dual cooling zones.
Mahogany exterior with custom finish
Slotted shelves
Dual cooling zones for red and white wine
LED display lighting
Custom hardware
Yacht Wine Credenza Cabinet
This custom wine credenza cabinet was designed for a luxury yacht in The Bahamas. The exterior is made from Mahogany with a custom brushed stainless-steel finish. A beautiful feature of the credenza is the custom tabletop that uses Mahogany framed insulated glass panels. For wine storage, the cabinet uses chrome finished metal wine racking that can hold up to 96 bottles. The unit preserves the red wine using an accurate rear vent cooling system.
Stainless-steel metal clad exterior
Custom gray interior
Glass tabletop
Chrome finished metal wine racking
LED display lighting
Red wine cooling zone
This custom wine credenza was created for a private hunting club in northern California. The credenza is made from solid Oak with a custom finish and lacquer. The top of the credenza has a spacious finished tabletop perfect for serving wine and storing glassware. The cabinet uses two cooling systems that produce the optimal temperature for both red and white wines. The interior features soft-close pullout shelves made from Oak and LED display lighting.
Oak interior and exterior
Custom finished exterior
Soft close pull-out shelves
LED display lighting
Red and white cooling zones
Custom Refrigerated Wine Credenza
This client from Las Vegas turned to Vigilant for his wine and cigar storage solution. We worked with him to design a custom cigar display cabinet and matching wine credenza in a contemporary style to match the decor in his residence.
The credenza was crafted form African Mahogany and was finished in clear matte lacquer bringing out the natural beauty of the wood. The interior adjustable shelving is also made of solid mahogany for durability and style.
The internal cooling system is mounted to the right side and vents from the side of the cabinet, keeping the front aesthetic intact. The brushed nickel hardware and LED lighting complete the modern look.
A client in the Beacon Hill neighborhood of Boston enlisted Vigilant to create this custom wine credenza. This fully-insulated mahogany cabinet boasts a custom finish, which was matched exactly to the customer's desired sample. The credenza features locking 1-3/4″ solid mahogany framed, insulated glass doors with weather strip seals. They are also argon-filled to ensure energy efficiency. The finished solid mahogany double-deep slotted shelves can house up to 270 bottles of the client's favorite wines.
Other notable qualities include a single zone cooling system inside the cabinet (with venting to the side through a louvered panel) and a solid mahogany tabletop. The LED lighting inside the cabinet illuminates one's fabulous taste in vino, and the heavy duty hinges and pulls highlight the craftsmanship and durability of this piece.
Custom mahogany credenza
A series of stainless steel metal rod bottle holders provide storage and display of the hotels fine wine collection
Single cooling zone
LED lighting
A 260-bottle custom designed credenza was commissioned by Reliance Engineering of Gujarat, India. The credenza was made of distinctive vertical grain French walnut and custom knobs of silicon bronze. Inside, the angled bottle displays and teak pull-out shelves are illuminated by LED lighting. Our experienced master woodworkers constructed the cabinet with mitered corner joinery for all doors and drawers. The design also featured access to the system from both sides of the 100″ wide cabinet.
Our client had previously ordered a beautiful custom-built humidor from us and wanted a matching wine credenza to showcase his wine. We designed and built this distinctive piece of fine furniture to store and display his modest wine collection. The solid mahogany table top and glass-paneled doors are finished in an ebony stain. The 83″-wide wine credenza also features solid mahogany shelving and satin chrome legs.
Contemporary styling with ebony stain and matte lacquer finish
Fully insulated, argon-filled glass panel doors
Solid mahogany adjustable shelving
Satin chrome legs and hardware
LED lighting