June 3, 2013
Storage for Both Cigars and Wine in One Wall of Custom Cabinets
The downstairs room in this private residence in Brookline, MA, has classic wood flooring and custom designed wood paneling. At one end of the room, a staircase leads to the main floor of the home. Right underneath the stairway, there was a perfect spot for a small wine room. But the homeowner had other items on the wish list, too. Could he also store his cigar collection in the same cabinet?
Vigilant Inc. worked out a design that satisfied all the storage needs and more – all at proper temperatures. An additional challenge for Vigilant was a requirement that the cabinets be clad in wood veneer that was milled by the homeowner's own cabinet-maker. The veneer matches the distinctive paneling used throughout the room.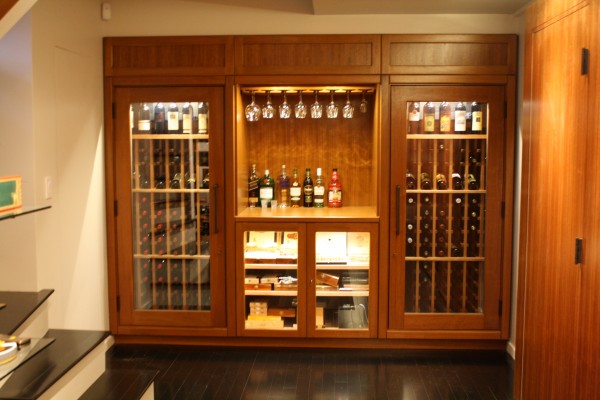 The result is a stunning bank of two double-deep Guardian refrigerated wine cabinets flanking a humidor cabinet and decanting table with stemware storage for about two dozen wine glasses. In addition, the top shelves inside the wine cabinets have room for liquor bottles or other standing items. In the center of the wall is a solid wood tabletop for additional bottle storage or to use as a decanting area.
The center bottom cabinet is a fully electronic humidor with bulk cigar storage and locking glass doors. It is humidified with a Guardian 100 humidification system, providing perfectly controlled storage for up to 1500 cigars. All of the cabinets are fitted with pre-wired LED display lighting for a dramatic effect.