November 24, 2015
Turn Any Space into Your Dream Wine Room
Wine storage requires space. Some are lucky enough to have plenty in their homes, but if you live in a small apartment or condominium, you may have limited options. But you're not out of luck; there are some unsuspecting places that can be transformed into an impressive wine room.
It's not necessary to have a sprawling wine cellar in your home to tastefully display your wine collection. A contained space can (believe it or not) hold up to a few hundred bottles without looking too crowded. The answer is finding a location in your home that can house your wine in a controlled environment. It is important to keep your collection out of a direct sunlight, safe from vibrations, and at an acceptable temperature and humidity. If not, your prized bottle of vino might age more rapidly than you would like.
A great option is turning your closet into a wine storage area. This is a surprising and awesome way to make use of the space, if you don't mind switching clothing out for wine. A reach-in wine closet can be outfitted with Vigilant's premium wood wine racking and our handcrafted wine cellar doors, or you can choose to install a built-in refrigerated wine cabinet instead.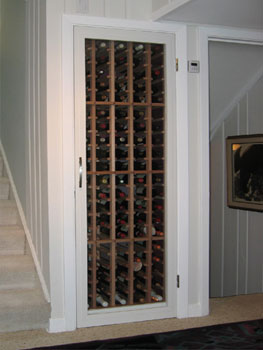 Our wine cabinets are perfect for wine collections in a smaller space, as there is no build out. They ship fully assembled and ready for installation. Another factor to consider is cooling costs; conditioned wine cabinets are on average 60% less than if one was to cool a traditional wine cellar. Easily customizable, they have an array of storage options and design features that you can alter to match current décor in your home. These features include style, size, wood species, finish, hardware, and even LED lighting. Wine cabinets are truly a great way to utilize the space and guarantee a perfect wine storage environment.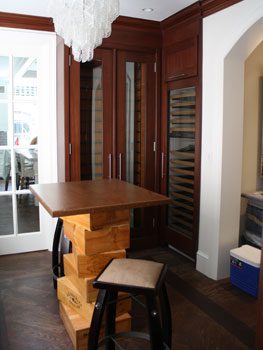 Another option is to put that space under the stairs to good use. You can easily convert unused space under a flight of stairs into a dazzling wine room. You can choose wine cubes or wine racking to house your bottles, along with other available features such as diamond bin storage and a decanting area. Curved corner racking proves helpful in limited space, as it allows for a seamless transition around corners. Even a basement alcove or a pantry can be converted into a small walk-in wine room. Vigilant can help determine what's right for you and your home, as well as what cooling system or humidification is needed. Visit our Small Wine Rooms and Wine Closets page for unique ideas and suggestions.