Why Choose Vigilant Wine Racks?
We're dedicated to customer satisfaction, producing the highest quality wood products, and meeting your specific needs.
Best custom and standard wine storage racking options handcrafted in our U.S. manufacturing plant
Standard kit racking heights (77.5″ & 92.5″) and custom dimensions to fit your needs
High quality mahogany and clear northern white pine
Great for wine cellars, wine rooms, retail wine stores and more
Stackable modular wine cabinets
Standard or custom stain options and superior lacquer finish
Whether you're a serious collector ready to invest in a custom wine cellar that can house thousands of bottles, or a wine lover who simply needs some entry-level pieces, there are lots of manufacturers out there.
You need to know you're comparing apples to apples, or as we say in the wine biz, GRAPES TO GRAPES!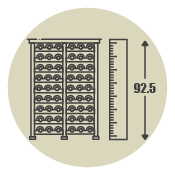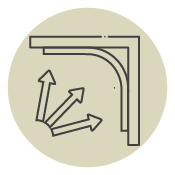 Our curved corner racks use continuous wood spacer bars and moldings STANDARD.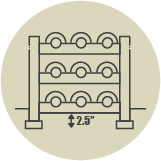 All our wine racks are raised 2.5″off the ground safely storing your bottles of wine.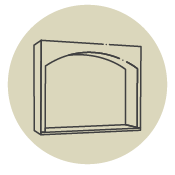 Our full height archtops have supportive solid sides, offer optional display lighting.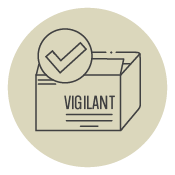 From project kickoff to
completion, we're here every step of the way.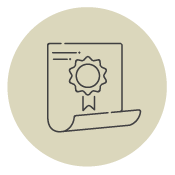 Limited Lifetime Warranty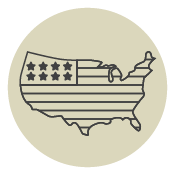 All our products are handcrafted on-site in our New England manufacturing facility.
Quality – Made in America
All our products are handcrafted on-site in our Dover, NH manufacturing facility. We are a full service millwork company using time-tested woodworking techniques.
Value – Wine Cellar at a Fraction of the Price
Our standard kit wine cellar racking and modular cabinets offer a customized look at a fraction of the custom price and delivered in half the time.
Wood Species – Mahogany, Pine and Custom Options
Clear Northern Pine is a beautiful blond wood and the most economical option. Mahogany is our most popular option; it's durable and able to withstand the cool, humid environment of a wine cellar. We can also make any wine rack in the wood species of your choice
Standard High-Reveal Display Row
All our wine racks offer an open high reveal display row with no obstructions for full bottle visibility. They also provide a front valance perfect for LED accent lighting.
Wine Rack Height – Tallest in the Industry
Unlike other companies, we do not stack our racks to gain height. Instead we offer two standard height options, our Classic series is 77.5″ and our Estate series is 92.5″.
Wine Rack Depth – Protects the Entire Bottle
Vigilant wine racks are the deepest in the industry at 13.5″ allowing for full protection of the bottle. Most racking is only 9″ deep, which leaves wine bottle necks vulnerable.
Quality Finish – Highest Quality Stain & Lacquer
We offer the highest quality options in
stain and top coat
to increase the durability of the wood. If you don't see a color you like we can do custom stains as well.
Our curved corner racks use continuous wood spacer bars and moldings. Our competitors' corner racks are not true radius curves – they use single columns segmented around corners with miter cut straight spacer bars and moldings.
All of our racks use soft tapered edges to easily access any bottle of wine. The edges help with wear resistance and create a beautiful aesthetic for the wine racks.
All our bin, case and cube wine storage are constructed using solid panels for added durability and sturdiness. Many competitors use slatted bins and case storage made from a series of narrow pieces, making them very flimsy.
Our full height arch tops have supportive solid sides, come in many styles and sizes, and offer optional wiring for display lighting. Competitors require a separate tabletop be purchased so the arch aligns with adjacent wine racking; OURS INCLUDES ONE!
We're the only company that offers a line of standard, stackable modular cabinetry. These functional, decorative cabinets seamlessly integrate with our Classic and Estate wine racking kits, giving any cellar a custom look.
For no additional cost, all standard racks come with the option of attaching spacer bars with a brad nailer or having Vigilant pre-drill spacer bars and provide screws and covers.
All of our individual bottle wine racks have angled slats to prevent both the bottle and your skin from being scratched.
We offer the thickest slats in the industry measuring 3/4″ x 5/8″ for the best support of your wine bottles.
We offer the widest solid uprights in the industry measuring 1.5″ x 3/4″ for maximum structural durability.
Our spacer bars are 1.5″ deep with 3/4″ cut dadoes or grooves creating a secure and tight fit. This allows our wine racks to be perfectly stable.
All our wine racks are raised 2.5″ off the ground safely storing your bottles of wine, while our competitors' racks have your precious wine resting on the floor.
Since our racks are already lifted 2.5″ off the floor our base molding easily attaches with no additional pieces needed. Our competitors require you to buy additional pieces.
Vigilant offers a
30-Day unconditional money back guarantee
on any standard product. If the item is returned in new condition, there is no restocking fee and you will be credited the full purchase price.
The competition charges up to a 15% restocking fee.
Limited Lifetime Warranty