The Industry's Best Wine Cellars
Adding a wine cellar or wine room to your home is a big decision. As industry experts, we'll help you create a wine cellar, wine room or wine storage solution that meets your needs, taste, and budget. Years of design experience, combined with top quality wine cellar racking and storage systems, make us the best choice for your wine cellar project.
Don't Know Where to Start?
Our wine storage solutions are designed and built to your exact specifications. Premium wine cellars offer the highest quality components and options. If timing and budget are tight, our standard wine cellar kits, the most comprehensive in the business, may be more suitable. If you're somewhere in the middle, a custom wine cellar is the perfect solution.
Check out the table here along with our free expert resources. Keep in mind that all our wine cellar offerings can be mixed and matched together to meet your aesthetic and budget. And don't hesitate to start by contacting us. We're here to help.
FREE CATALOG
GET a FREE DESIGN QUOTE
CONTACT US
| Vigilant Wine Cellars | Standard | Custom | Premium |
| --- | --- | --- | --- |
| Ladder Racking with High-Reveal Display | | | |
| Solid Bottle Cubbies | | | |
| Display Lighting | | | |
| Mahogany or Pine | | | |
| Custom Wood Species | | | |
| Custom Height | | | |
| Custom Depth | | | |
| Standard Stains & Lacquer | | | |
| Custom Stain | | | |
| Furniture Finish and Two-Tone | | | |
| Rotating Wine Rack | | | |
| Bead Board Decorative Archtop | | | |
| Radius Archtops | | | |
| Modular Cabinets | | | |
| Custom Cabinetry with Solid Backs | | | |
| Solid Wood or Custom Material Countertops | | | |
| Standard Base and Crown Molding | | | |
| Taller Base and Crown Molding Options | | | |
| Face Frame on all Cabinets | | | |
| Fluted Columns & Decorative Appliqués | | | |
| Soft-Close Hardware | | | |
| Shipped Preassembled | | | |
| Price | Standard | Custom | Premium |
DOWNLOAD THIS PRODUCT TABLE (pdf)
STANDARD
CUSTOM
PREMIUM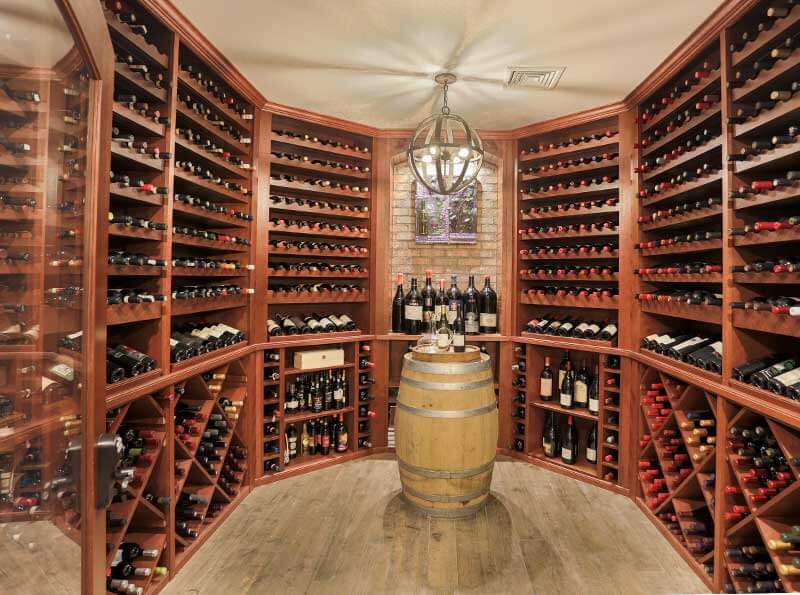 Mix premium racking options with custom or kit components to add extra detail and decorative quality storage.
Two-tone finished cabinetry and racking provide a modern look that adds depth and texture to your wine room.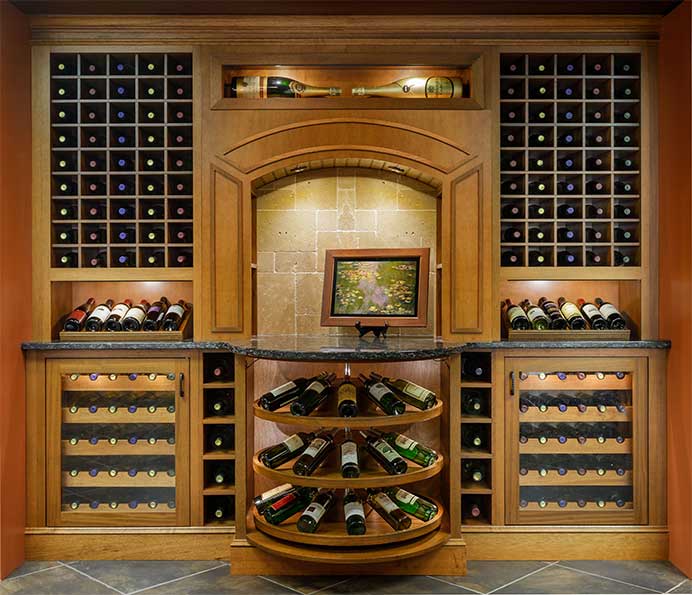 Solid cubbie shelves, scalloped and rotating display racks, custom heights, depths, cabinetry and taller decorative moldings are a few features of Vigilant premium wine cellars.
We have a vast selection of wine storage products. All of our wine racks, wine cabinets, wine cellar doors and wine cellars are backed by our expertise, our quality commitment and the best warranty in the industry. Call now to start your wine cellar project!
Wine Racks
A wine cellar creates a dedicated space for the safe storage and preservation of your fine wine collection. Our extensive line of wine cellar kits or custom wine cellar components can be the foundation for your successful wine cellar project.
REQUEST WOOD SAMPLES
Wine Cellar Doors
Create a magnificent grand entrance into your personal wine cellar or wine room with our standard or custom wine cellar doors. Choose from many styles and options to create your own unique wine cellar entrance.
REQUEST WOOD SAMPLES
Cooling Systems
Keep your valuable wine collection protected and preserved at optimal conditions for long-term storage. Our experts will help you select the best wine conditioning system from our comprehensive line of wine cooling systems.
Wine Cellar Photo Galleries
Two Easy Ways to Build Your Dream Wine Cellar
DIY Wine Cellar Builder
Try our 3D design tool to plan your wine cellar's size and components.Simply choose the racking height, finish & trim. Then add tables, cabinets & decorative elements. Last, save and submit your wine cellar for complete pricing and design guidance!
EASY | FREE | FUN!
---
Free Expert Design Quote
Complete a brief form and we'll provide you with a free design quote.
-Fill out an online or paper form
-Submit your design request for review
-Receive a FREE estimate and feedback