June 24, 2021
Wine Serving Temperatures, Facts & Wine Food Pairings
Many people wonder if the serving temperature of wine really makes a difference. We get questions like 'Are there ideal temperatures at which to serve different types of wine?' and 'Does serving wine at specific temperatures affect how the wine tastes?' We answer with a resounding "YES!" to both questions.
When serving wine the temperature of storage differs from the serving temperature. Knowing what wines to serve at what temperatures is easier than you might think. We've put these charts together as general guidelines to the proper temperature of serving your wine.
Creating Your Own Wine Room
If you're getting ready to create your own wine space or refresh an existing one, check out these free expert resources. Keep in mind that our wine room products can be combined to meet any aesthetic and budget. And don't hesitate to start by contacting us. We're here to help!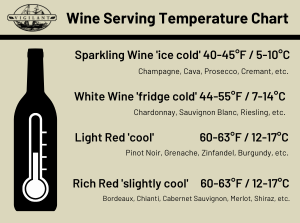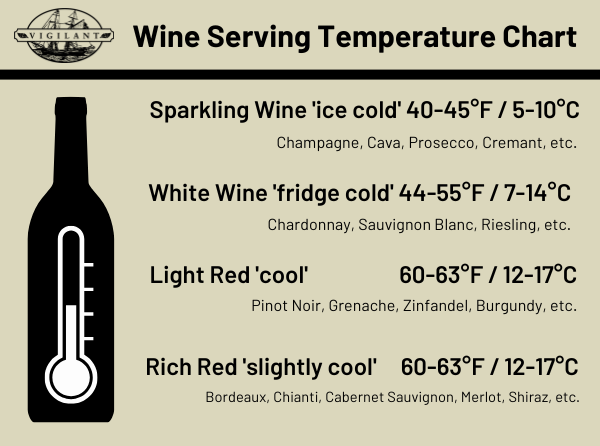 Sparkling/Sweet Wine Serving Temperatures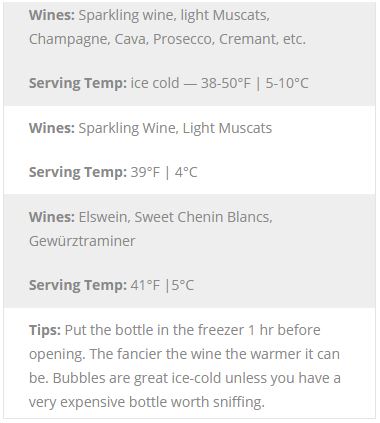 White Wine Serving Temperatures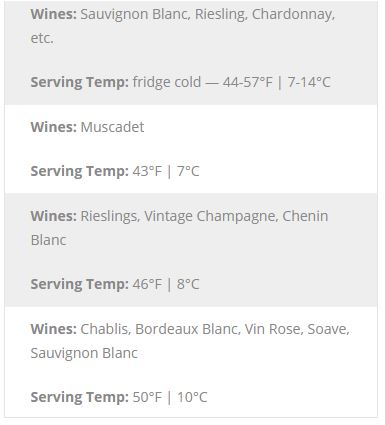 Light Red Wine Serving Temp.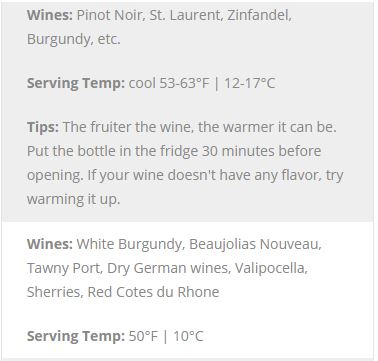 Rich Red Wine Serving Temp.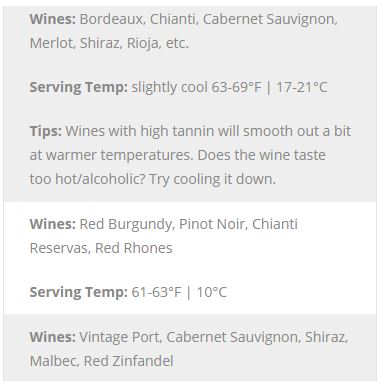 Wine Facts & Food Pairings
Many of us at Vigilant share a love of fine wine and food. We've assembled this useful information on our favorite wines and grape varieties to share with you so you're ready for your next gathering.
Bordeaux – A Region in France
The region of Bordeaux, France is the largest region of wine growing in the world. Bordeaux is made up of five main districts.
Burgundy – A Region in France
Located in eastern France, below Paris, Burgundy is often the sole stop of wine drinkers touring this country.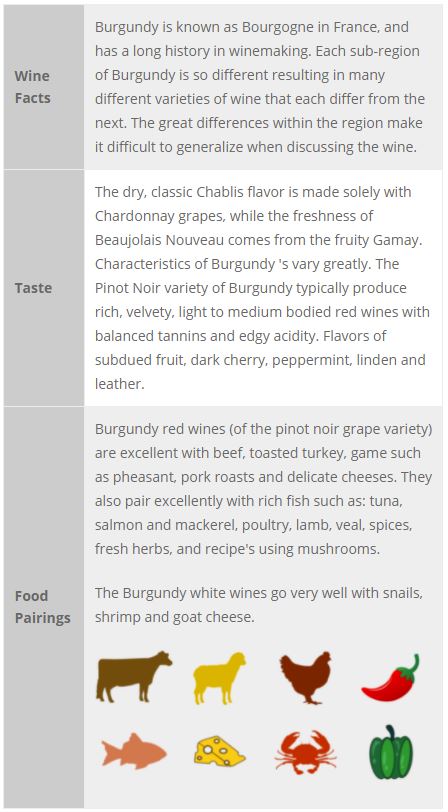 Cabernet Sauvignon – A Grape That Originated in France
Cabernet grapes are grown all over the world – South America; Australia; Lebanon; Long Island, NY; Northern California; and of course France.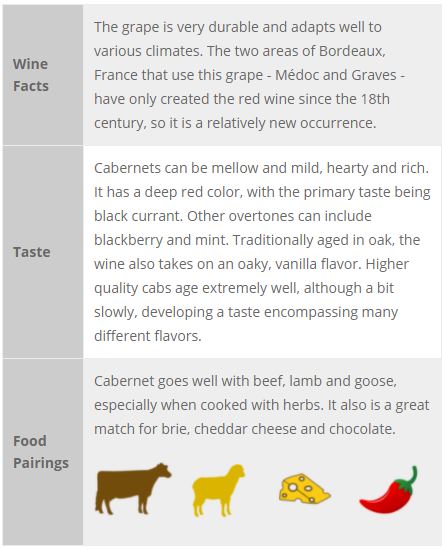 Chardonnay – A Grape That Originated in Lebanon
The Chardonnay grape is thought to have originated in Lebanon. Chardonnay is the only grape allowed to be grown in the Chablis region of France. The grape is also grown in Australia, New Zealand, South Africa, the United States (specifically California), Italy, and Spain.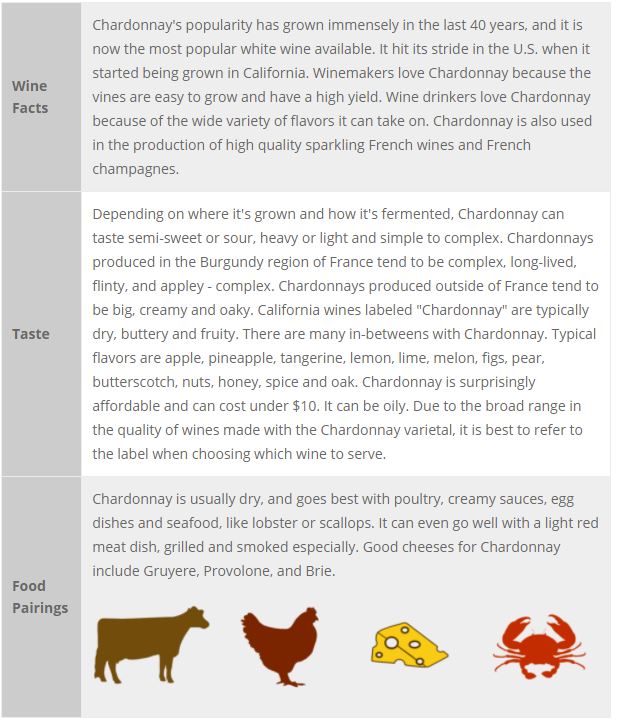 Chianti – A Region in Italy
Chianti comes from the Chianti region of Tuscany , Italy . Only wines from this region can properly be called Chianti, although some other areas are using the name on their labels.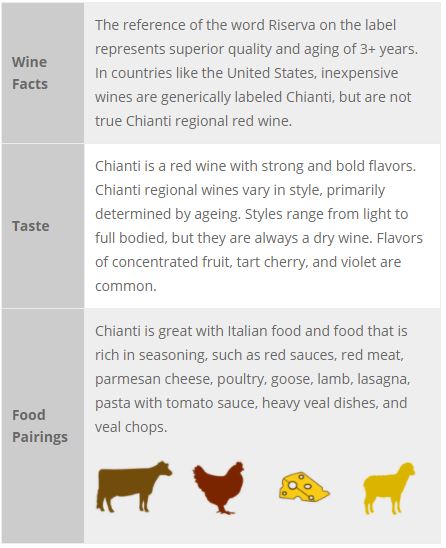 Madeira – A Region in Portugal
Madeira is named after the Portuguese island it is made on. The baking it received in the blazing tropical sun, gave an otherwise light and acidic wine, a softness, depth of flavor, and a pleasant burnt quality. It was reasoned, if one crossing of the equator was good for the wine, two had to be better.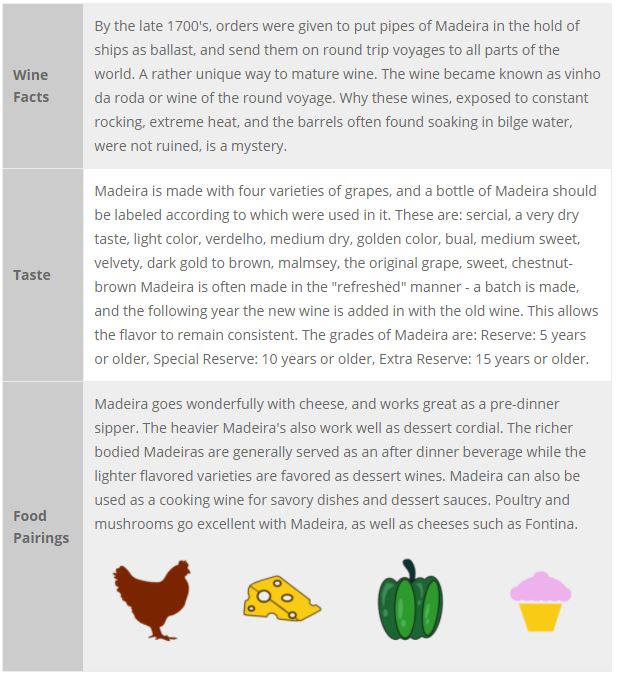 Merlot – A Grape That Originated in France
Originating in France's Bordeaux region in the first century, the grape is also grown in the United States, Chile, Italy, Europe, Australia, Canada, New Zealand, and South Africa. Merlot is the name of a red grape which traces its ancestry to the biturica variety. Many of today's wines originated from the merlot grape such as Cabernet and Malbec. Merlot was used to mix with Cabernet in French Bordeaux wines with the primary intent to soften and balance.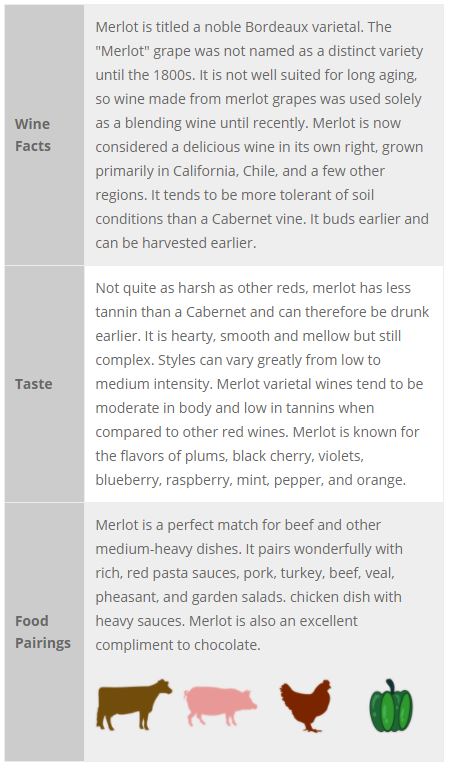 Riesling – A Grape That Originated in Germany
The Riesling grape is believed to be indigenous to Germany, and has been planted there since the 14th century. Riesling is the most planted grape in the Rhine Valley in Germany, and people who talk about a "Rhine Wine" are talking about a Riesling. Riesling does the best in Germany and in California, but is also grown in the Alsace region of France, in Austria, Australia, Canada and New Zealand.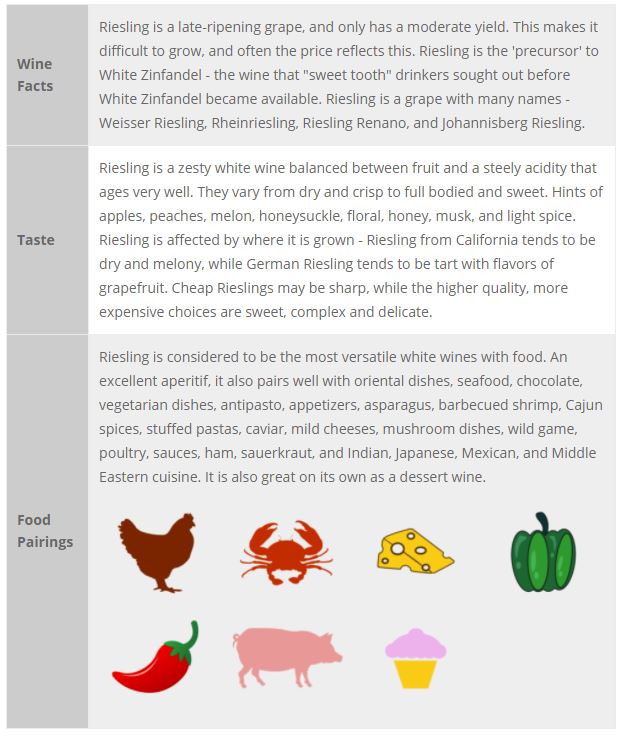 Zinfandel – A Grape That Originated in Italy
Red Zinfandel is an "American Classic" wine – it was even originally thought to be made of native Californian grapes. Research has now shown that the Zinfandel grape originated in Italy, but this wine is still mostly grown in California.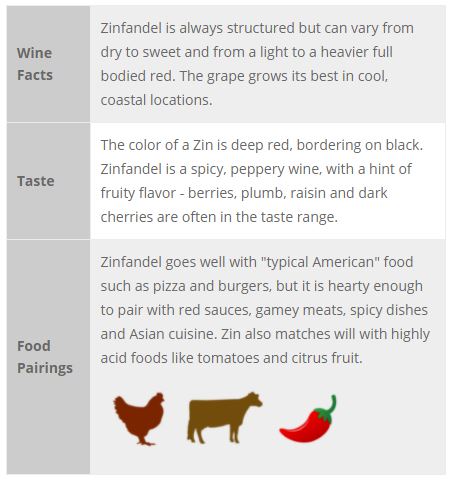 White Zinfandel – A Grape That Originated in Italy
White Zinfandel is a relative newcomer to the world of wine, even though bottles of wine were first labeled with the name "Zinfandel" as far back as the 1880s in California. Contrary to what the name suggests, white zinfandel is a rosé or blush wine rather than a white wine.
Shiraz/Syrah – A Grape That Originated in France
The Shiraz grape was once thought to have originated in Persia, but recent research indicates the grape is a native of the Rhone valley, in France. It is best known for its usage in Hermitage, in the Rhone valley.