September 21, 2022
Cigar Shapes and Sizes: What to Know
While standing in front of your local cigar shop's humidor or browsing online at your favorite tobacconist, you might be reminded of the quote "beauty comes in all shapes and sizes." You will either take solace in that fact or become instantly overwhelmed by all the choices. But this is partly a reason why cigars are amazing and enjoyable. You can choose a size based on the time you have available, your taste preference, or because you like the way it looks. 
Cigar size is typically composed of length, ring gauge, and shape. Length is fairly straightforward as it is measured in inches. Ring gauge is a little more peculiar since it is a unique unit of measure. One unit is 1/64th of an inch measured diameter of a cigar. So for example, a cigar with a 54-ring gauge is going to measure 54/64s of an inch in diameter.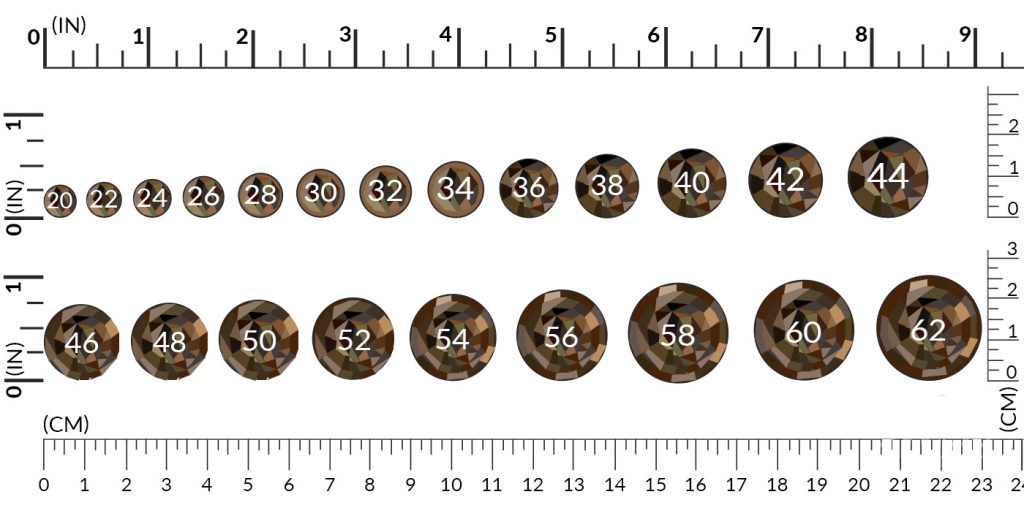 *Reminder for those of us who haven't taken a math class in a while, diameter is the measurement from one point of a circle, through the center, to another point. When you see a cigar description the length and ring gauge will be presented typically in the following fashion "length" x "ring gauge" (ex. 5×54).
 The third component is the actual shape of the cigar. Most cigars are going to fall under the umbrella of a Parejo. Parejo describes a grouping of shapes that have straight sides with no taper, most often the foot of the cigar is open and the cap needs to be cut before lighting. These can be either box pressed or traditionally rolled to be round. The third component is the actual shape of the cigar.
Box-pressed means that the press used after the cigar was rolled has squared-off edges to it. Some of the more common shapes that would be considered part of the Parejo family are the Petit Corona, Corona, Robusto, Churchill, Corona Gordo/Toro, Lonsdale, and Grande.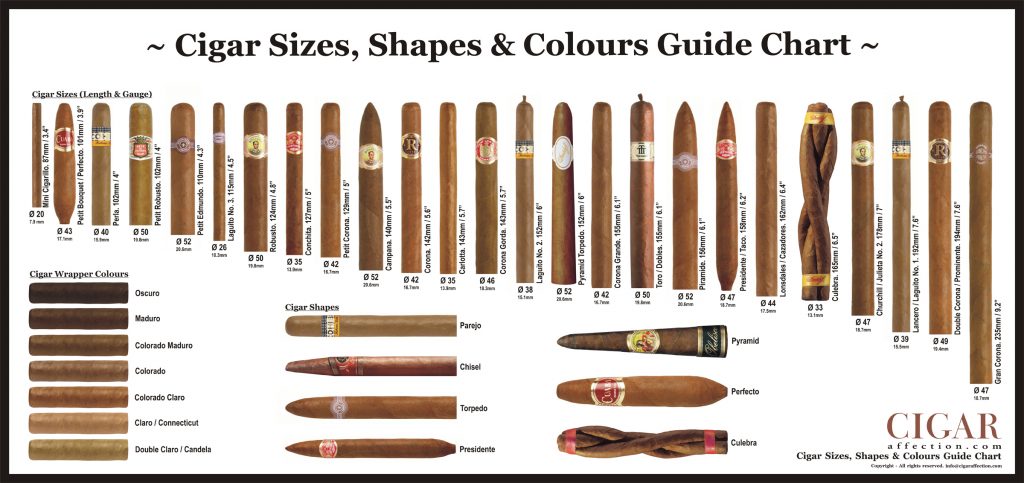 Petit Corona: generally measures 4 1/2 x 40-42
I find this smoke to be a very enjoyable size if the weather is chilly or if you only have 15-30 minutes to sit and enjoy a cigar.
Corona: generally measures 5 1/2-6 x 42-44
Similar to the Petit Corona but slightly larger, offering a longer smoking experience and a bit more cigar to enjoy.
Robusto: 4 3/4-5 1/2 x 48-52
This is one of the most popular sizes right now in the market. It has the ring gauge to have a more full flavor profile and the mouthfeel of a full-size cigar, but the length allows it to be a more relaxed 45-60 minute smoke. This is probably the size that I gravitate toward most often.
Churchill: 7×47
This is a large format cigar, but the ring gauge makes it enjoyable but won't take you 2 hours to finish. It is said to be named after Winston Churchill after he visited the Romeo Y Julietta factory. 
Corona Gorda/Toro: 5 5/8×46
More often referred to as a Toro size. I find this to be a good median between the Robusto and the Churchill.
Lonsdale: 6 1/2×42
This is another one of my favorite smokes at the moment. It has the ring gauge of a Petite Corona but the length is similar to a Churchill. I find that these can be a little more finicky to stay lit and have a smooth consistent draw, but when you find a brand/blend it is a very rewarding experience.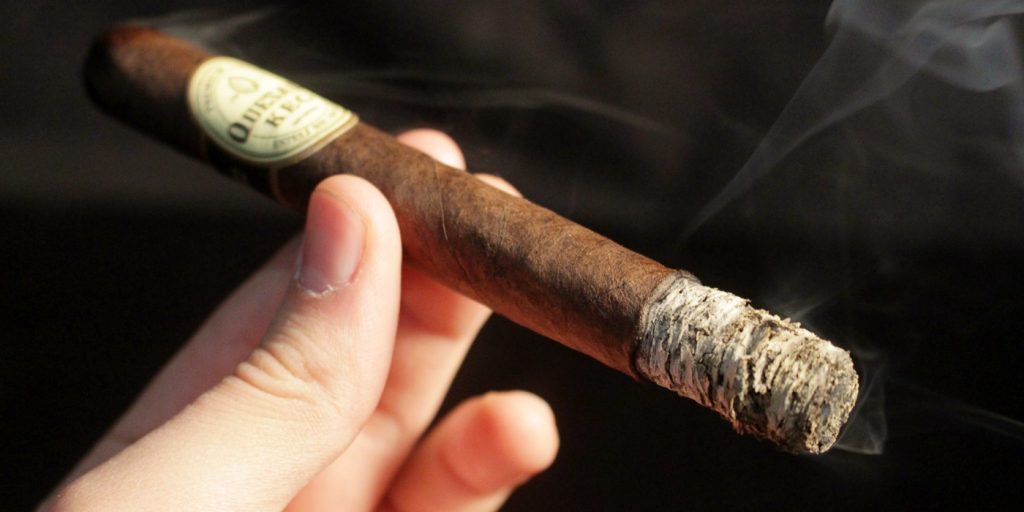 Grande: over 4 3/4×60-80
These started as a fad in the American cigar market, but have stuck around asca staple you will see on the shelves of most retailers. The lengths vary, but the distinguishing factor is the ring gauge being 60+. These are very large cigars that are going to take a time commitment (and sometimes a special cutter) to enjoy properly.
Another style you will find among cigars is called a Figurado. These vary from the typical cigar shape in the fact that they do not have straight sides. There is often a taper at one (or both) ends of the cigar, giving it a different mouth feel as well as draw. To me, the taper at the head of the cigar is sometimes welcomed when smoking and provides a different experience than a traditional Parejo. The two most common shapes you will find on shelves of retailers are the Pyramid/Torpedo and the Perfecto.
Pyramid/Torpedo: 6-7×52-54 (at the foot)
These cigars have the foot of a Parejo but at the head and cap taper down to a point or pyramid shape. These can also come box-pressed to add dimension to the shape, size, and feel.
Perfecto: varies greatly in length as well as ring gauge
These are another cigar size/shape that I find are highly enjoyable. With a ring gauge similar to a Robusto (measured in the center), they tend to have a different draw points of the smoking experience, corresponding to the varying ring gauge.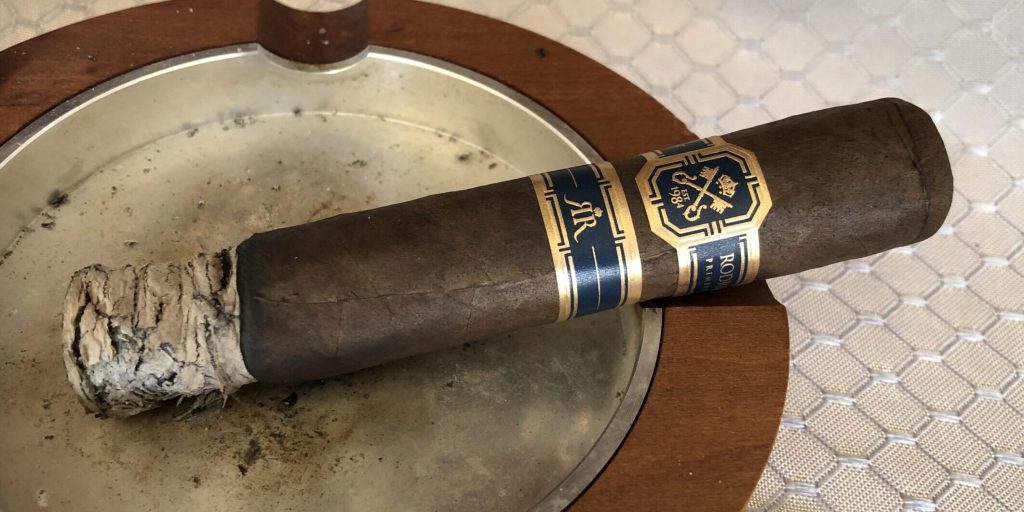 The best thing about cigars is exploring what may seem like unlimited options, and learning what you like and dislike. I find the size and shape of the cigars I am gravitating toward are constantly changing, and can change based on the activity or time of day I am smoking. 
Keep exploring and trying new sizes, shapes, and blends. Most important, have fun learning more as you go about the cigar journey!
Sources
Clinton O'Malley | BIO
I have been enjoying cigars for just over a decade, and in that time have grown to appreciate the different aspects of the cigar industry and all the craft has to offer. A software and technology consultant by trade as my full time profession, I enjoy cigars and the culture as a hobby and passion of mine. I have been gravitating towards the smaller brand and boutique blends that are often in limited release quantities as of late. I find that each cigar has a story to tell, and look forward to learning about each one and sharing that with others.
Protect Your Passions with a Vigilant Humidor
Searching for the perfect humidor? Vigilant has a line of standard products available 24/7 on our website, like our compact desktop humidors.