October 1, 2018
Introducing Vigilant's New Wine Cellar Door Offerings
We're excited to announce that we have three new wine cellar door offerings. After doing countless research and listening to our customer's feedback we have come up with three new door styles, Provincial, Rustic and Tuscan – that we're sure you're going to love. They are pre-hung, exterior grade with solid mahogany jambs, weather stripping and high R-value insulated glass to efficiently insulate and maintain the perfect environment for storing wine.
The Rustic door is an improved version of our old Piedmont door. This door is made from a solid wood frame and features a center panel with thick profile lines to give it a rustic look. Add a window with iron grate and metal clavos to give the door and even more rustic appeal.
The Tuscan door has a wood framed, insulated glass panel on top and a solid wood, raised panel on the lower third of the door. The glass panel is overlaid with heavy mullions creating the look of smaller window panes. The Tuscan door's argon filled, insulated glass panel helps to keep your wine cellar at the optimum temperature for aging your fine wine.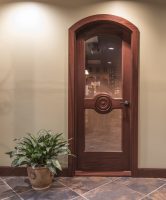 Lastly, is the Provincial wine cellar door. This elegant door has a full glass panel with a decorative mid-rail panel. The panel comes with your choice of ornamental appliques that include a rosette or grape design. For an added charge, you can also have a custom initial made. The full glass door gives you and your guests a stunning view into your beloved wine cellar.
All Vigilant doors are created from high-quality materials and use time-tested construction like mortise and tenon joinery making them strong and durable. We use high R-Value insulated glass to protect your prized wine collection from the opposing environment. Additionally, all our doors come Pre-hung in solid wood jambs, use 1 ¾'' wood frames and a weather stripping seal. As a reminder all our doors can be customized to your exact specifications including size, material, finish color, hardware and more. To learn more about our new door offerings visit our wine cellar door page.