The finest restaurants now boast their own collections of fine wines, sometimes numbering in the thousands of bottles. Restaurant wine storage and display has become an important aspect in the design and construction of hotel and restaurant dining and wine storage areas. In planning the floor and wall space of fine dining establishments, our clients have valued both the beauty and the practicality of our 
refrigerated wine cabinets
 and wine racking solutions. Making these attractive pieces a part of their restaurant décor enhances the atmosphere and the efficiency of their operations. Take a look at the images in our gallery below and see how our wine racking might be the wine storage solution for your establishment.
Contact our knowledgeable wine storage experts to discuss how we can help you increase members and sales. We love to help!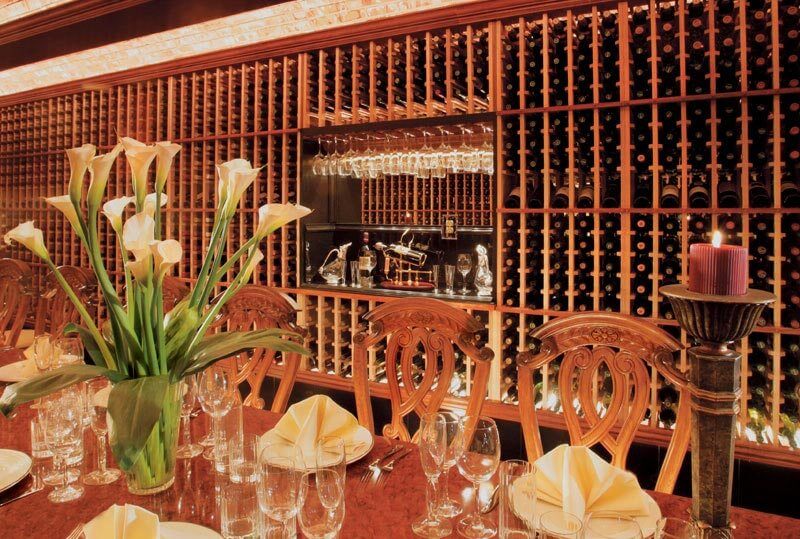 Vigilant kit and custom mahogany wine racking components provide an elegant and impressive way to showcase your wine in your dining areas.
Captain Anderson's Restaurant and Waterfront Market
This waterfront restaurant is a staple on Florida's Gulf Coast, bringing in a quarter of million customers each season. It was no surprise that with that amount of traffic they were in need of creating a space to hold 2,000 bottles of wine at a time. We were happy to solve their problem and create them a custom wine room to meet their exact needs. The wine cellar uses several wine shelving components including, ladder racking with display rows, diamond bins, cubbies, metal wine racking and custom cabinetry. Admittance into the wine cellar is marked by a beautiful Vigilant Classic French Square Door with custom anchor etchings and fluted casings. Lastly, the restaurant needed a cooling system to protect some of the best wines from around the world so Vigilant recommended utilizing a commercial grade ducted air cooling system designed to maintain optimal climate condition.
Mahogany wine cellar with Chestnut finish
Metal Racking
Custom cabinetry
LED display lighting
Vigilant Classic French Square Door with custom etching
Ducted air cooling system
Ambrosia Restaurant Private Dining Room
Vigilant 10 column wine display racks built on custom platforms
10 column single deep tables with stemware commercial wine racks
Custom soffit trim moldings
Todd English's Bonfire Private Dining Room
Custom true curved individual wine display racks
True arch and lateral single deep cascades
Dark walnut stain
Custom radius arched glass doors and sidelights with true divided light
Custom cabinets displaying 120 labels and storage for 840 bottles
A non-conditioned arched decanting area with stemware cabinets and lighting
3 sets of cabinets in 3 different rooms
Fully insulated cabinets with solid 1-¾" mahogany doors with argon filled glass panels
Mahogany with custom ebony finish
Display rows with acrylic panels and back lighting
Mix of wood and metal storage racks
Self-contained system in each set
Custom LED Lighting
Bar pulls, locks, heavy duty hinges and independent leveling legs
Ritz Carlton Luxury Hotel
Custom mahogany wine racking with black walnut stain
Individual high reveal racks, diamond and rectangular bins
Custom mahogany wine racks and displays
Ductless split cooling system
Exterior grad, insulated glass paneled mahogany wine cellar door
Comprehensive bar and under bar area for storage and serving purposes
Multiple displays of wine cubes to compliment the stock of wine for sale
Piano grade finish applied on bar cabinetry and counter-top
Vinifera Wine Bar & Bistro
Custom base moldings and light arch planks
Multiple pedestals, shelves and inserts
Dark custom stain