We've been designing and building gorgeous custom wine cellars since 1995, but we also specialize in the design and construction of wine tasting rooms and wine bars. Since our inception, our specialty cabinetry and millwork expertise has allowed countless clients to create their dream spaces. Contact a project consultant today with any questions or for additional information.
Contact our friendly wine cellar experts to discuss your wine bar or wine tasting room today.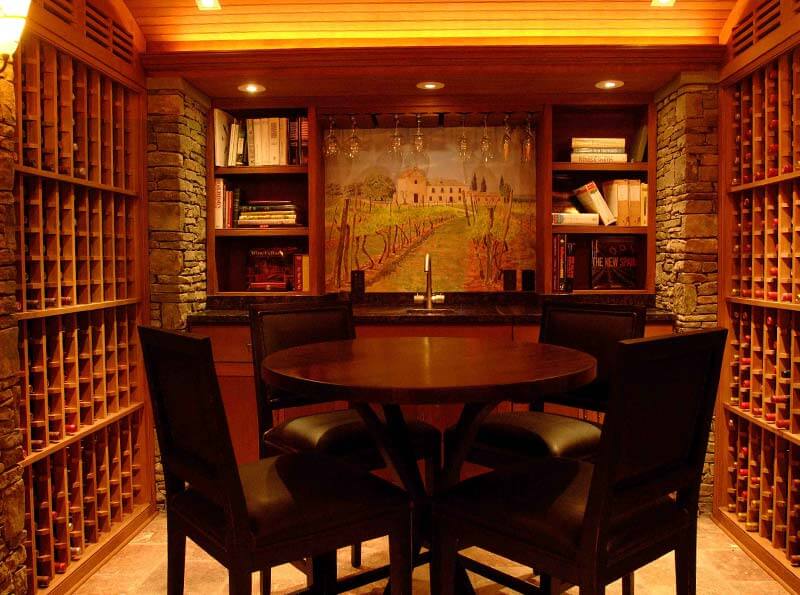 A wine bar or wine tasting room creates a unique hospitality space. There's nothing better than having a space in your own home (or retail space) to watch a game with your friends or to entertain business associates. We have designed and built amazing wine bars and can handle your custom cabinetry and millwork requirements. Many residential customers love to install a wine bar outside a 
custom conditioned wine cellar
 to showcase an extensive wine collection to guests.
Space for bar sinks, refrigerators, dishwashers, TVs
Wine racks for wine glasses and under bar storage
Wine refrigerators or conditioned wine cabinets
Back bar cabinetry and lockable storage
Custom wood and finish to match your existing style
Granite, glass, tile and other unique additions and accessories
Stools and other furniture for comfort
Wine Tasting rooms bring the ambiance of the wine cellar into your living space and are quickly becoming the essential companion to the wine cellar. Wine tasting rooms often feature:
Entertaining in a Tasting Room
You can set up your wine tasting room in different configurations depending on how much room you have and its shape. Set up an area for guests to sit and enjoy a glass of wine served from a buffet style table against a wall. Another idea is to arrange several small wine tables around the room each with select wines and complementary cheeses. Or, mix things up and serve desserts that pair well with your featured wines.
Focus your wine tasting party around a particular style or theme that complements the dinner you will serving later in the evening. For example, if you intend on serving a nice tomato-based pasta dish, ask your guests to bring a bottle of merlot. Or if your party involves serving samples of seafood, grab a few whites from your refrigerated wine cabinets.
Prepare table settings with glasses, crackers and water to cleanse the pallet. Bread of a neutral flavor can be served, but stay away from full-flavored crackers or bread so you can truly clear the palette. French bread is a good choice as it goes with many foods and wines.