View our gallery of custom projects created for luxury yachts around the world. Vigilant enjoys taking on custom requests and we have experience working with yacht interior designers and architects. Vigilant can accommodate any space by creating custom yacht furniture including wine cabinets, wine storage racks, cigar humidors and more.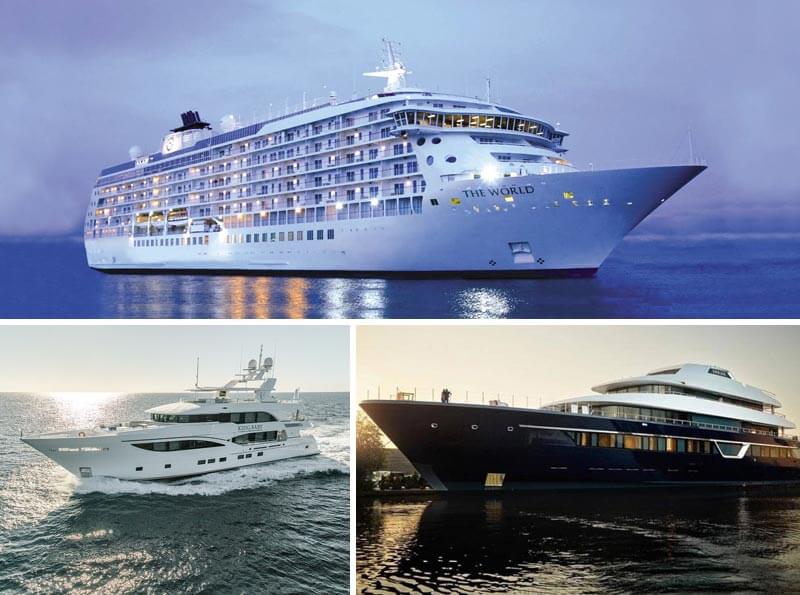 Custom Humidor for World's Largest Residential Yacht
The World Yacht had previous challenges with its original cigar humidification system and reached out to us for help. Having experience working on yachts, we knew the mechanics and elements to consider when creating a system for a ship that's constantly in motion. We created a ducted humidification system with a smart sensor to make sure the humidity stays within 2% of its setpoint. Using a special absorbent material that holds up to 100 times its own weight, the system prevents any spillage that can happen within a moving vessel.
Project Features
Digital humidification system
Smart sensor within 2% RH
Zero overflow
King Baby Luxury Charter Yacht
The King Baby is a rock n' roll themed superyacht that is available for charter in The Bahamas. The yacht was in need of a built-in cigar humidor cabinet that could accurately humidify cigars on a moving vessel. Using a state-of-the-art digital humidification system with a spill resistant reservoir, Vigilant was able achieve this for the luxury yacht. The built-in humidor is made from beautiful quarter sawn Walnut and finished with a clear glossy lacquer to match the preexisting millwork. The glass paneled door features a custom etching with the yachts name and logo. The interior features adjustable shelving, drawers with Spanish Cedar dividers and LED display lighting.
Project Features
Quarter sawn Walnut
Custom clear glossy finish
Digital humidification systems with spill resistant reservoir
Custom glass etching
LED display lighting
This custom cigar humidor was built for former UFC owner Lorenzo Fertitta's luxurious 285 ft superyacht, the Lonian. The cigar cabinet is made from Mahogany and features a brushed aluminum metal clad door. The interior features adjustable shelves and bins for storage of up to 200 cigars. Since we have experience building humidors for yachts we know it can be tricky with the constant motion of the vessels that's why we use a super absorbent material in the reservoir to store water without it sloshing around. For humidification, the unit uses a digital system accurate to +/- 2% relative humidity.
Key Features
Mahogany interior and exterior
Ebony finish with metal clad door
Adjustable shelves and bins
Digital humidification system
LED display lighting