October 9, 2017
Our Wine Storage Win at a Napa Valley Winery
Joseph Phelps Vineyards is one of the bastions of the Napa Valley wine tradition. The vineyard has been family owned and operated for 42 years and is dedicated to making wine sustainably. As a green company ourselves, we were honored to work with another environmentally-conscious business. In 2015, the winery underwent an extensive 16-month renovation to accommodate the growing number of visitors. At that time, BCV Architects, of San Francisco, reached out to us with their vision for the wine library, vault and sales cabinets for the revamped green visitor center at the Joseph Phelps Vineyards.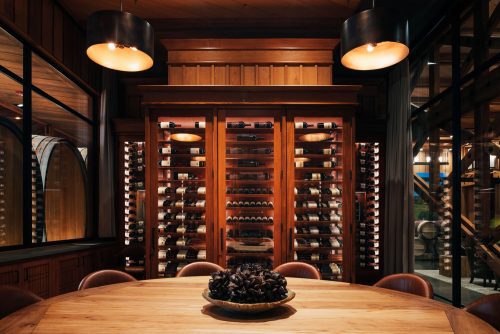 The wine library is dedicated to their older vintages so we knew we needed to create a stunning display to show off their most prestigious wines. Working with BCV Architects, we were able to bring their beautiful wine library design to life. The unique cabinets were created to seamlessly fit around a protruding wall that conceals the ducted split cooling systems. The wine cabinets utilize various size mahogany shelves to accommodate both standard wine bottles and magnums. With the LED display lighting, winery visitors can easily distinguish between all of their vintage wine offerings within the cabinets.
The next component of the project was the wine vault. Winery guests are immediately stunned as they enter the vault with our beautiful Vigilant Glass French Doors. The doors were handcrafted down to the finest detail including fluted casing and crown molding for added elegance. Inside the vault solid rectangular bins and metal racking store hundreds of bottles, including their most popular "Insignia," California's first proprietary red Bordeaux-style blend.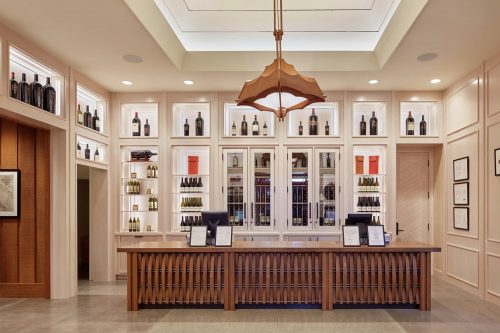 The last piece of the project was in the winery store where Joseph Phelps Vineyard's needed refrigerated wine cabinets to hold wine ready for purchase. We were required to match the cabinet finish to the custom white paint finish of the surrounding millwork for a seamless look. The wine cabinets used solid wood racking with three unique storage options allowing bottles to be seen at every angle.
In the end, all the components came together perfectly giving Joseph Phelps Winery a fresh new look. At Vigilant, we are dedicated to customer satisfaction and we are proud to live up to the Joseph Phelps Vineyard's standards and contribute to their long standing reputation. To learn more about our wine storage offerings visit vigilantinc.com.