August 13, 2020
Before And After: Stunning Wine Room Transformations
We've seen so many spaces turned into gorgeous wine rooms over the years. Whether it's a closet, pantry, spare bedroom, office, you name it, we've created it. Our design experts can maximize the number of wine bottles stored, even in the smallest spaces.
We've worked on some amazing projects all over the country. Just a handful of some of the stunning results of these wine room transformations are showcased in this post.
Small tasting room: Manchester, ME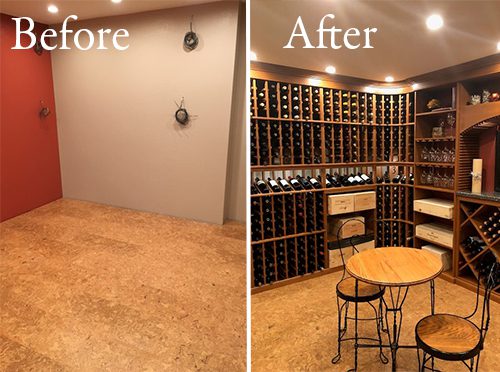 These homeowners wanted to create a functional wine room and tasting area in their unfinished basement. By insulating the walls, ceiling, and floor the room was ready for storage and a cooling system. A through-wall cooling system powerful enough to cool up to 2,000 cubic feet was chosen. Vigilant's mahogany individual bottle racking and diamond bin storage accommodates over 1,700 bottles. Additionally, the wine room features a slatted arch top with LED lighting installed over a stone countertop, hanging stemware holders, and a tasting table perfect for entertaining guests.
Under Stairs wine closet: Springboro, OH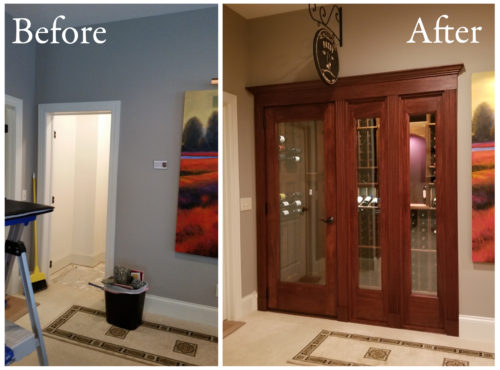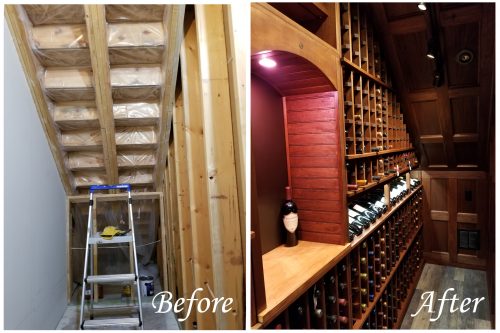 The next featured client turned the extra space under their stairs into the perfect wine closet. They insulated, dry-walled, and assembled everything themselves. Through a Vigilant Full Glass Square Door and sidelights, the wine room creates a nice focal point to the living room. For storage, the room utilizes our Estate mahogany ladder racking and beadboard archtop that holds up to 581 wine bottles. A ducted cooling system with an integrated humidifier maintains ideal conditions in the room.
'Corner' wine room: Elmhurst, IL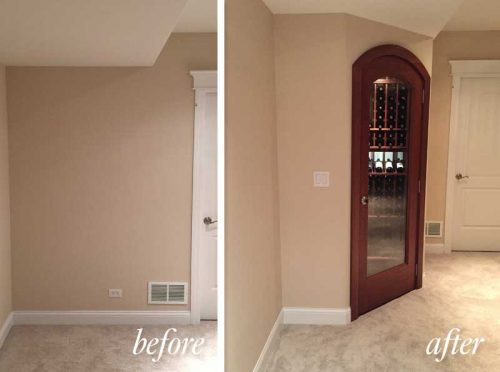 Next, we'll review how a small wine room was created from scratch in a corner of this client's basement. They framed, dry-walled and insulated the 43'' x 50'' space and installed a through-wall cooling system. They used our standard Classic wine racking, assembling and installing everything themselves. The room features an exterior grade Vigilant Classic Arch Glass Door that preserves and protects wine in the perfect environment. The room holds up to 355 bottles using diamond bins and individual bottle racking with a high-reveal display row.
Flipping a pantry! Northpoint, FL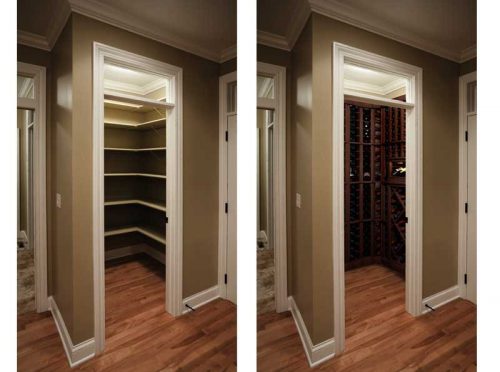 Next up, see how this pantry-turned-wine-closet was designed. The new 55'' x 60'' closet uses a remote ducted cooling system to ensure the wine is stored at the perfect temperature. The wine room uses individual bottle racks, diamond bins, and scallop shelving and is capable of holding up to 480 bottles.
New Construction Dream Wine Room
Last, we move to a new construction project where the homeowner's wanted a space for their dream wine room. Using a Vigilant Arch Door with sidelights, the wine room can be viewed from anywhere in the home's entertaining space. The room features a diamond bin, ladder racking, and curved corner wine storage all made from mahogany and finished in a custom stain and lacquer. The room is well insulated allowing efficient use of a through-wall cooling system to maintain the perfect wine storage environment.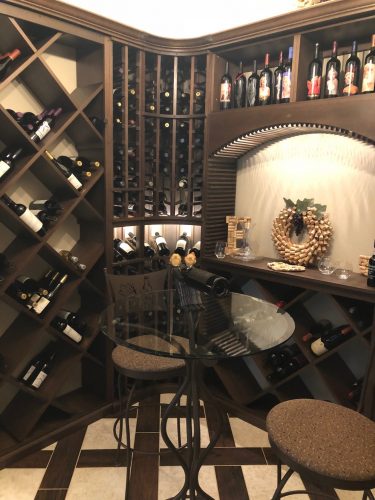 As you can see, the possibilities are endless! We're always excited to take on a new challenge. Learn more about our wine rooms and closets, or call our design experts at 888-812-4427.