July 13, 2022
Toy Storage to Stunning Wine Room in this DIY Transformation
Try our FUN, EASY DIY 3D Wine Room Planner
Check out a recent client testimonial, who expertly turned a former toy storage room into a classy, modern, and achievable wine room! 
Do you consider it a wine cellar or wine room?
We call it a wine cellar. It is actually a toy storage room for our grandkids that we repurposed.
Where is it located in your home? How/why did you choose that spot?
It is an interior room located between our home office and master bedroom.  We choose this room for a few reasons –
No windows or exterior walls
Room dimensions allowed for bottle capacity desired
Ducted cooling unit location
Did you do the work/installation yourself or hire a contractor?
There were a few activities that it was best to hire a contractor for –

Sprayed in closed cell insulation.  All sheetrock was removed, including ceiling so we could spray in 3″ of closed cell foam insulation. 

Sheetrock – hang, finish, paint. This activity makes a mess; I didn't want to deal with it

Wood flooring – antique dirty-top pine flooring was installed by supplier.

DIY

Demo walls, ceiling, flooring

Electrical and lighting installation

Ducted cooling system installation (WhisperKool)

Vigilant rack assembly and installation

Pressed tin ceiling installation (American Tin Co.)

Cellar door installation (Vigilant)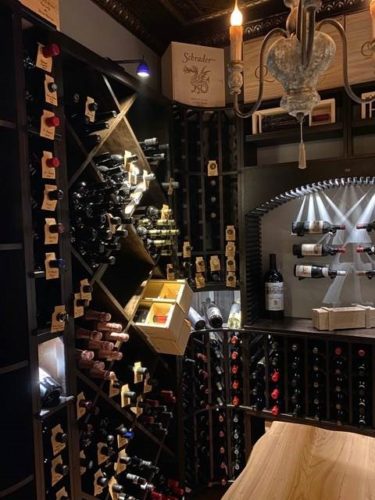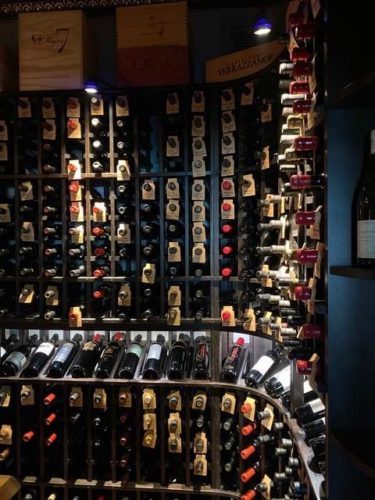 Would you change anything about the DIY design tool?
The design tool worked great allowing me to not only visualize what the finished room would look like but to also vary the combination of racking units to allow for the capacity we were looking for. Can't say I would change anything with the tool.
Would you like to share any other details about the project or your experience with Vigilant?
After creating the basic layout with the DIY tool, the Vigilant team stepped in and helped fine tune the final design.  From design to order to delivery, the Vigilant team was there to answer any questions and provide assistance.  After checking out a few of the competitors, I strongly recommend Vigilant.
Prior to going the DIY route with Vigilant, I got a quote from a local "wine cellar" contractor.  The cost was $70K+.  Working with Vigilant, the completed project cost was less than half of that.
If you are handy around the house at all, the Vigilant – DIY route is definitely the way to go.  Use the savings to stock the cellar!