September 3, 2013
Two Banks of Refrigerated Cabinets Store Wine Perfectly at Historic NH Hotel
Refrigerated wine cabinets designed and handcrafted by Vigilant Inc. provide perfectly chilled wine storage for the new SALT Kitchen and Bar at the Wentworth-by-the-Sea Hotel in New Castle, N.H. Vigilant designers, woodworkers and installers completed the construction of the distinctive wine refrigerators during the remodeling of the dining room and chef's bar at the historic hotel.
The award-winning Wentworth-by-the-Sea Hotel, operated by Ocean Properties, Ltd., sits on the coastal island of New Castle overlooking Little Harbor, where a marina welcomes recreational boaters. The grand white and red hotel has long been a local landmark and an icon of fine dining and luxurious lodging. The redesign of the hotel's inside and outside dining areas adds multiple venues where diners have a choice of intimate, elegant, or social settings. The SALT Kitchen and Bar offers a unique opportunity for diners to interact with the chef.
As Ocean Properties planned the redesign of the restaurants, they decided to seek out specialized expertise in construction of cabinets for fine wines. As the premier manufacturer of refrigerated wine cabinets, Vigilant Inc. of Dover was selected to design and build the cabinetry that would keep the extensive wine collection at perfect temperatures while adding interest to the décor.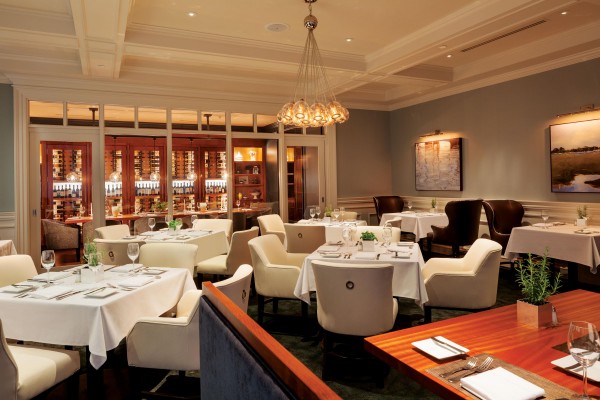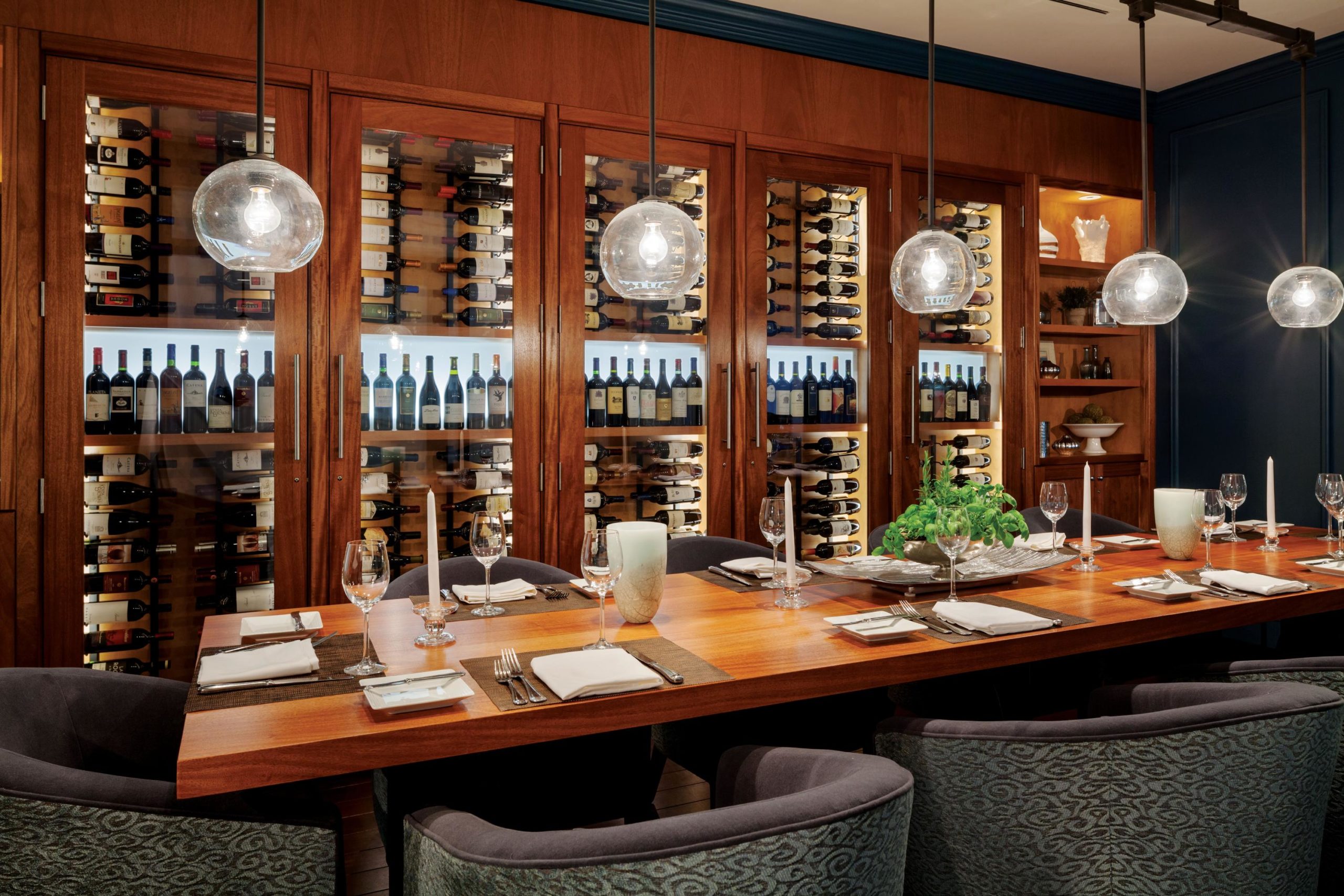 The two banks of floor-to-ceiling cabinets are located in a private dining area and in the lounge. The mahogany cabinets hold 355 bottles of red wine in the dining room and 360 bottles of red and white wines in the lounge. Temperatures range from 45 to 65 degrees (F.) in separate zones. A distinctive configuration of black metal rods holds the bottles in a horizontal position inside the insulated cabinets. High R-value glass cabinet doors and exterior-grade weather stripping keep the perfect storage temperatures constant.
Vigilant used custom stain on the cabinet exteriors to match existing paneling, and LED lighting in the rear panels gives a dramatic effect to their appearance. The wine cabinets are the focal point of the restaurant, in keeping with the elegance and sophistication of the fine dining establishment.