February 8, 2016
Vigilant Designs Custom Wine Lockers for Abenaqui Country Club
Vigilant recently collaborated with Abenaqui Country Club in Rye, New Hampshire, to create custom wine lockers for their newly renovated lounge, the 1903 Room. The space received more improvements with the addition of Vigilant's custom non-conditioned wine lockers for club members. The mahogany wine lockers feature framed tempered glass doors with adjustable euro hinges and an adjustable mahogany shelf in each locker. The wine lockers also flaunt a clear lacquer interior finish and a beautiful ebony stain and matte lacquer exterior finish. The brass hardware, finished framed end panels, and locker lighting create a striking look. The lockers include individually numbered brass plates, and individually keyed locks. Each locker can hold up to 14 bottles of wine, with a total capacity of 420 bottles.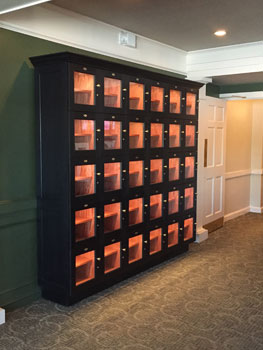 Dianne Guilmet, Abenaqui's Food and Beverage Manager, met Vigilant's owner, Charlie Griffiths, at a trade show in Texas. Dianne was immediately impressed with Vigilant's products and during the course of their discussion, discovered that they were both located on the Seacoast of NH.
"The quality (of the lockers) is beautiful," Guilmet says. "I was impressed with Vigilant's responsiveness and attention to detail. And, being in such close proximity, Charlie was able to make a couple of site visits to ensure our project was moving forward smoothly." She adds that the "1903 Room now includes a bar and a seating area, and the wine lockers match perfectly with the surrounding millwork, which has a rich ebony finish and dark green granite accents, which are the club colors." Guilmet also notes that the wine locker program is already so popular that there are more interested members than available lockers, but club members are more than willing to share their lockers.