December 5, 2013
Stainless Steel Refrigerated Wine Cabinets for The Bird Cafe
Vigilant Inc. Partners with longtime Fort Worth and Dallas restaurateur, Shannon Wynne to create stunning wine display for his new endeavor, The Bird Cafe.
Mr Wynne and his partner Keith Schlabs first contacted Vigilant in May 2013 with their vision of a grand wine display for their new restaurant, The Bird Cafe at the Sundance Square in Forth Worth, TX. The cabinet needed to have a very industrial look and had to provide a secure wine display to showcase the restaurant's wine offerings.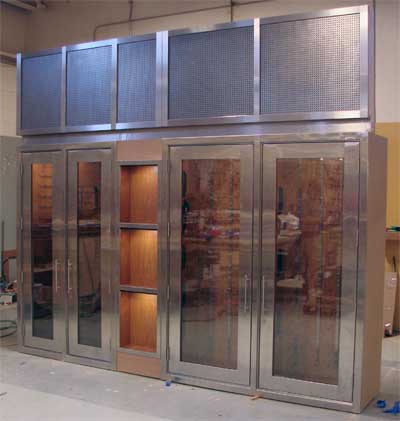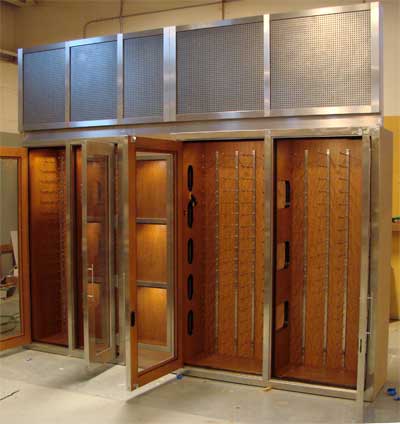 A team of Vigilant designers collaborated with Mr. Wynne and Ola Roos of O'Connor Architecture and Interior Design, to create an 11 foot bank of wine cabinets and display shelves. The exterior of the cabinets were clad in stainless steel, while the interior was lined with a tawny satinwood laminate, creating a dramatic contrast of wood and metal. The two wine cabinets feature locking glass doors, metal wine display racks and store a total of 432 bottles of wine. The center display area features fixed wooden shelves with stainless steel trim. The water cooled ducted system is housed above the cabinets, behind decorative panels, and provides the optimum environment for wine storage. The decorative panels were designed using stainless steel and octagon cane steel mesh to complete the industrial look. LED lighting in both wine cabinets and in the shelving area provides the finishing touch to a stunning display.