March 11, 2022
Wine Cellar Decorating
By Vigilant Team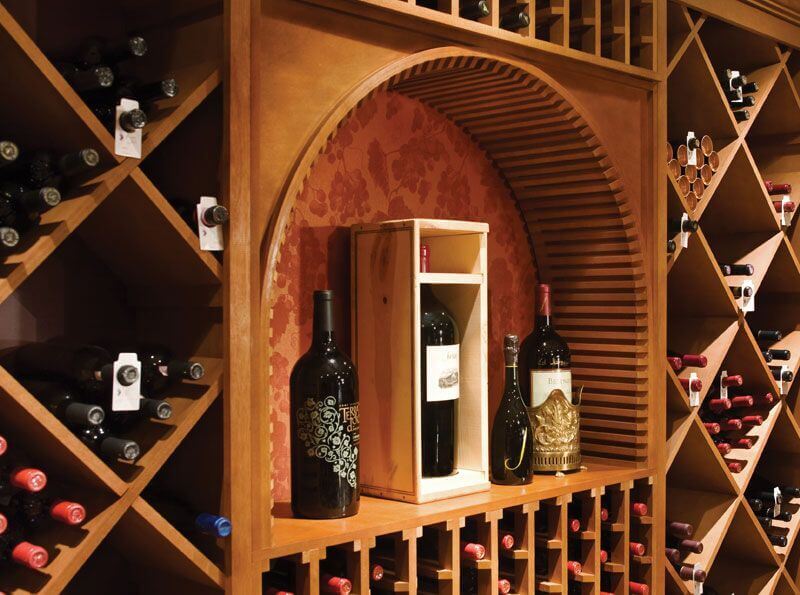 So you've decided to give your passion for wine the attention it deserves by building a wine cellar to store your collection. You've pick out the perfect space in your home and worked out all the construction and budget details. Now what? How do you make your wine cellar more than a room full of bottles in racks and on shelves? Which wine cellar decorating ideas will make it fit your personality? Here are some decorating ideas to help you personalize your wine room and achieve custom look.
Whatever your style, whether it's traditional, rustic, modern or contemporary, decorating with elements you love can help you achieve your unique custom looking wine cellar. Choosing the details of your wine cellar is an exciting way to create a room that becomes a showcase of your style and taste. Wine cellars are so much more than just storage — your wine cellar decorating should reflect the beauty and uniqueness of your wine collection.
Questions?
Call our wine cellar experts at (888)-556-2032 or email us to discuss making your dream wine cellar a reality. We love to help!
Wall Treatments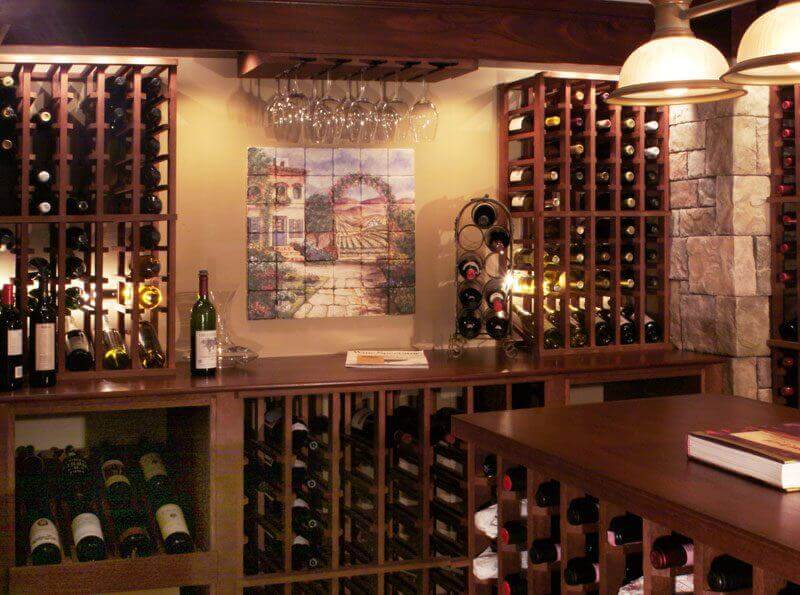 One of the more popular wine cellar decorating ideas is to focus on the walls. Walls can be decorated with artwork and murals, etched mirrors, painted tile, mosaics, custom trim, and stained glass.
Paint colors can also set the tone for your wine cellar. Regardless of your design direction, choose deep or dark colors for the walls. Dark walls allow the racking and wine casework to blend into the wall and provide the design with a more uniform and smooth flow. If you have chosen moisture resistant gypsum wall board for the wall material, it will need to be painted with moisture resistant paint. Stonework can be a great addition to walls. Filling the void corners of the wine cellar with stone columns provides a natural, old-world appearance.
Also, lighter ceiling color is alright, but tinting it with the wall color can soften the look while still providing reflective light.
Wine Cellar Lighting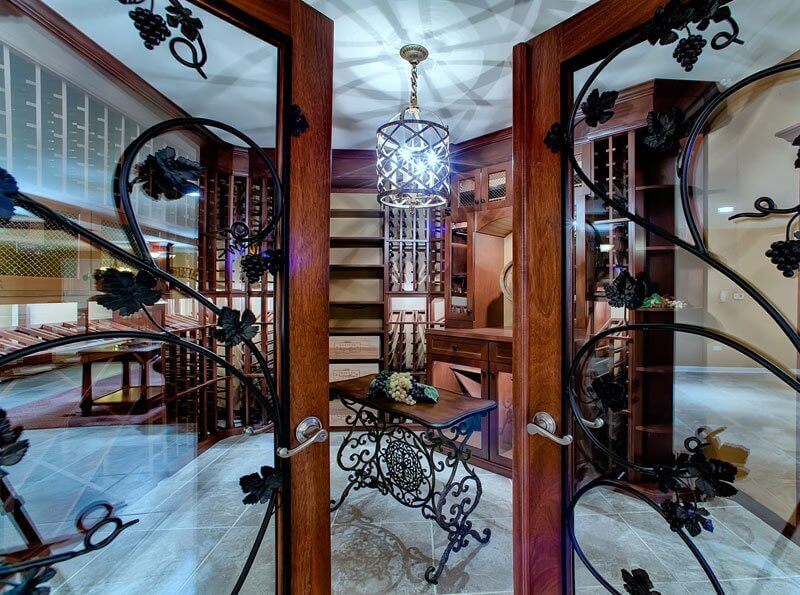 The lighting in your wine cellar should be both functional and decorative and should provide ample light for reading wine labels without exposing your wine to excessive heat and ultraviolet light. Putting all of your cellar lighting on wall switches with dimmers will give you the flexibility to raise and lower light levels for the appropriate task. Switch timers or motion detectors are a great feature and will prevent the lights from being left on inadvertently.
Recessed Cans
Ceiling-mounted, recessed cans are the best solution for wine cellar lighting. They are unobtrusive, and their specialized fixtures allow you to aim the light to areas where it is most needed.
Track Lighting
Track lighting can be used as an alternative or in addition to recessed cans. Track lights are flexible and provide good light. As with recessed cans, make sure all tracks are at least 18″ off your walls so as to avoid contact with the wine racking.
Wall Sconces
Wall sconces are attractive and shed indirect, diffuse light throughout your cellar. Wall space in wine cellars is often at a premium and may limit the use of sconces.
Chandeliers
Chandeliers are a lighting option for clients seeking a more elegant look in their wine cellar. If you are considering a chandelier, make sure that your fixture can be hung high enough or in a location that avoids foot traffic areas.
Display Lighting
Properly installed display accent lighting can be the crowning touch for your wine cellar. We recommend using low-voltage lighting systems that offer fixture location flexibility. Accent lighting works great in arch tops, high-reveal and vertical displays, and cabinets.
Floors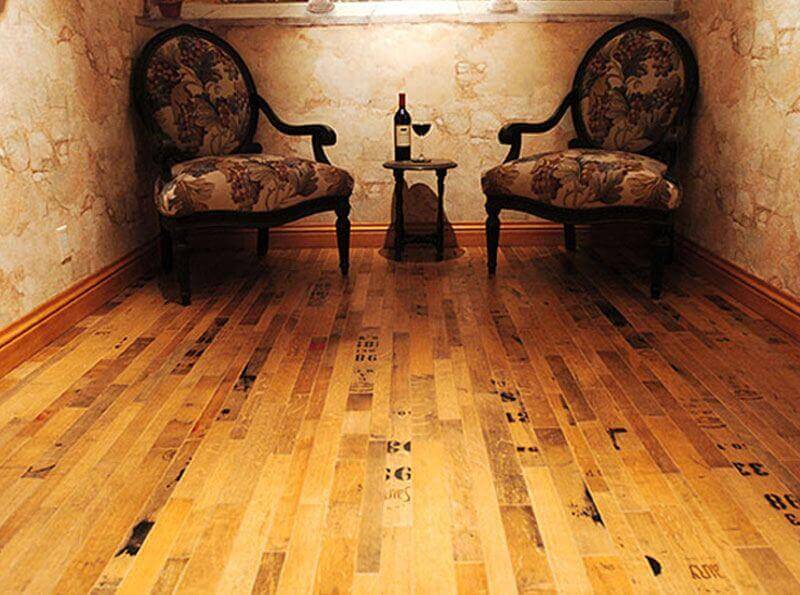 Tile and Stonework
Most wine cellars use either ceramic tile or stone work on the floor. All are functional. The choice should be based on the look you are trying to achieve in your wine room. Earth tones are always a great choice, they look good and allow the eyes to travel away from the floor and up to your amazing wine collection.
Wooden Floors
Wood floors are a great design element in a wine cellar. They look natural and warm and will hold up well to the wine cellar conditioning. Be sure to use only a rot resistant hardwood like mahogany and it's critical that you leave a gap between the floor and the wall to allow for expansion of the floor material. The gap can be easily concealed with baseboard molding after your wine racking is installed.
Furniture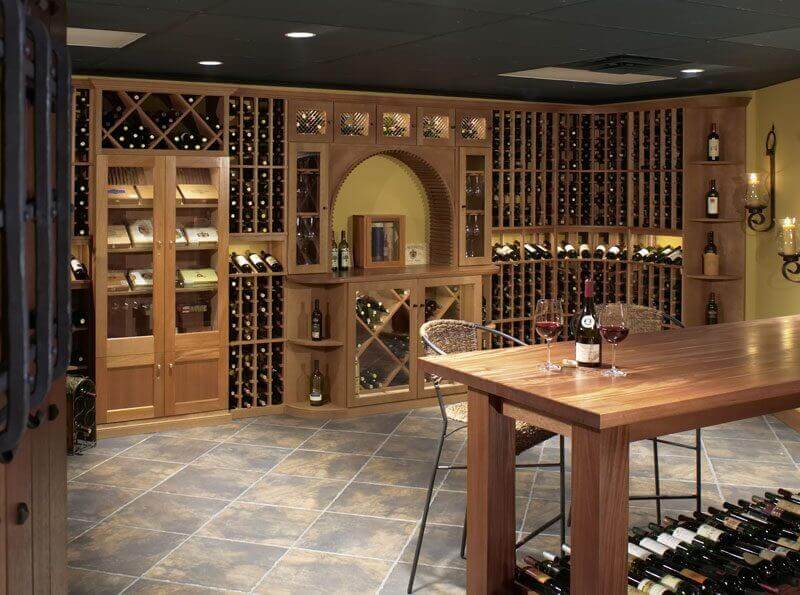 Furniture pieces and elements are another decorating that can give your wine cellar that high-end custom look. Create a wine tasting area with tables, stools, chairs and benches. It's a wonderful way to showcase your wine collection to friends and family and utilize your wine cellar space for more than just storage.
Wine cellar furniture can be made of wood from old wine barrels, giving your furniture a unique and rustic look. Tabletop surfaces can be made from cork, tile, hand-cut mosaic, stone, or custom wood. A tasting table can even be a vintage wine barrel, with a glass top. Or make a tabletop or accent pieces from wine corks. You can do so many things decorating within your wine cellar to make it an unforgettable experience.
Ceilings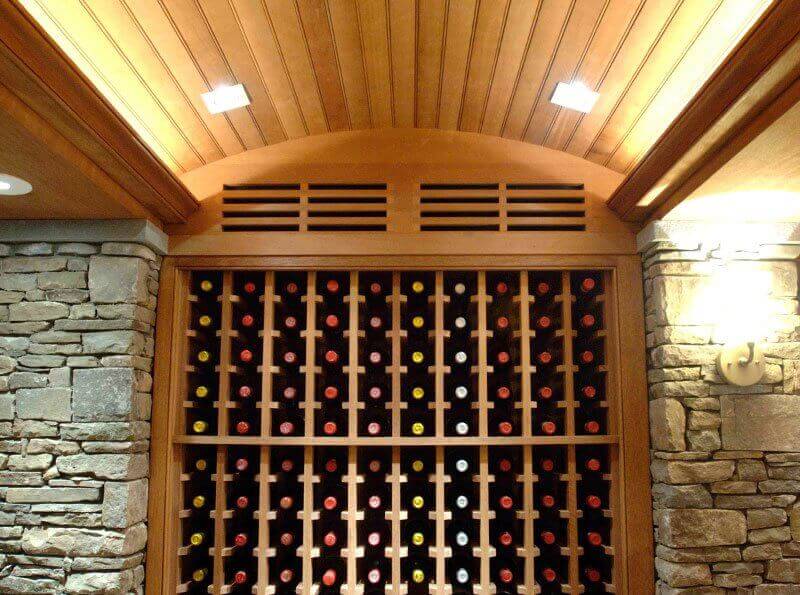 Vaulted ceilings and wood ceilings are other optional design elements that can add a unique look to your finished home wine cellar. Both tongue & groove and bead board are great options for wood ceilings and can be finished to match your wine racking and wine cellar elements.