September 26, 2013
A Few Good Wine Cabinets for the Army-Navy Club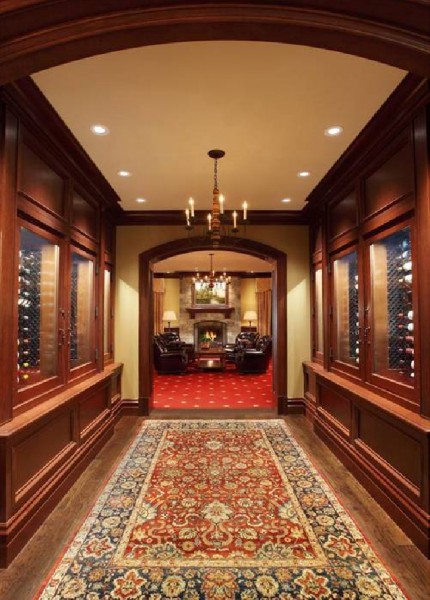 Vigilant Inc. is proud to have two banks of custom built refrigerated wine cabinets in the hallway leading to this elegant fireplace room at the Army Navy Country Club in Arlington, Virginia. The cabinets were custom built to match the rich, gleaming wooden paneling of the hallway, and enhance the warm and welcoming atmosphere of this member-owned country club.
Established in 1924, Army Navy Country Club is a private facility that draws its membership mostly from active duty and retired military officers and warrant officers from all branches of service. The setting is an idyllic landscape of rolling hills and woodlands surrounding a 54-hole championship golf course, six swimming pools, and luxurious dining facilities for a couple or a crowd.
The eight conditioned wine cabinets were built into an existing hallway, four cabinets on each wall. Measuring 11 feet wide, the mahogany cabinets are five feet tall and vary in depth. The total bottle capacity is 600 bottles, stored on metal display racks with a black finish. The cabinets are cooled with two single-zone ducted split systems with active humidity control.
All of the mechanical, inner workings of the cabinets are beautifully hidden behind panels. The cooling systems are housed above the cabinets behind removable wood panels, and the ductwork runs between cabinets behind a specially designed plenum. To show off the extensive wine collection, the cabinets are lighted with low-watt LED accent lighting.