May 21, 2021
Exceeding Expectations: A Review of Our Armoire Humidor
Vigilant – Armoire 2000 Traditional
By Erik Carlson
I had been dreaming of an heirloom grade humidor for years, but the cost of entry was always daunting. I received a gift this past year with the stipulation I spend it on something I wouldn't normally be able to purchase. It only took a split second for me to start looking at cabinet humidors.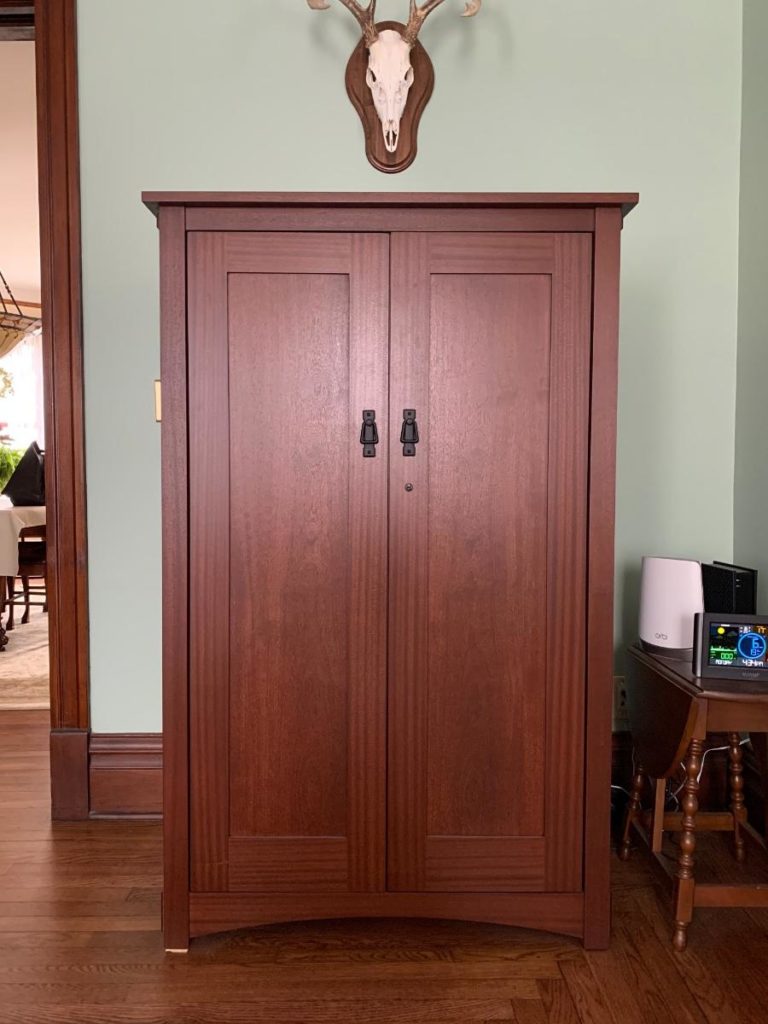 Ordering Process
The folks over at vigilant are consummate professionals. This did not feel like a fly-by-night operation. They were great communicators, efficient, and best of all….actually on time with their estimates.
I decided on the Armoire 2000 for a few reasons: capacity and budget. Vigilant can do a complete custom job for you if you wanted, but you will probably double the price of their existing models. The Armoire 2000 is not cooled, which might be a problem in some contexts. I'm keeping this cabinet in my basement which should remain between 60-70 degrees year-round, so it wasn't a real concern or an essential expense.
Avg. Cigar Capacities: 2000
Dimension: 38″w x 60″h x 25.5″d
Weight: 345lbs
The Cabinet
The cabinet is expertly crafted and rock solid. At 345 pounds of solid wood, this thing was an absolute beast to get down the steps, but there is no doubt in my mind that this piece was built to outlast me.
Fit and finish are flawless across all areas of the unit. The door and locking mechanism are tight and feel secure.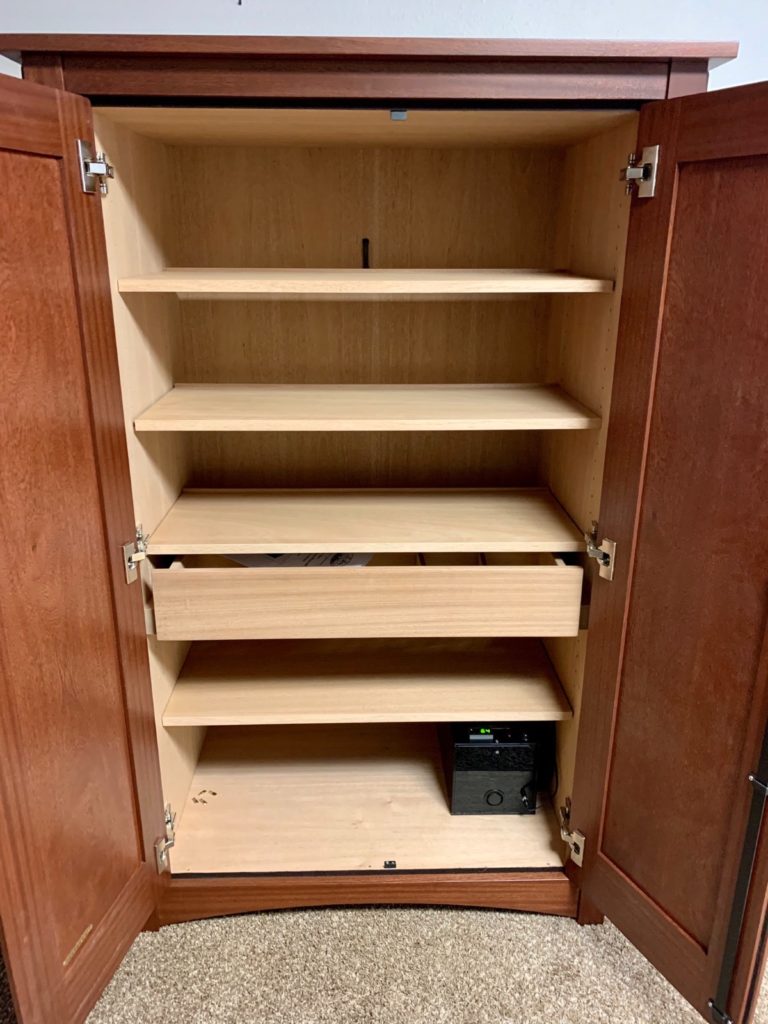 The shelving is adjustable to suit your spacing needs. The shelves themselves stop short of the back wall by a good 4-5″ to allow maximum air movement behind your boxes. This does reduce the number of cigars that could potentially fit in the unit, but my experience thus far makes me think the air movement it provides is worth the loss of space. Depending on the box shape, the shelves can stack two rows deep.
The pull-out drawer feels very solid and rolls in and out smoothly. There are more adjustable dividers included that I am not using currently.
Humidification
I upgraded to the Guardian digital unit. It uses a 1.5-gallon reservoir that feeds a wick which has air drawn threw by a top fan. The fan is not loud, but you can hear a slight hum when it's on with the door closed. There is an RH sensor attached to the center of the back wall of the humidor. So far I have been very happy with the unit.
Conclusion
I'm totally satisfied with this humidor. I think I have around 1700 cigars in the humidor right now, and there is definitely room to squeeze more in.
1-Year UPDATE
I wanted to take a moment to update everyone on how the unit has performed in its first year of use.
I can honestly say that my expectations have been exceeded with this humidor. Everything I said about the quality of the build still stands. It holds its RH like a champ. For years I had to obsess over keeping my collection properly humidified, but this has been set-and-forget.
If you are in the market for an heirloom-quality humidor, I would wholeheartedly recommend Vigilant. They were a pleasure to deal with and this unit is probably the finest piece of furniture in my home!
This post has been condensed and edited. Find the original review posted here.