April 13, 2009
Furniture Quality Cabinetry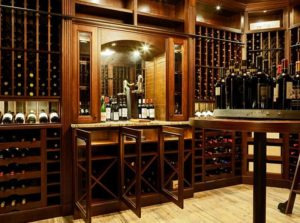 Vigilant would like to announce the launch of our new, fully custom furniture quality cabinets for the home and/or business. This cabinetry combines the craftsmanship of our finest cabinet makers with state-of-the-art technology and flawless design. The finished product is a series of wine cabinets or media room cabinets that you will be proud to own.
The furniture quality cabinetry features built up crown and base moldings, rounded counter-tops, glass and wood cabinets doors with deeper profiles and lacquered interiors. The glass doors can have mullions, as well as beveled or frosted glass. The drawers and doors use a state-of-the-art hardware system for the hinges and slides. The dovetail joinery makes for a beautiful crafted look on all the components and the interior glass shelves help the lighting to travel further within the cabinets.
The cabinets can be customized in any number of ways. Start with one of our designs or from scratch and build your own. We can accommodate virtually any desire, including wood choices and finish options.
This new furniture quality cabinetry is designed with wine in mind, but it also makes a perfect addition to media rooms or movie rooms. As media storage cabinets, the furniture quality cabinetry takes on a new identity and can be designed for large screen TVs, audio/video components and media storage.
When used to store wine, consider the wine cabinets use inside your wine cellar as a focal point within the design. These cabinets are also perfect in a tasting room for storing equipment for your tasting parties. Wine tasting rooms are the newest design trend in the home for true wine connoisseurs. Tasting rooms offer a space for parties that is separate from the cold, moist climate of the wine cellar. Our wine cabinets are a perfect compliment to the functional aspects of your tasting room. Allow our team of designers to work with you to create the functional and decorative space that is to be your tasting room. We can offer you suggestions on the components to consider such as a wet bar, sinks, refrigerators, and lighting.
For more information on wine tasting rooms visit our website: vigilantinc.com/the-industrys-best-wine-cellars/
For more information on our new Furniture Quality Cabinetry: vigilantinc.com/wine-cabinets
To learn more on hosting a wine tasting party: vigilantinc.com/galleries/wine-bars-wine-tasting-rooms/