November 18, 2016
Holiday Wine Selection Made Easy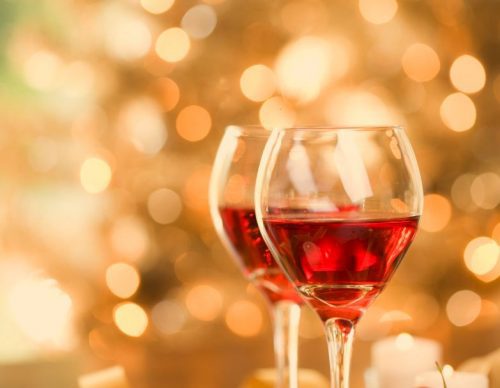 The holidays are a time to celebrate, unwind and enjoy the company of family and friends. However, that's not entirely the case when you are hosting the event that is the holiday dinner party. Any host will agree- it takes a lot of work to make the holiday dinner successful. It's no surprise that during the holidays wine sales are higher than for any other season throughout the entire year. If there wasn't enough pressure on the host to prepare the a delicious meal with mouthwatering sides and desserts to tempt even the fullest of stomachs, add in the stress of choosing the perfect wine to complement the affair.
Wine isn't there to just look good and set a festive and celebratory tone, ideally wine should also enhance the flavors in food. During holiday suppers and dinner parties, it's not only the variety of the foods on the table, but also the differing wine preferences of your guests that adds to the difficulty of choosing the right wine for the table. Considering the heavy, pre-winter foods that generally involve seasoned meats, heavy starches, savory dressings and crisp vegetables and your guest's vastly different wine tastes, the task of wine selection can be daunting. How does one know which wine to serve?
First and foremost: relax
Well, to start there's no 'right' or 'wrong' wine to serve. It's ultimately a matter of taste and preference. For those without a go-to wine or those looking to veer off the path of routine wines, the good news is that there are some lesser known wines that are likely to send you and your guests' palates to sensory delight.
While there is no one size fits all of holiday wines, there are common sentiments among connoisseurs and sommeliers. You are not likely to hear a sommelier suggest the classic holiday Beaujolais or the Chardonnay butter bomb. Of course this doesn't help you make an informed decision as to what to put on the table for your guests to enjoy.
Hold off on serving your best wines
Even if you're the most distinguishing wine enthusiast, don't feel compelled to bring out your best wines. If you have the pleasure of owning a wine cellar, this might even be a good time to put a lock on it to avoid the late night wine cellar raid that is so common when hosting a dinner party. There are many other wines that will complement the meal just as well. The holidays are a time of indulgence, but that doesn't mean it demands your finest wines.
Regardless, there are certain things to look for in your bottles of wines:
What to look for:
Bright & fruity wines. Super-dry wines can die in the presence of all that fruit, sugar and salt. Look for whites with a bit of residual sugar. Reds are more difficult as they're almost always dry, but shoot for a fruity red with sparse amounts of spice.
Lower alcohol content. For a family affair, and to avoid that sleepy feeling after the meal, chose wines with lower alcohol levels. Bigger reds and whites tend to be higher in alcohol content so chose lighter options with lower alcohol levels.
Tannin-level. Tannins pair best with foods higher in fat such as beef and pork by creating a balance of oils and fats. If you're serving a meat such as chicken or turkey, which are generally lower in fat, look for low tannins. If you're serving a fattier meat such as beef or pork, a wine high in tannins would be a better choice.
Low (to no) oak. Oak-heavy wines are typically more intense and will likely overwhelm the flavors in typical winter dishes. Stick to the old rule: "smoke with oak" on this one.
Medium body. A rule of wine pairing is that the body of the wine should match the food. Typical holiday foods are not quite rich enough to warrant a full bodied wine, but beware going light doesn't mean playing it safe- it means you'll simply lose your light wine to the richer food. A medium body is also generally easier to drink and pairs more easily with an array of foods and will please a wider array of guest's palates.
REDS
Most commonly served red: Pinot Noir. Pinot Noir is a solid choice (assuming you're picking a good quality pinot), because a high-acid, low-tannin Pinot with bright cherry and cranberry flavors will pair well with most holiday dishes. Some other grape varietals to consider include:
Grenache blends: Red fruit flavor profile with subtle spice undertones that are generally soft on the palate.
Zinfandel: Light-bodied with moderate tannins offer a bold taste due to higher acidity.
Pinot Noir: High acid and low tannins with dark fruits and floral notes present a nice medium-body.
Reds to try:
Grenache blend

Rioja Bordon Crianza, Bodegas Franco-Espanolas 2010 ($13), Spain
Morgan Grenache/Syrah ($14), California
Yalumba, Old Bush Vine Grenache 2011 ($19), Australia

Zinfandel

Montevina Zinfandel 2006 ($11), California
Rancho Zabaco Reserve Dry Creek Valley Zinfandel 2010 ($8), California
Feudo Monaci Primitivo 2002 ($9), Italy

Pinot Noir

2012/13 Arterberry Maresh Pinot Noir ($25), Oregon
2006 Pencarrow Martinborough Pinot Noir ($18), New Zealand
2005 Chateau de Sancerre Rouge ($21), France

OR: Bodega Chacra, Barda Pinot Noir 2007 ($24), Argentina
WHITES
Most commonly served white: Chardonnay. While most often served, this isn't always the best choice. It may sound logical to match butter-rich foods such as mashed potatoes, yams and butter-smothered vegetables with a buttery Chardonnay, but not in this case. The richness of the Chardonnay can overpower the food flavor. Instead, try a white that will work to bring out the flavors in your dishes with one of the following:
Varietals:
German Riesling: May be dry or sweet, but usually on the sweeter side. Fruity flavor with touches of peaches or apricots and a floral fragrance.
Viognier: Floral and fruity, essences of peach, apricot and pear with low acidity.
Pinot Gris: From the same grape variety as Pinot Grigio, it is light and fruity with medium acidity.
Whites to try:
Riesling:

Rheinhold Haart Piesporter Kabinett ($18), Germany
Ryan Patrick Riesling ($10), Washington
Rocky Gully Dry Riesling 2006 ($15), Australia

Viognier:

Domaine Triennes Saint Fleur 2010 ($15), France
Pine Ridge Chenin Blanc Viognier 2009 ($14), California
Flagstone, The Rumor Mill Viognier 2012 ($18), South Africa

Pinot Gris:

Lucien Albrecht Pinot Gris, Cuvee Romanus 2012 ($20), France
Acrobat Pinot Gris, King Estate Vineyards 2013 ($14), Oregon
Kris Pinot Grigio 2003 ($11), Italy
How much to buy
After deciding on what wines, you're left with the decision of how many bottles? A popular way to estimate is to consider that one bottle will equate to four glasses of wine and on average people drink one glass of wine per hour. So, if you have 8 wine-drinking guests (including yourself of course) and you expect three hours of eating from hors d'oeuvres to dessert, you could estimate you would need roughly 3 hours X 8 = 24 glasses of wine and divide that by the four glasses per bottle gives you an estimate of roughly six bottles of wine. Of course, consider your guests and how much they tend to drink at holidays. Maybe you can do with a bit less, or you might just need to grab another bottle …or two.
In a pinch?
If you find yourself at your wits end or making a last-minute wine purchase, consider a sparkling wine. They are a good option for a one stop, cover all bases-type of holiday wine. The very nature of serving bubbly adds to the celebratory atmosphere and it feels especially festive so close to the New Year.
Champagne: Lucien Albrecht Cremant d'Alsace Brut Non-Vintage ($16), France
Prosecco: Bele Casel Prosecco ($15), Italy
American: Tattinger "Domaine Carneros" Brut 2008 ($27)
Worried about pleasing your finicky vegan cousin or buttery Chardonnay-loving aunt? Suggest they bring a bottle of their favorite wine to share. After all, the holidays are about sharing.
So embrace the process of selecting the wines for your dinner table and remember that the holidays are a time to enjoy the company of family and friends.
Cheers!