How to Build a Wine Cellar
Thinking about building a wine cellar in your home?
Here we outline important considerations and steps to follow when building a wine cellar. But if you're not quite ready to digest all these tips, simply download our free catalog, request a design quote, or use our DIY design tool.
You may also want to consider checking out this "oldie but goodie." This how-to video series on creating a wine cellar was produced several years ago, and is broken up into bite-size morsels that pair perfectly with a glass of your favorite wine! ADDED BONUS: Subscribe to our YouTube channel and we'll alert you when we refresh the series later this year.
And lastly, when you're ready to get started, we'll be here to provide everything you need.
Step 1: Identify the Purpose of Your Wine Cellar
Will your wine cellar simply be for functional long term storage or more of a showcase for your wine?
How many bottles and what types of wine will you be storing?
Knowing the answer to these questions will help you determine the wine cellar size that will meet your needs.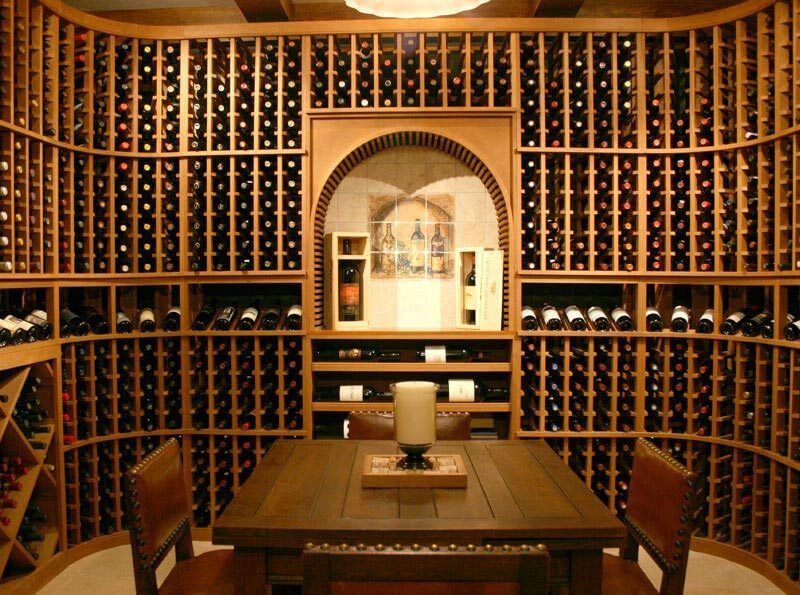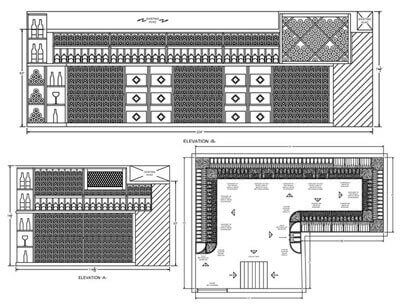 Step 2: Determine Your Wine Cellar Size
The size of your wine cellar will depend on how many bottles you wish to store and how much space you can devote to it. Our wine cellar construction charts are a great tool to help you understand the space you will need, the materials to use and the average construction costs.
Step 3: Choose Your Wine Cellar Location
The most important consideration when building a wine cellar is its location. A popular question we get is 
"Can I put a wine cellar anywhere in my home?"
 Yes, your wine cellar can be located anywhere in the home. You can convert a 
closet
 or 
space under your stairs
 into a wine cellar, but the most popular location to renovate is the basement since it tends to be cooler.
The location chosen determines many other factors affecting the cost of building and maintaining the cellar. The ideal temperature and humidity for a wine cellar is in the 55°F and 60% relative humidity range. If you select a cooler, more humid location, the cooling system will not need to work as hard so a smaller cooling system may be adequate. This may translate to lower energy costs. Conversely, a warmer location means the cooling system will run more frequently and a larger system may be required. Construction cost may also increase as additional insulation may be required.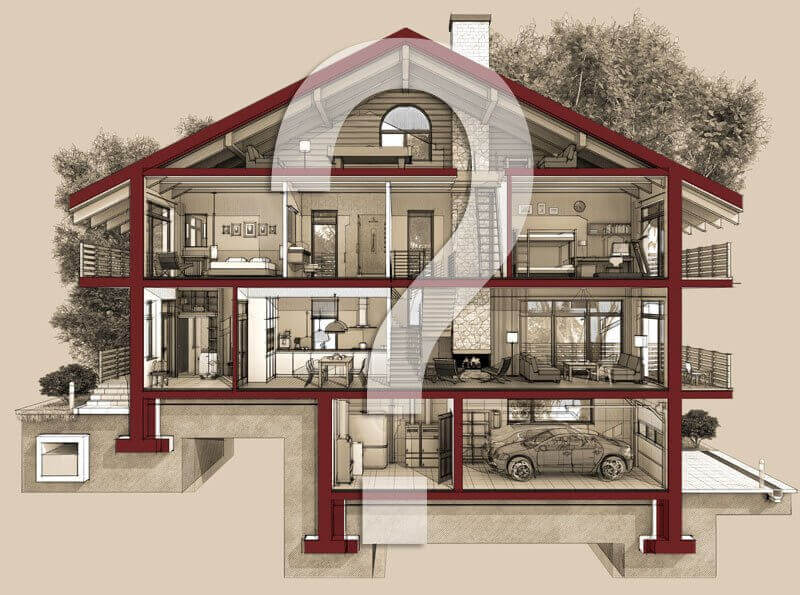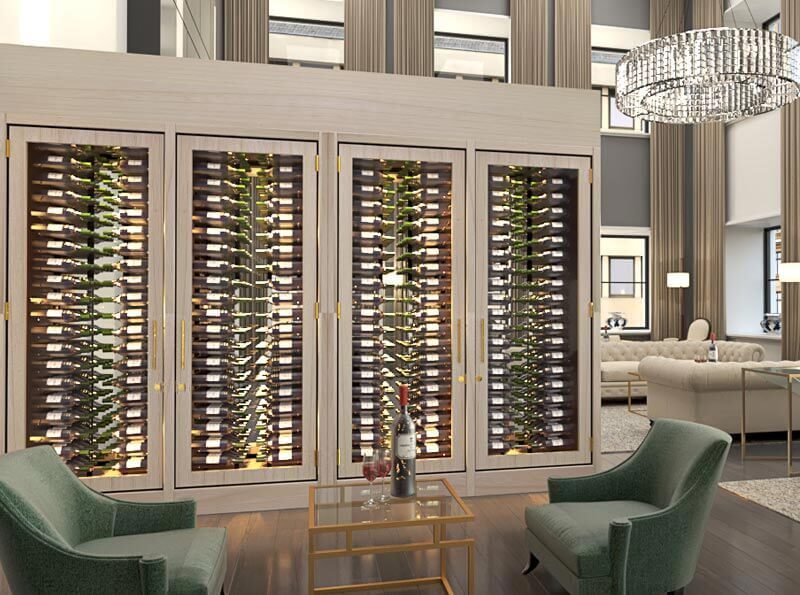 Step 4: Wine Cellar Temperature
What Cooling System Works?
Your wine cellar should be placed in the coolest, most humid area in your home. The closer the wine room is to an 
ideal wine cellar temperature
 of 55° F and 60-65% Relative Humidity, the more efficient the cooling system will be. Any warmer and your wine will age faster; any cooler and your wine will age slower.
The location and size of the wine cellar will determine what cooling system is going to work best for the space. Some wine cellar cooling systems have strict requirements for installation. For example, a 
through the wall cooling system
 cannot vent directly into living space. So if your wine cellar is in the center of your living space, this system would not be a fit for you. A 
ducted or ductless
 system would be a better choice. The selection of and planning for a wine cellar cooling system should done prior to the wine cellar framing stage.
Step 5: Do I Need a Vapor Barrier?
The application of vapor barrier is critical to the maintaining the correct environment and preventing moisture from forming inside your wine cellar walls. The method used will depend on what insulation material is being used.
If traditional batting or rigid foam is to be installed, then you must wrap the walls and ceiling with a 6mil poly vapor barrier so the room is completely sealed.
If the cellar is not in a basement, you will need to install the vapor barrier and insulate the floor as well. Be sure to tape all of the joints of poly with moisture resistant tape and be sure to seal all outlets and lighting fixtures that penetrate the barrier.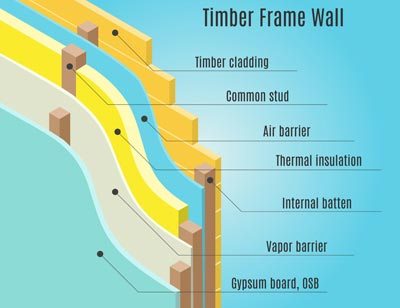 Insulation Considerations
Insulation isolates your wine cellar from exterior elements and helps to maintain a cool, moist environment for your wine. It will keep your passive cellar from becoming too warm and will help to conserve energy for a wine room that is actively cooled by a system.
Non-cement floors with living or crawl spaces below must be insulated with rigid foam, spray-in insulations-preferably closed cell, or traditional fiberglass batting. Vapor barrier must also be applied on these surfaces as well.
Walls must be insulated with a minimum value of R-19 and ceilings must be insulated with a value of R-30. R-value indicates the ability of the insulation to restrict heat flow — a higher R-value indicates better insulation.
When applying traditional fiberglass batting, make sure to orient the paper or foil barrier toward the warm side of the wine cellar wall. Seal all joints with a foil-backed tape.
When insulating your wine cellar, more is always better. Standard fiberglass rolls or batting provide an R-value of approximately 3 per inch.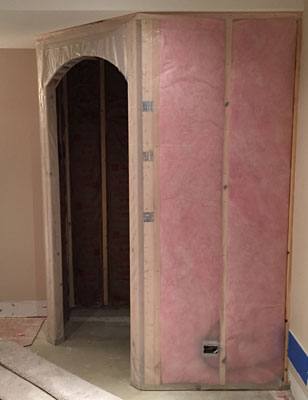 Construction Material Thicknesses and R-Values
This chart shows the relationship of insulation values for sample wall thickness and material types. We recommend a minimum R-value of R-19 in the wine cellar walls and R-30 in the ceilings.
| Wall Frame Thickness | Insulation Thickness | R-Value Fiberglass Batting | R-Value Rigid Foam |
| --- | --- | --- | --- |
| 4" | 3.5" | R-11 | R-25 |
| 6" | 5.5" | R-19 | R-39 |
| 10" | 9" | R-30 | R-65 |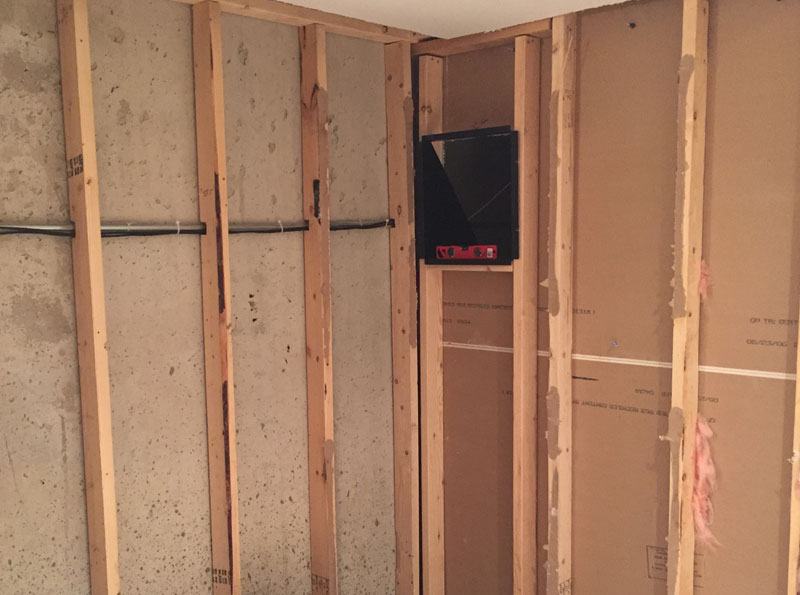 Step 6: What Should I Frame and Insulate in My Wine Cellar?
Frame all cellar walls (even concrete walls) using standard 2×4 or 2×6 studs. Keep in mind the thicker the wall depth, the more insulation and higher R value can be achieved. You may even need to insulate the ceiling and floor depending on your substrate materials. Once the framing is complete, you will want to run the electrical and plumbing for lighting and your cooling system prior to insulating.

If you are using spray in closed cell foam insulation, this acts as a vapor barrier as well as an insulator so the 6 mil poly step in the vapor barrier process is not necessary.
Wine Cellar Construction Reference Chart
This chart helps you to determine the best construction guidelines for building your wine cellar.
| Construction Step | Recommended Specifications |
| --- | --- |
| Wall Framing | 2" x 6" @ 16" on center |
| Ceiling Framing | 2" x 8" @ 16" on center |
| Vapor Barrier | 6 mil polyethylene on warm side of walls and ceilings. Check your local building codes |
| Wall Insulation | R-19 minimum |
| Ceiling Insulation | R-30 minimum |
| Sheathing | DensArmor Plus® Interior Drywall is our recommended sheathing. You can also use 1/2" moisture resistant green board with mildew resistant paint or a tongue and groove wood paneling like mahogany |
| Flooring | Moisture resistant material such as brick, tile, stone or hardwoods |
Electrical Considerations
Upon completion of the wall framing, run all electrical wiring for lighting, outlets and your wine room cooling system.
Cooling systems normally require a dedicated circuit, so check the manufacturer's instructions and voltage requirements.
Light switches with dimmers, if desired should be placed near the wine cellar door and should control all the lighting in the wine cellar. Switches with timers or motion detectors are a nice feature that can turn the lights off for you when your hands are full. This is the time to start thinking about what kind of lighting fixtures you would like and to have the wires run for them. Consider sconces, chandeliers, recessed lighting, can lighting and track lighting.
Step 7: Determine Your Materials
After the cellar is framed, sealed, insulated and all electrical and plumbing has been roughed in, you will chose your wall, ceiling and flooring materials.
A moisture resistant drywall/plywood material is fine for walls and ceiling. We recommend DensArmor Plus® Interior Drywall. You can also use 1/2″ moisture-resistant gypsum wall board or green board is the most common and cost effective wall material. This wall board must be painted with a moisture resistant paint.
Rot resistant hardwoods are an attractive alternative and while more expensive to purchase and install, provide a superior appearance and require no long-term maintenance. Wood paneling works well for this also.
For flooring, you want to choose a flooring material that will hold up in the cool humid wine cellar environment. Tile, stone and brick work well as does wine barrel flooring that is made from recycled wine barrel staves.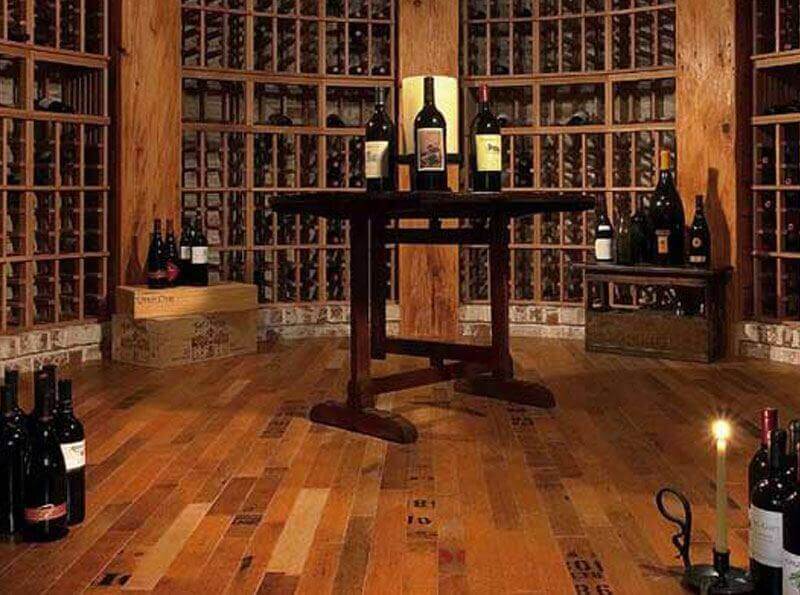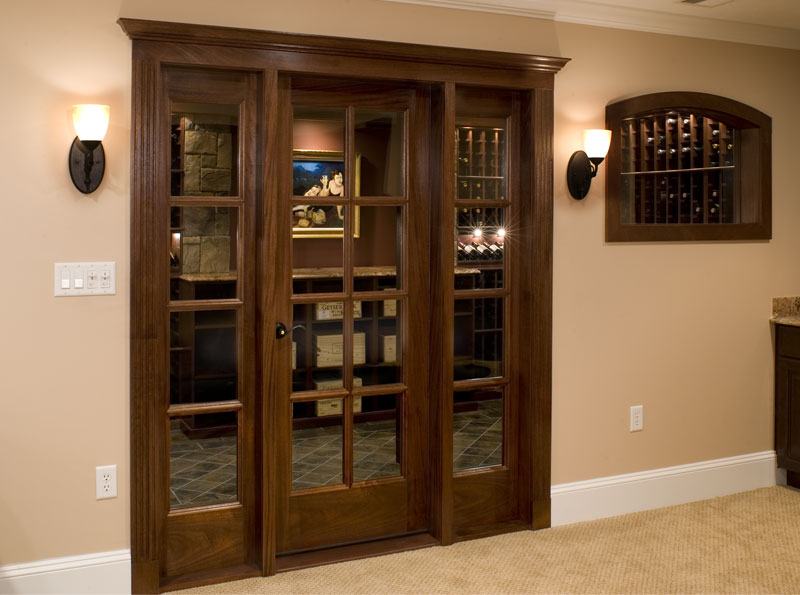 Step 8: Choose Your Entry Door
Your wine cellar entry door is the first chance to make a first impression. It should be both functional and beautiful. Because the wine cellar is a conditioned space, you want to make sure that the entry door is exterior grade with weather stripping for a tight seal. In the case of glass doors, make sure the wine cellar door includes high R-Value glass panels. Our 
Classic and Value Classic
 doors are the perfect solution.
It is preferable to have your wine cellar door swing into the wine cellar, but make sure that its swing path does not interfere with your wine racks. The positive pressure in a conditioned wine room will push the in-swinging door against the jamb and weather stripping, creating a superior seal. Before ordering your door you must 
determine its swing
; in or out, and left or right. Make sure to provide this information to whomever you choose to manufacture your wine cellar door.
When choosing a door with a glass panel, make sure that the panel is dual paned, insulated glass. The higher the R-value, the better. All Vigilant glass doors include Argon filled, insulated, tempered glass panels that offer twice the R-value than standard insulated glass. If adding 
windows or sidelights
 to your wine room be sure they meet all of the same performance specifications as your wine cellar door.
Step 9: How Do I Begin The Wine Storage Design Process And Select The Proper Wine Rack Components?
First you need to determine your particular wine storage needs and preferences. Do you prefer individual bottle storage or bulk/bin storage? Do you need storage for wood wine boxes, large format bottles like magnums or split wine bottles? Are you looking to include wine display areas, tasting and decanting areas? Once you determine your preferences, 
submit your design request
 to one of our expert designers and we will provide a detailed set of drawings and a comprehensive pricing proposal for you.
This gorgeous custom wine room was designed with individual bottle wine racks that have a high reveal display row with LED lighting, diamond bins, a radius archtop, wood case shelving and crown molding. Custom tile floor, chandelier, recessed lighting, and a table with regal chairs complete the room to give it a unique and stately appearance.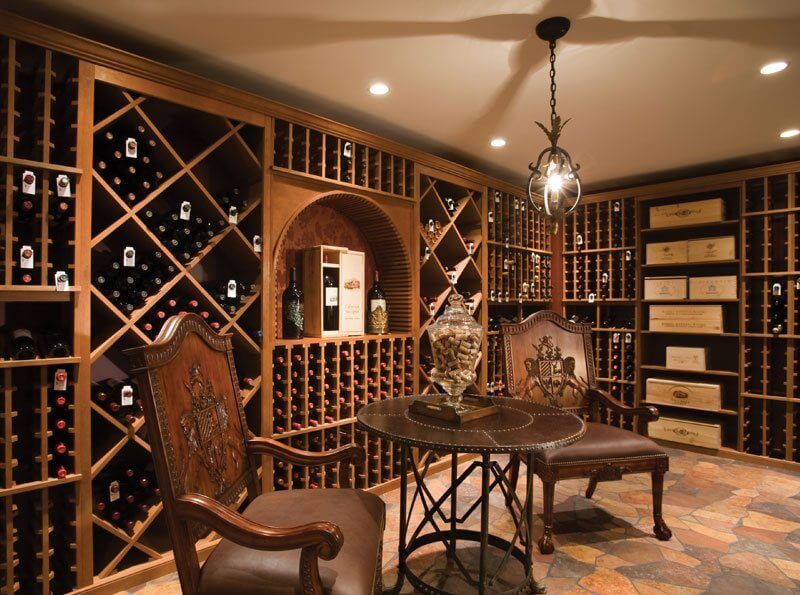 Our custom 
wine cellar designs
 are created with your needs in mind. From wine rack styles, to wood species and finish options, in a custom wine cellar design the options are unlimited. Learn more about our custom wine cellars and our process for initiating a design.
Our DIY Wine Racking Kits
Our do-it-yourself or kit wine racks consist of an extensive line of pre-built wine storage racks and wine cabinets that can be combined to create a complete wine cellar storage solution. At 77.5″ or 92.5″ high and 13.5″ deep, they are of the same quality as our custom wine racks, but have these distinct advantages.
They are available for quick shipment
They can be combined to create a custom looking wine cellar
Many can be modified to fit any wine room configuration
They are less expensive than custom wine racking
The best way to budget the cost of the wine racking for your cellar is on a cost per bottle basis. For a basic design the estimate should start at $3-$4 per bottle. For more elaborate designs the cost can escalate to upwards of $10 per bottle. View our 
wine cellar planning charts
 to help you determine the cost of your wine racking.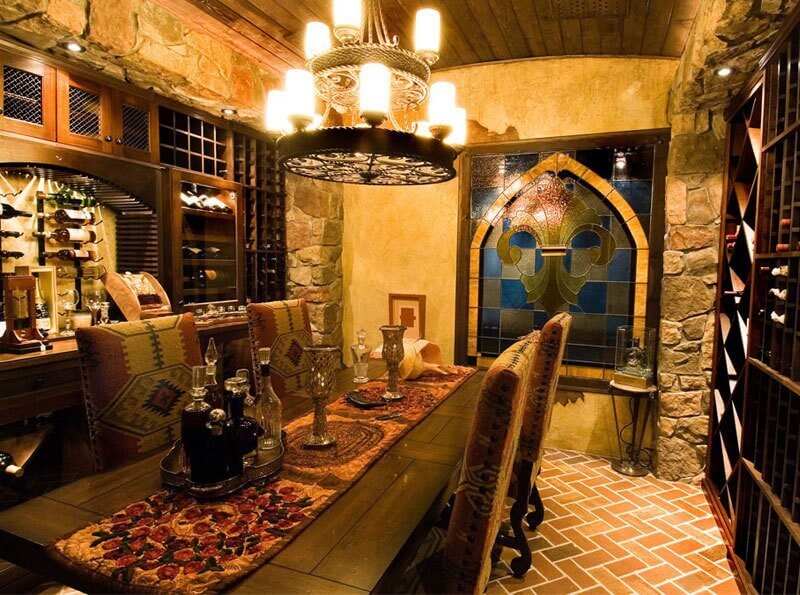 Step 10: Decorating Your Wine Cellar
Whatever your style, whether it's traditional, rustic, modern or contemporary, decorating with elements you love can help you achieve your unique custom looking wine cellar. Choosing the details of your wine cellar is an exciting way to create a room that becomes a showcase of your style and taste. Wine cellars are so much more than just storing your wine bottles — your wine cellar decorating should reflect the beauty and uniqueness of you and your wine collection.
Following these basic steps when designing a wine cellar with us will ensure that your project goes smoothly and that your cellar turns out exactly the way you desire.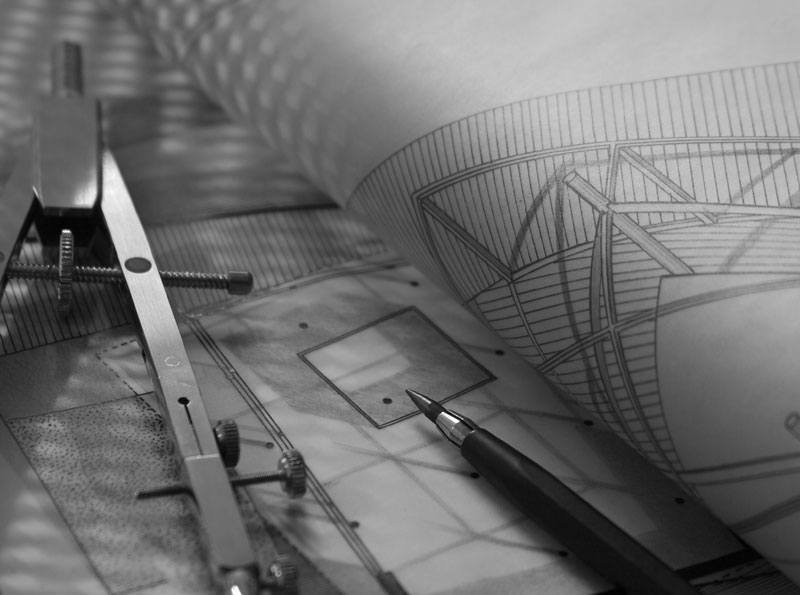 Before initiating the design process you should:
Determine exactly where the wine cellar will be located.
Establish the planned finished dimensions of your wine room, including ceiling height and location of your wine cooling system and wine cellar door.
Estimate the number of wine bottles that you would like your wine cellar to hold. View our wine cellar construction charts to start estimating bottle capacity and overall costs.
Decide if you will be designing a Vigilant kit wine cellar or a custom wine cellar.
Choose the racking elements and features you want in your wine cellar.
2. Initial Design Request
Once you have completed the preparation steps:
Provide us with room dimensions, architectural drawings, or a hand-drawn floor plan of your wine cellar space with as many dimensional and storage details as possible.
Complete our Design Request Form and submit it to our consultants with your floor plan.
A design consultant will contact you to discuss the details of your project within 48 business hours.
Based on the information received from your submittal and consultation, our design team will create a complimentary design and proposal for your review. Larger more complex projects may require a design deposit to initiate the proposal and design process.
After reviewing your drawing with your Vigilant consultant, it will be time to make some decisions on your project. Whether you are satisfied with the design and proposal or would like to make changes. We ask for a project deposit at this juncture to continue working on the project and any additional design work is billed out at an hourly rate. Please contact your Vigilant sales consultant for more information.
If you decide you want to move forward with us on your wine cellar project we collect your deposit, and provide you with a final drawing and proposal.
Once you are fully satisfied that the design and proposal perfectly fit your needs and you are ready to proceed:
The drawings and proposal are signed.
A full project deposit is paid to put the job into production. A 50% Kit or 20% Custom Design Deposit (100% of which is credited towards your order.
We will send you a projected ship date for your order.
Ask your Design consultant about production lead times for our products.