April 13, 2009
Small Wine Cellar Storage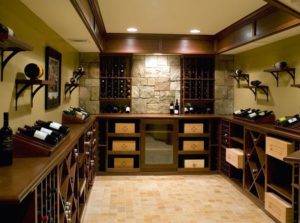 A wine cellar does not need to be large or even medium sized to properly store wine. A small wine cellar sometimes referred to as a closet wine cellar or under the stairway wine cellar can mean as much to your goals to preserve your wine as the bigger wine cellars and wine rooms.
Why is a small wine cellar so unique? Well, a small wine cellar fits into a space of typically now more that 50 square feet. Small wine cellars are characterized by low ceilings, smaller sized custom wine cellar racks, and fewer amenities. They are however very efficient at accomplishing their goal of preserving the wine. They do this by using the same types of wine cellar systems as their larger cousins.
Regardless of whether you purchase a small wine cellar or large wine cellar, the importance and inclusion of a wine cellar cooling unit is paramount to the success of your wine cellar environment. A Guardian is flexible and can be mounted as a through-wall system or remotely mounted to maximize the room storage. Under the stairway wine cellars are usually near a living space that has a high enough set of walls to allow for a wine cellar door to be used. These doors are another important element to have in the design of your small cellar. The door is your gateway to the secure and safe storage of your wine.
Remember, wine cellars do not need to be big to get the job done. The limitations of space can be overcome when proper build-out and conditioning are taken care of. Marry these up with a sealed entrance and you have a winning wine cellar every time, guaranteed.
For more information on wine cellars, visit us at /the-industrys-best-wine-cellars/.