November 1, 2019
Small Wine Rooms and Wine Closets
Usually, below-ground spaces offer a great advantage when it comes to installing a traditional wine cellar. The natural cool and damp environment of a basement provides a space where wine cooling systems and humidifiers don't have to work as hard to attain and maintain the perfect conditions for aging and storing wine. However, it doesn't have to be underground. The best conditions for long term wine storage are a constant 55-58 degree temperature, 60%-655 relative humidity and minimal UV light. While long term storage temperatures should be in the 55-58 °F range, serving temperatures vary among different kinds of wine. Red wines should be served at 60-65°F, white wine at 42-50°F.
Wine cellar design is a specialized discipline, demanding knowledge of proper room construction, wine storage and storage design and climate control. Building a small wine room can be accomplished in a number of ways. At Vigilant, we characterize small wine cellars as either "walk-in" or "reach-in."
Walk-in wine rooms are usually designed in larger closet or pantry areas where there is enough room to walk in a select your bottle of wine. These wine cellars must be properly built out just as a larger wine room would be: with insulation and vapor barrier. If you neglect these steps, you could have mold or water damage in walls and adjacent areas. A cool, humidified area will produce condensation on adjacent walls if adequate build-out is not completed, just as a cold drink will "sweat" in a warm room. The components are also similar to larger wine cellars in that they include standard or custom wine cellar components such as an exterior grade wine cellar door, traditional or contemporary wine racks and a wine cellar climate control system. The walk in wine room is usually limited to a single temperature zone.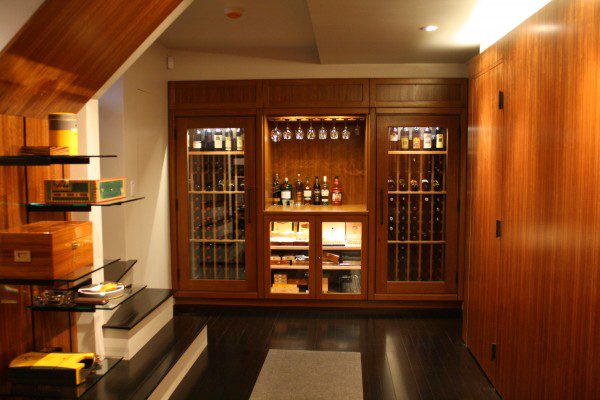 For smaller, shallower spaces, where there is not enough room to enter, we design the space using a built-in conditioned wine cabinet. The cabinet is fully insulated and includes an exterior grade wine cellar door, interior wine storage racks and a wine cabinet cooling system. The cabinet is sized to neatly slide into the space and can be designed using any wood or finish to match the surrounding millwork. We offer cooling system options for any application, including self-contained systems, remote ducted, and ductless split systems. These cabinets can also be designed as stand-alone furniture pieces. They add a functional yet aesthetic interest to any room, including kitchens, dining rooms, a den, or anywhere you have space. The wine cabinet can be designed with multiple zones in the event you prefer to have wine stored at long term storage temperatures and at serving temperatures.
Vigilant also offers standard refrigerated wine cabinets that come in single-deep or double-depth models to store collections of up to 272 bottles. There are many standard features and options that make it possible to build the ideal cabinet for your collection. You have a choice of stains, shelving, display lighting and furniture style, or you can have a truly custom cabinet designed by one of our experts to suit your needs.