February 6, 2014
Vigilant Custom Wine Cabinets that Shine, Blink and Flash!
Want to provide a unique entertainment space for your guests? Let Vigilant Inc. add some flair to your wine cabinets with energy-efficient adjustable colored LED lighting. This lighting choice dims and flashes a spectrum of colors and speeds, creating an array of custom lighting effects including strobe, mood, fade and others.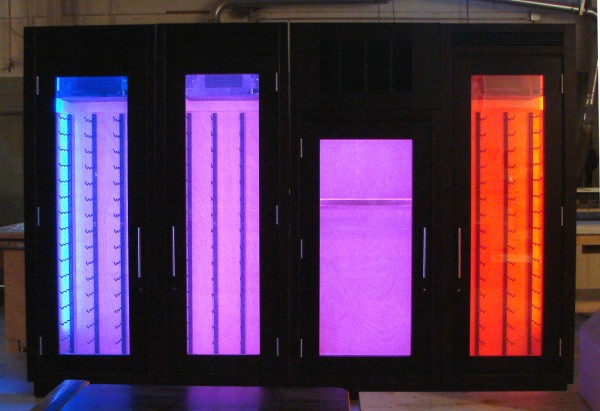 Vigilant recently finished hand-crafting this bank of custom refrigerated, fully insulated wine cabinets for a client that was looking to increase the value of their space while also providing a one of a kind focal point in the room. The cabinets are made from the finest mahogany wood and have mahogany framed insulated glass doors that are dual-paned with tempered, argon-filled low-E glass, and come with pulls and heavy duty hinges. The modern interior metal racking elegantly displays approximately 346 wine bottles. The independent cooling system is guaranteed to keep the red wine collection at the ideal storage temperature of 55-65 degrees F.
These wine cabinets are more than just modern and chic, they're fun too! Each wine cabinet has a separate colored LED strip but all of them are easily controlled by a single remote that allows for management over the color and speed of lighting effects. The colored LED lighting option can create mood lighting for different entertainment venues, whether it's an elegant dinner setting or a hopping bar hosting hundreds of guests.
We manufacture all of our wine cabinets in woodworking shop located in Dover, NH and therefore can accommodate any custom request. We take pride that our quality wine cabinets are the best in the industry and grace the rooms of the finest homes and businesses in the county. If your thinking about adding wine storage to your home, restaurant, hotel or bar, contact our friendly and knowledgeable team today. 1-888-812-4427.