July 7, 2015
Vigilant Designs Custom Wine Cabinets for Hawaiian Resort
Vigilant constructed these custom wine cabinets for the new Bali Hai restaurant at the Hanalei Bay Resort in Princeville, Kauai, Hawaii. The former Bali Hai restaurant was destroyed by fire in 2011, and we were contacted by Jim Mehta and Ed Colson of HBR Enterprises in Hanalei, Hawaii to help in restoring the restaurant. The project began in August of 2014 and involved designing a bank of wine cabinets with a capacity of at least 900 bottles of wine.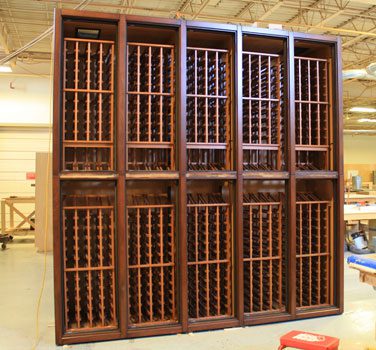 Our New England craftsman built the cabinets from African mahogany with a custom finish, matched to the client's existing millwork. They stand 12'6" tall and span a width of 117" and are able to store 960 bottles of wine. They're also 32" deep to accommodate double-deep wine bottle storage.
The Bali Hai cabinets sport solid mahogany wine racks with a double high reveal display row and RGB color-changing LED lighting, which illuminates the cabinets with varying shades of light. A custom rolling ladder was added to allow for access to the upper most wine storage. A remote water cooled, ducted system maintains the perfect environment for proper wine storage. Because of an open-air, humid climate, Vigilant utilized special moisture-resistant materials and a high-R value glass to ensure long-term durability, efficient system operation to minimize condensation risk. These necessary steps ensure the long term integrity and beauty of these furniture quality wine cabinets.