April 5, 2018
Vigilant Helps Landmark Restaurant with its Wine Experience
Captain Anderson's is an award winning restaurant that's been a staple on Florida's Gulf Coast since 1967. Growing year after year, it now brings in over a quarter million customers every season. It is no wonder that with that level of business they were in need of a wine storage solution that could hold upwards of 2,000 bottles.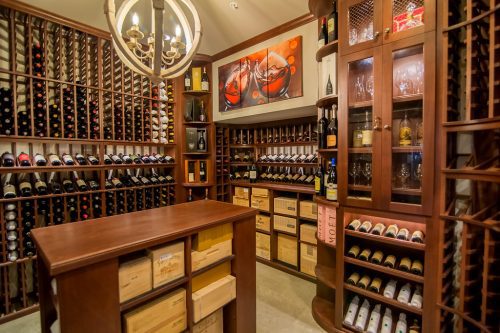 In this day and age, it's crucial for restaurants to properly store and prominently display their wine offerings to their customers. If it's not in the forefront then a restaurant could be missing out on a huge opportunity to sell their wine. Captain Anderson's Restaurant knows this firsthand, for years they were keeping their high-end wines in coolers in their office area, out of site from patrons. The owner, Yonnie Patronis explained, "as a result we had great wines, but they were not displayed and many customers never realized the caliber of wines we had on site." With this top of mind, he reached out to Vigilant for help in creating a functional and stylish wine room.
Being experts in commercial wine storage, we were thrilled to take on the project. Captain Anderson's had the perfect footprint, an old arcade and game room that had been rarely used since the increased use of iPhones and iPads. Vigilant's owner, Charles Griffiths went down to the restaurant to assess the layout and make recommendations on how to design and cool the space. Upon his return, our expert designers started diligently working on the perfect layout. After several revisions the restaurant was pleased with the design and were ready to move forward with the construction.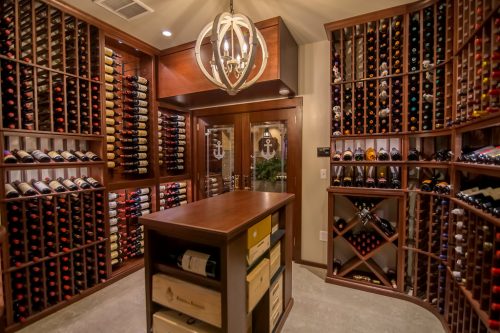 Our skilled craftsman handcrafted the components of the wine cellar from Mahogany and finished them in our Chestnut stain and lacquer. The wine cellar includes our functional ladder racking with display rows for easy bottle organization. It also features custom cabinetry, diamond bins and bulk storage for their magnum size wine bottles. Entrance to the wine cellar is through Vigilant Classic French Square Doors that feature beautiful custom sailboat etchings. In order to ensure the ideal storage environment for hundreds of rare vintage wines, like a 1962 Petrus and a 1959 Chateau La Mission Haut-Brion, the wine cellar needed the perfect cooling system. Vigilant recommended a commercial grade ducted cooling system powerful enough to cool up to 3,000 cubic feet.
Mr. Patronis is very pleased with the final result and in the short few months since the wine cellar's completion, he has already seen an increase in their wine sales. Now that the wine is at the forefront, "It is much more effective, a customer can walk into the cellar and go window shopping. They can grab any bottle before dinner and we will be glad to present and serve it with dinner," stated Mr. Patronis. The restaurant also hosts a 100 member wine club, which Mr. Patronis hopes to see grow as customers see the exceptional wines being housed in the new wine room. To learn more about Vigilant and our commercial wine storage options visit us online.