June 9, 2014
Wine cocktails…the Perfect Summer Sipper!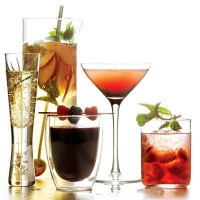 Looking for something new to add to your favorite light summer beverages? Why not experiment with wine cocktails? They're crisp and wonderful sipping coolers that compliment the sizzling summer heat as they offer a wallop of freshness and customarily have lower alcohol content. Following are some varieties of wines that are good choices for your cocktails. But remember to take your personal tastes into consideration. If you prefer a Cabernet over a Merlot than it makes good sense to use your preferred wine as the base in your cocktail.
Champagne:The effervescence of Champagne makes it a very popular choice when mixing a wine cocktail. It is typically mixed with liqueurs, fruits and sodas and produces a satisfying thirst-quenching result.
Prosecco
An Italian sparkling white wine that is an affordable substitute to champagne. Made from the Prosecco grape, which delivers a sweeter flavor and fruity aroma, this wine is perfect when combined with fruits and fruit juices to achieve a balanced flavor.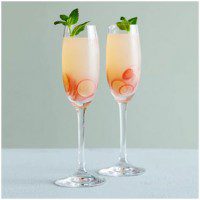 Sparkling Wine
Sparkling wines can range from very dry to semi-sweet. The drier wines pair well with sweeter partners like cordials and fruit. In the sweeter wines, many forged from fruits like strawberries, watermelon and cranberries, offer a natural sweetness and extract of fruit that adds another layer of seasoning to wine cocktails. Consider adding some acidity like lime juice or citrus to help create symmetry with the sweetness.
Pinot Gris
Pinot Gris wine cocktails are perfection when combined with stone fruits like peaches, cherries, apricots and fruit juices such as apple, cranberry and pineapple.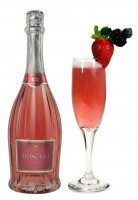 Moscato
Moscato is another fruit-friendly bubbly wine with a lighter style that can be mixed with an array of fruit juices.
Chianti
A light-bodied Italian red wine with floral and spicy aromas is a great wine for more exotic cocktails like Sangria that pair savory items like brandy, tequila, triple sec and lime juice.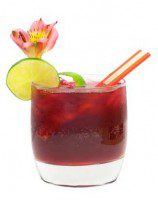 Merlot
A red wine like Merlot can be mixed with a variety of fruit and juices but it is recommended to blend fruits like cherries, berries, black current and plums to compliment the wine grape's natural flavor profile.
Most Importantly — Be Creative
Don't be afraid to add your own creativity when making a wine cocktail. However, before randomly mixing ingredients, consider the four basic flavor profiles of sweet, sour, spice and savor as well as your own profile partiality.
Sweet
You can develop your own degree of sweetness for cocktails by using ingredients such as sugar, agave, maple syrup, molasses, honey and juice. A simple syrup is easy to make by taking one part wine variety and one part sugar, pulverize an herb or fruit into with a blender and strain it.
Sour
Sour adds acidity to a drink. Use lemons, limes, citrus and even wine or vinegar to add tartness.
Make sure you balance your drink so that it is not too sweet or too tart. You can always counterbalance a sweet drink with some sour and vice versa.
Spice
Ingredients like cayenne pepper and Tabasco sauce add a needed spice to wine cocktails because they do not contain as much alcohol as regular liquor that naturally feels like it's spiced. Experiment with spices and spiced fizzes that appeal to your palette.
Savory
Savory profiles found in herbs, spices and vegetables, make a cocktail interesting because they help harmonize a bitter or sour flavor of a fermented wine or added ingredients.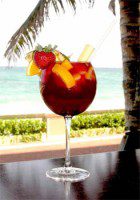 Understanding these principal flavor profiles will make it easier to be creative with your wine cocktail medleys. Experiment and be as wicked as the summer sun or as playful as waves that tickle a sandy beach.
Need some inspiration? Check out this index of over 200 wine-based cocktail recipes
 Cheers