November 4, 2020
How to Create a Wine Room: Tips from Porch.com
Evan Dunn is a blogger and content creator for Porch.com. This article has been adapted for Vigilant and contains additional links to supplement content.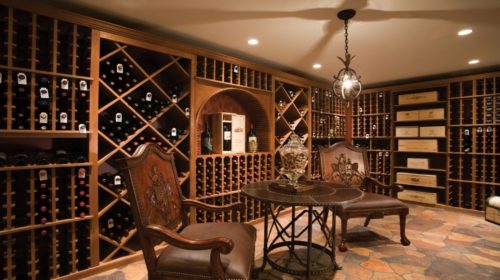 For those who appreciate a good glass of wine, having the right storage only enhances the overall experience. A wine cellar or room provides you easy access and stylish organization. That space could be a secret stash of wine in the pantry, a custom wine bar, even that odd, empty space under the stairs. The possibilities are endless, even if your budget isn't. Read on for some tips on location, functionality, and aesthetics that will help you create the perfect wine room in your home.
Location and Other Considerations
You've heard the adage location, location, location: it's definitely a key factor in determining where a wine room fits into your home. Basements can be a perfect spot for storage, but if you have limited space, think about that kitchen pantry you never use, or the linen closet that's currently storing all the empty boxes you can't bear to throw away. Whatever you decide, make sure you choose the coolest area of your home or an area with higher levels of humidity. If the new wine cellar will be a major addition to your home, take the scope of the project into account. Structural changes like installing soffits, wall studs and putting up new drywall can be costly and time-consuming.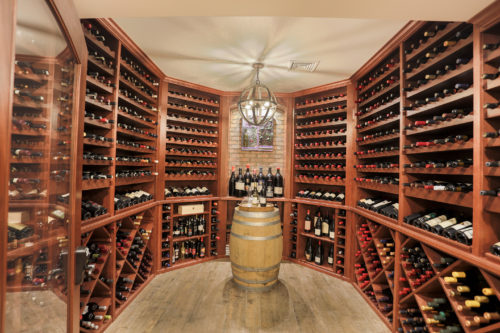 Things to Consider Before You Build
Once you're ready to build your wine cellar, here are some crucial things to examine before you commit to your design: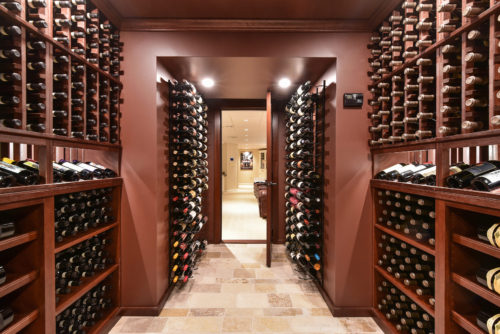 Maintaining Your Wine Cellar
Yes, you want your new wine cellar to look fabulous with some chic décor, but it's also important that you maintain it so your bottles of wine remain in good condition. Along with the importance of keeping consistent temperature and humidity levels, here are some additional tips:
Keep your wine cellar clean. Don't let dust accumulate on the bottles, and if one breaks or there's a spill, clean it up immediately to prevent pests from making your wine cellar their home.
Install some soft lighting in your wine cellar. Choose lightbulbs that emit a soft, warm light and avoid harsh ultra-bright lights that will compromise the integrity and flavor of your wine. Recessed lighting is a space-saver, and LED lights are the best option since they don't produce a lot of heat.
Avoid direct sunlight. The ultraviolet (UV) rays degrade wine and causes it to age too quickly. If your wine cellar has windows or a stylish door, make sure they're constructed of the appropriate materials.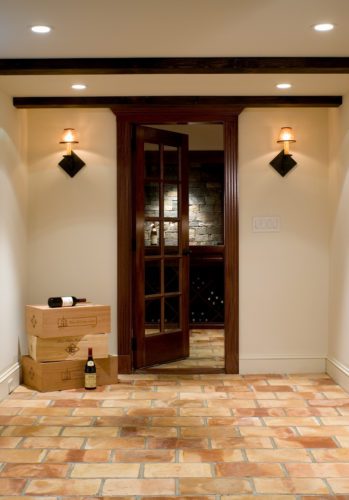 Wine Storage Guide
Maintaining your wine cellar is important, but you also want to make sure that your wine is stored properly.
The amino acids in wine can oxidize and change the flavor if exposed to sunlight, or fluorescent lights. White wine is especially vulnerable since most wineries bottle it in clear glass. Smell your wine when you open it and look for any unpleasant smells, which could mean that it has already become oxidized.
Store wine bottles with corks on their side instead of upright. This slows the oxidation process and keeps the cork moist, so it doesn't rot or fall apart. You can store twist-top bottles upright, but ideally, all wine should be laid in racks horizontally.
Once a bottle is opened, it typically doesn't last more than a week. White wine and rosé can last five to seven days in the fridge or a refrigerated wine cabinet if it's re-corked. Red wine should last about three to five days if you replace the cork and store it in a cool, dark place.
Wine can actually absorb strong odors. If wine is exposed to smells like onions or even the trash can in your kitchen, those odors can permeate the cork and get into the wine, so re-cork snugly!
Wine racks can be made of solid wood or metal. You can make wine racks yourself if you want to save money, choose your favorite wood type, and finish it in your desired color. Not into DIY? Vigilant has a selection of standard and custom wine racks to hold plenty of bottles with room to spare.
Store and Care for Your Wine in Style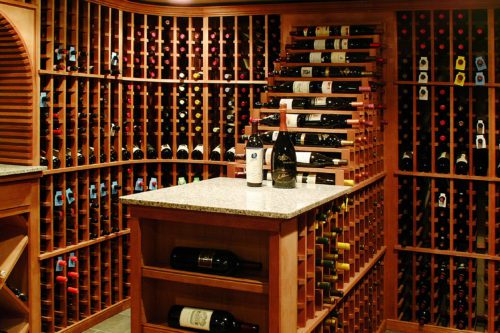 Whether you are transforming an unused space or planning to make major changes to your home by hiring a contractor, a custom wine cellar is a great way to keep your wine safe and increase its longevity. Lighting, decor, temperature and proper storage will ensure that your new wine room is the envy of the neighborhood.
What are you waiting for? Uncork a bottle, pour yourself a glass and start designing! Request a free quote here.